Valentina Sampaio Gets Support Against 'Transphobic' Disapproval
On July 10, 2020, the coveted Sports Illustrated magazine announced that transgender model Valentina Sampaio will be featuring in the upcoming Swimsuit Issue. The announcement received both approval and disapproval in the social media.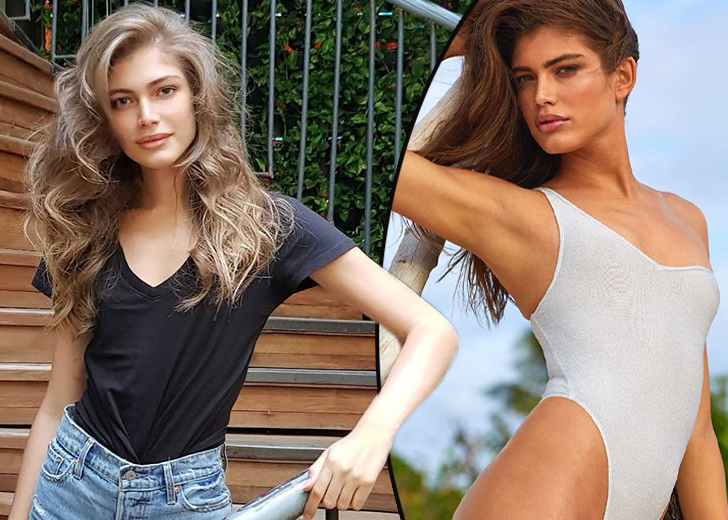 Brazilian actress and model, Valentina Sampaio has recently added another feather in her cap. 
On July 10, 2020, the Sports Illustrated magazine publicized Sampaio as one among the eight rookies for the Swimsuit 2020 issue.
The annually published issue features snaps of female fashion models, celebrities, and athletes on swimwear clicked at various locales around the world. 
23-year-old Sampaio is the now first-ever transgender model to feature on the Sports Illustrated magazine.
For the issue, Sampaio is wearing a swimsuit by TRIANGL and will be photographed by Josephine Clough in Scrub Island, Anguilla.
The coveted magazine is announced to be available on the newsstands and online on July 21, 2020.
In appreciation of her achievement, Sampaio expressed in her video that she was excited and honored to be part of the iconic Swimsuit Issue and that it was really 'a dream come true.' 
I feel strong, and I feel inspired to fight, not just for me but for everyone who faces discrimination. 
In addition, she emphasized that "being transgender" should be normal and widely accepted.
They see the person and the woman who I am. I want that one day, this (being transgender) is not important, that this is not new.
Talking about her Sports Illustrated selection, she also touched about the status of the trans community in her home country, Brazil. She said,
Brazil is a beautiful country, but it also hosts the highest number of violent crimes and murders against the trans community in the world—three times that of the U.S. 
In a live interview on Instagram on July 10, 2020, Anthony Ramos—the Talent Head of GLAAD—asked the rookie, "What this moment means for other transgender people?" Valentina replied, 
"I think it means that all trans people should believe that they can achieve anything that they want to achieve."                                                                                          
Twitteratis Reactions On Valentina Sampaio's Sports Illustrated Issue
The magazine since its start in 1964 has been criticized for its objectification of women. Over the years, the magazine has taken a more inclusive approach to represent beauty.
Gradually, it has started to include models with different body shapes and ethnic backgrounds.
Now, after the announcement of Sampaio as a rookie in the 58th edition of the Swimsuit issue, varied opinions of approval and disapproval have been expressed Twitter.
Some Twitteratis have Condemned the Magazine 
So, Sports Illustrated has a MAN pretending to be a woman on their cover— for straight men to view. I pray that that issue is the lowest-purchased ever. #SportsIllustrated #ValentinaSampaio — vintage galactic (@vintagegalactic) July 10, 2020
Some Object To Body Objectification  
It used to be that men couldn't wait did the swim suit edition. Now they get a good laugh instead of a lustful thought. — Light&Truth (@SpellTruth) July 12, 2020
Congratulations to Sports Illustrated for catering to their male audience by objectifying a man.

The more distance we can put between the fetishization of femininity and real women, the better.https://t.co/aSDQhZVjYy — Tiffany Richardson ⚢ Woman4Women (@Woman4W) July 11, 2020
Voices In Support Of Valentina: Many Condem the 'transphobic' Comments   
the amount of transphobic comments in this thread and under every tweet of articles celebrating Valentina Sampaio is honestly so disgusting and disheartening. how is there still so much hate and stupidity and bigotry spread so far and unnecessarily in this world https://t.co/lMWDrWujm9 — CA ðŸÂÂ BlackLivesMatter (@The100_Legacies) July 10, 2020
all these ugly ass transphobic men in the comments sharing their unwanted two cents as if highly successful model valentina sampaio will ever value or even come across their gross opinions. i have to laugh💗 https://t.co/qdqglu78RO — Ù©(◕‿◕ ✿)Û¶ (@11111ngi) July 11, 2020
Valentina Sampaio.

That's it, that's the tweet. I don't need to say more. She's brave as heck, though. She basically just walked in front of a (very insecure) firing squad and flipped them all off. Remember to report any transphobic comments you see. Bigots go home. — Gwendolyn R. Valentine (@PrismaticOwl) July 10, 2020
Seeing transphobic comments really piss me off, shes a woman and we should be proud of this — Crunt (@CruntNug) July 10, 2020
Some Twitteratis also went on Reporting 'insensitive' comments that were made Against Her. 
Had to scroll through and report about a million responses to that Valentina Sampaio announcement. Shut up and crawl back under your rocks, transphobic assholes. — J. David Clarke (@J_David_Clarke) July 11, 2020
While Some have Expressed Their Concerns Against Hate
Do you know what it can do to a trans woman's self-esteem when she sees someone like Valentina Sampaio, a woman she dreams of being as gorgeous as, still get comments like "gross", "it's a dude", "I want to barf", etc.? Not good things, I assure you. https://t.co/xgjWZ8v8bE — Faith Naff #BlackLivesMatter (@FaithNaff) July 11, 2020
I wish people wouldnt make such a big deal about someone being trans. Snowflakes damn near losing their minds over the smallest things... like a trans model on their wittle sports illustrated. Please grow up and have a bit of human compassion mate — Karen (@Emmie_Universe) July 11, 2020
The venom directed to the likes of Valentina Sampaio and Munroe Bergdorf convinces me even more that if there's one thing that terfs really hate it's a trans woman who looks a hundred times better than they do. — Christine Hart ðŸÂ³ï¸Â‍🌈 ðŸÂ³ï¸Â‍⚧ï¸Â (@ChristineH_2017) July 11, 2020
These comments are disgusting and show how there is still a lot of work to be done in educating people about gender identity. Congratulations to her, this is a massive achievement — Jack 🌵 #blacklivesmatter (@Wagster1316) July 10, 2020
Conclusion
The biased comments against Valentina's selection have truly validated what she expressed on one of her Instagram posts. She explained that the trans community was facing " insults, fearful reactions, and physical violations just for existing" and blamed lack of adequate opportunities and support for pulling the community back.
Being trans usually means facing closed doors to peoples' hearts and minds. We face snickers, insults, fearful reactions, and physical violations just for existing. Our options for growing up in a loving and accepting family, having a fruitful experience at school, or finding dignified work are unimaginably limited and challenging.