Calvin Klein Celebrates 50th Pride Month: Black Trans Women Jari Jones On SoHo Billboard
LGBTQ+ Model and Activist Jari Jones is Calvin Klein's face of Pride Month 2020.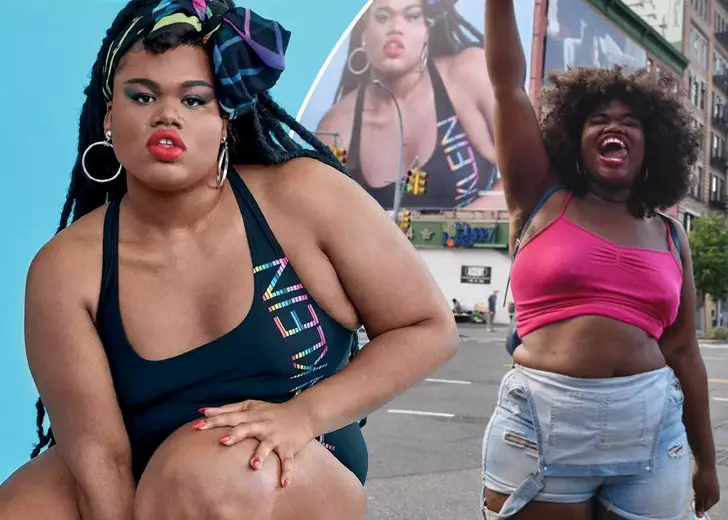 In celebration of the LGBTIQ Pride Month 2020 in June, the new advertisement by the iconic fashion brand Calvin Klein has been featuring LGBTIQ+ Model Jari Jones for its "Proud In My Calvin" campaign.
On June 21, the Trans queer model and actress Jari Jones on her twitter posted a video of her seeing herself in the billboard for the first time. 
In the billboard picture, Jari Jones is presented wearing a black tank top with "Calvin Klein" written in rainbow-colored graphics. She also wore a black scarf with colorful stripes on her head. 
Previously, in her campaign's video for Calvin Clain in May 2020, Jari, who is mom to queer kids, had expressed her love for the LGBTIQ+ community. She explained in the video that the LFBTIQ+ community was unique because they could make their own "blueprint" in life.  
The 'Pride' collection by Calvin Kelin is an exclusive limited-edition collection in rainbow colors and bold graphics. It consists of a wide range of clothing including sweatshirts, hoodie, swimsuits, crop top, jockstraps, t-shirt dress, denim shorts, bikini, brief, backpack, and socks. 
The brand signed up various famous LGBTQ+ personalities from all over the world for its 'Pride 2020' collection. Along with Jari Jones, the campaign is featuring drag queen Pabllo Vittar, actor Tommy Dorfman, YouTuber Chella Man, photographer and performance artist Mary V, actor and model Mina Gerges, musical artist Gia Woods, film actor Ama Elsesser, and model Reece King. 
In addition to the stunning images, the campaign also includes nine-part video series of these artists each sharing their unique stories taking pride in their identities. The campaign is shot by New York-based renowned photographer Ryan McGinley.
Each year, June is celebrated as LGBTIQ+ Pride Month to honor the Stonewall riots that happened at the end of June 1969 in Manhattan. The Stonewall Uprising is still regarded as a landmark for the Gay Liberation Movement in the United States.
A year later of the protest, the first Pride march in New York City was held on June 28, 1970. June 2020 marks the 50th anniversary of annual LGBTQ+ Pride traditions. Many events take place throughout this month to celebrate the LGBTQ community. 
 
In addition to the pride month, Calvin Klein has chosen to feature Jari Jones, who is an African American on its SoHo billboard, also to support the Black Lives Matter movement.
In her recent Instagram Post, Jari Jones has posted a picture of her popping champagne in front of the billboard, writing:
Thank you to @ryanmcginleystudios and the @calvinklein family for a collaboration that will hopefully be a symbol of hope and love during these moments.
 BLACK TRANS LIVES MATTER!!
On its website, Calvin Klein has stated that they are "committed to develop products, services and further enhancing the experience for a diverse range of customers, and continuing to ensure that our marketing and advertising represents a full spectrum of races, ethnicities, gender identities, gender expressions, and body types."
The clothing company has also been supporting OutRight Action International, a leading international LGBT human rights organization headquartered in NewYork and the launch of its COVID-19 LGBTQ+ Global Emergency Fund.
Calvin Klein is a global lifestyle brand founded in 1968 by American fashion designer Calvin Klein and his business partner Barry Schwartz. The company later acquired by PVH Corp in 2003. 
In support of the Black Lives Matter movement, Calvin Klein has also added a banner "Unequal is Unacceptable" to its website.