Zack Snyder's Conflicted History With DCEU & Warner Bros.
The failure of the DCEU is not solely Snyder's fault. The director has always managed to present his unorthodox, out of the box vision and is considered among the few comic book auteur filmmakers in Hollywood.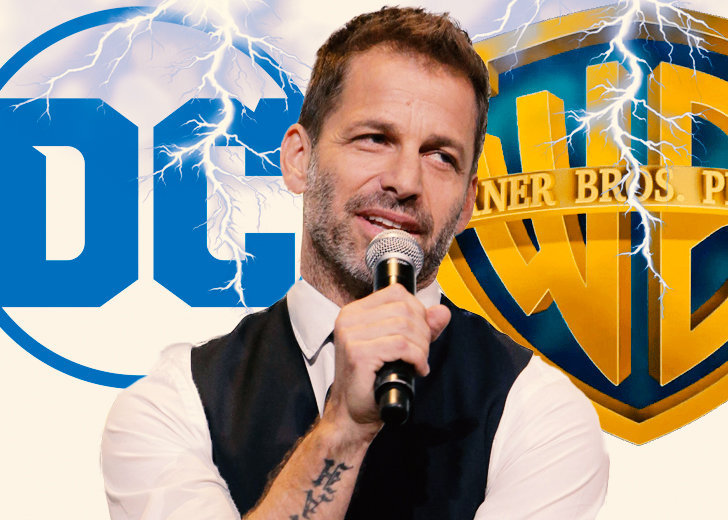 The DC Extended Universe or the 'DCEU' is a live-action movie universe centered around characters in the DC Comics. As of present, the DCEU consists of eight released films and seven films in official development. 
The first film in the DCEU franchise was Man of Steel (2013), starring Henry Cavill. Zack Snyder directed the movie. 
The filming for Man of Steel began on Aug 1, 2011. In later years, a much maligned-relationship between Snyder and Warner Bros. was to be born.
Zack Snyder Early Career
Zack Snyder's first film with Warner Bros. was the fantasy war epic 300 (2006), which was adapted from Frank Miller and Lynn Varley's 1998 comic series of the same name.
The film was very successful; it earned a worldwide total of $456 million against a budget of $65 million. 
With 300, the movie-lovers first time witnessed the director's trademark slow-motion zooms and his propensity for violent action sequences. 
In 2006, Warner Bros. hired Snyder to bring life to another comic series by Alan Moore and Dave Gibbons titled The Watchmen.
Prior to Snyder's arrival, the movie was stuck in development hell for over 15 years. Previous director Terry Gilliam had even claimed that the complex comic book series was 'unfilmable'.
David Hayter and Alex Tse eventually completed a final draft of the screenplay, and filming began in September 2007. Upon release, the film received wide polarized reviews. Some loved the dark and cerebral take on the super-hero genre, while others criticized the film's mature content and long running time.
Moreso, the film only managed to earn a worldwide total of $187 million against a budget of $138 million. Despite that, the movie still managed to win over critics with its visceral and sincere adaptation of the source material. 
If 300 put Snyder on Hollywood's map, Watchmen put his mark as a go-to filmmaker who could bring comic books to life. However, the financial showmanship of Watchman didn't impress Warner Bros. 
Snyder then followed up his two successive hits with his original movie Sucker Punch in 2011, which was also distributed by Warner Bros. 
The film earned a mere $90 million against an $82 million and also received negative to lackluster reviews. Sucker punch was mostly criticized for its visual extravaganza without any plot or characters.
After the failure of his first attempt at an original story, Snyder went back to adapting another comic book property, Man of Steel.
'Man of Steel' & Start Of A Tumultuous Relationship
Despite Sucker Punch's failure, Warner Bros. was courting Snyder for a reboot of Superman after he was able to make a distinct name for himself with 300 and Watchmen.
Along with Snyder, WB brought Christopher Nolan in a guiding capacity role hoping that Nolan could emulate The Dark Knight's success with Man of Steel. 
Together with David Goyer (Blade), Nolan developed a script for a more grounded, grittier take on Superman. This new direction, however, had many writers showing their dissatisfaction—chief among them was Geoff Johns.
Johns was known as a comic book writer with a rich history with DC Comics. Johns was the chief figure to have heralded DC to a new era with his Green Lantern' Sinestro Corps War,' 'Blackest Night,' and 'Flashpoint' crossover storylines.
After Johns helped bring new life to DC Comics, he was named as the Chief Creative Officer (CCO) of DC Entertainment so he could bring his creative vision from the comics to the films.
And as the CCO of DC Entertainment, Johns was responsible for overseeing the development of any films in Warner Bros—a role that was put in full action during Man of Steel development. 
Despite Johns's concerns about the script and many other industry writers expressing concerns, Snyder went on with the vision that the film had originally intended to follow.
'Batman V Superman' And The Growing Feud
After a massive success of Man of Steel in the box-office, Warner Bros. was fast-tracking a sequel (Batman V Superman) with Superman and Batman meeting on the big screen for the first time ever.
By now, Snyder's role grew from director to executive producer. This meant Snyder was now responsible for overseeing the tone of the established DCEU, in a role similar to Kevin Feige of Marvel. 
Two of the biggest heroes going against each other in the big screen sounded perfect, on paper at least.
Batman V Superman released in March 2016 and earned a massive $873.6 million at the global box office. Even so, the film was largely panned by audiences and critics alike. Many claimed about the film's wasted potential, and Snyder was on the receiving end of many fans' verbal thrashings. 
By the time of the film's release, WB. had already put their plans in motion for Justice League, the sequel to the film.
The hastiness for the ensemble project was largely in part due to Warner Bros. eagerness to catch up to Marvel's tremendous success with their own ensemble film Avengers (2012) and Avengers: Age of Ultron (2015). 
The Troublesome History of Justice League 
After the wide slamming of Batman V Superman's by die-hard fans and critics alike, Warner Bros. no longer trusted the creative vision of Snyder. It was even hesitant about another major film with him at the helm.
This gave Geoff Johns and then DC FIlms Head, Jon Berg, an opportunity to oversee the development of the Justice League.
WB put Johns and Berg as the producers of the Justice League. If previously Johns and Berg were acting as consultants for DC's past films, they took a more hands-on approach this time around. This added to the already prevalent grudge between Snyder, Johns, and DCEU. 
Throughout pre-production and principal photography of the film, Snyder was continually being interfered with by Johns. The director even received several barrages from fans and studio execs alike for the wrong direction of DCEU. 
During filming, the elements around other characters—especially Batman—were changed drastically in favor of a more 'light-hearted' tone. Along with that, the two-part Justice League film (which was originally planned) was now to be compressed into one film, with very minimal references hinted to the previous films.
All these decisions made apparent that WB was trying to distance themselves away from their past criticisms as much as possible. 
The film ended its filming fon October 2016 and was put for test screenings in January 2017. This gave ample time for WB to alter the film before the film's theatrical release. Avengers and Age of Ultron director Joss Whedon was brought in to start working on his changes, which included reshoots and re-editing. Snyder was also working on the post-production simultaneously. 
But in March 2017, a disaster struck Snyder's family. His daughter, Autumn Snyder committed suicide. Snyder took a two-week leave from the work to mourn his daughter's death. He returned back only to learn that his work had been altered severely with very little traces of his original vision.
Snyder then quit the project and this gave Whedon and John freedom to do with the film what they had planned. 
With several reshoots and delayed post-production, the budget for the film rose over $300 million. The film released in November 2017 and got mixed reviews.
While the movie was praised for its action sequences, the film was panned for its thin plot slapstick nature and CGI. And even though the film earned $657.9 million, it was considered a comparative flop. 
The movie was expected to launch DC into DCEU dimensions with remarkable success. However, it couldn't generate an expected revenue in the box office.
Rise Of The Snyder Cut
Since the initial plan for Justice League was to be two-parts, there were rumors that Snyder had shot enough material for a whole film. This led many fans to petition for a Snyder's cut of the Justice League.
Initially, Warner Bros.remained tight-lipped about the existence of a possible Snyder cut. 
In March 2019, Snyder revealed that his original cut did exist and that it was up to WB to release it. Despite confirmations from the director and even from actors like Jason Mamoa and Ray Fisher, WB remained tight-lipped.
Finally, in May 2020,  Zack Snyder confirmed that his original version of the Justice League would be releasing on HBO Max in 2021. 
Future Of Snyder's Cut
Although Snyder's voice drove the DCEU, that voice was drowned out by other powerful figures in the studio who were rushing to expand the DCEU prematurely. 
The failure of the DCEU is not solely Snyder's fault. The director has always managed to present his unorthodox, out of the box vision and is considered among the few comic book auteur filmmakers in Hollywood. 
And it seems Warner Bros. has realized that now. But only time will tell if they will give Snyder all the creative freedom he wants in the development of his Justice League.
In the same context, he may not be allowed to do reshoots with the original casts even if the premise of the story demanded extra filming.
Upcoming Films In DCEU:
Wonder Woman 1984, Oct 2, 2020
Justice League Snyder Cut, 2021
The Suicide Squad, Aug 6, 2021
The Batman, Oct 1, 2021
Black Adam, Dec 22, 2021
The Flash, Jun 3, 2022
Shazam! 2, Nov 4, 2022
Aquaman 2, Dec 16, 2022