'The Handmaid's Tale's Yvonne Strahovski Rejoices in Her Expansive Career
Yvonne Strahovski recently revealed she was expecting her second child while on the red carpet for her first big-budge movie 'The Tomorrow War.'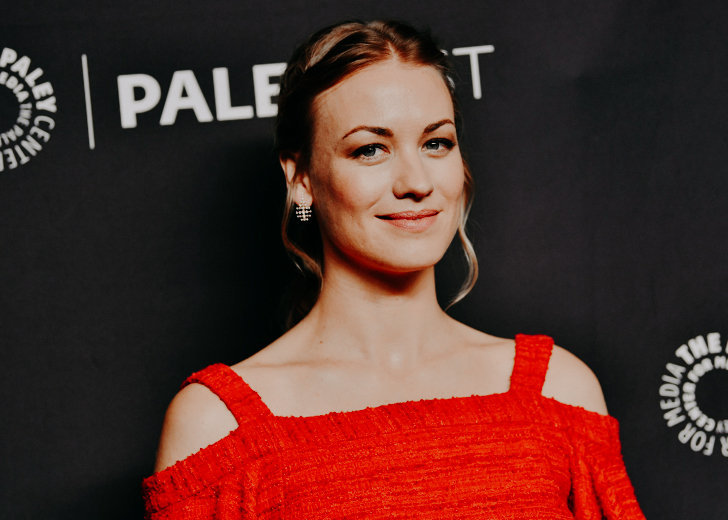 Things are going well for The Handmaid's Tale star Yvonne Strahovski, both career and personal life-wise. Not only is she starring opposite Chris Pratt in The Tomorrow War, her first lead role in a big-budget movie, but she is also expecting her second child with her husband, Tim Loden.
Strahovski, who is the mother to her son William (born October 2018) revealed she is pregnant by debuting her baby bump on the red carpet at the Los Angeles Premiere of The Tomorrow War on June 31, 2021.
She came to the US in 2007 after being cast as Sarah Walker in Chuck and has since established herself as a diverse actress. Over the years, Strahovski has portrayed a vast range of characters and played roles on both the antagonistic and protagonist side.
Speaking to The Hollywood Reporter, The Handmaid's Tale star expressed her happiness at her expansive career and spoke about what roles she preferred.
I've really fought for the opportunities that come about where I'm not pigeonholed. I'm thrilled with the sort of scope I've been given.
Yvonne Strahovski's Roles in Movies and TV Shows
Strahovski was so interested in acting from a young age that she made home movies with her dad's camera as a teen. She later attended Theatre Nepean, an actor-training institute at the University of Western Sydney.
After graduating, she made her TV debut in 2004 with a role in Double the Fist. She landed her first recurring role as Freya Lewis in Headland the next year and took up a few more projects.
Strahovski got her big break in 2007 after she landed the role of Sarah Walker, an agent assigned by NSA and CIA to protect the lead character, in Chuck. After her time in Chuck ended in 2012, she joined Dexter as the titular character's girlfriend.
Yvonne Strahovski Won't Be Returning For 'Dexter' Season 9
During an appearance on Watch What Happens Live With Andy Cohen, Strahovski revealed she would not be making a return in the much-anticiapted season 9 of Dexter. 
Admittedly, she had not heard about the reboot, but her theory was that her character Hannah McKay has already been murdered by Dexter's son Harrison.
Showtime announced the new season would air sometime around autumn this year. 
The actress was part of a few more series and productions in the subsequent years, but what really introduced her to a wider audience was her work in The Handmaid's Tale.
She joined the dystopian sci-fi thriller in 2017 as Serena Joy Waterford and has been an irreplaceable part of the Hulu series in its four seasons so far. She will also reprise her role in the upcoming fifth season. 
Strahovski's role in The Handmaid's Tale earned her a Primetime Emmy nomination and an Ensemble of the year award from Gold Derby Awards in 2018. Another one of Strahovski's prominent roles in recent years was in the 2020 TV mini series Stateless which won her the best lead actress in a television drama in the AACTA Award.
As for her biggest project yet, The Tomorrow War, Strahovski says she isn't worried about the movie not getting a big-screen release. In fact, she has a very optimistic view of it and looks favorably at the possibility of more people watching it since people can watch it from the comfort of their homes.
"So much has evolved during the pandemic. In a lot of ways, it [The Tomorrow War] might actually have more eyeballs on it because people can watch it at home," she said.