Kendrick Lamar's Fiancee Whitney Alford's Ethnicity, Birthday & Baby Girl Discussed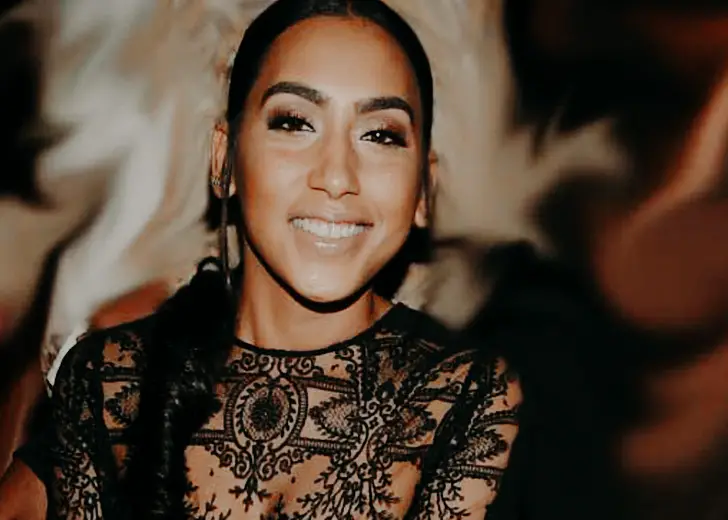 Whitney Alford must have a minimal idea as to what Kendrick Lamar would be in the years that would follow after the two began first dating back in high school. Today, Kendrick's name is often brought up in the 'GOAT' conversations and is, arguably, the greatest - if not the biggest - rapper alive.
Nobody, not even his fiance, Whitney, could've predicted Kendrick's trajectory would possibly reach the heights it has reached—13 Grammy wins out of 37 nominations and a Pulitzer Prize.
Through Kendrick Lamar's journey as a 16-year-old Compton kid to being a pop culture icon, Whitney has been a subject of inspiration for him and more importantly, a source of constant support.
Here, we have assembled some fascinating wikis about K Dot's fiance Whitney Alford including her birthday, ethnicity, and her personal life.
Whitney Alford Is California Native
Whitney Alford was born in the year 1986 in Compton, California, an LA county known for its gang culture and rich hip-hop lineage. She celebrates her birthday on 12th May every year.
The California native Alford attended Centennial High School, which is the same high school where she also met her lifelong partner Kendrick Lamar.
Later, she enrolled at California State University in Long Beach and graduated with a degree in Accounting.
Whitney Alford & Kendrick Lamar's Engagement Was Confirmed During 'The Breakfast Interview'
On April 3, 2015, Whitney Alford's fiance Kendrick Lamar went up to the Power 105.1's The Breakfast Club for an interview to promote his 2015 magnum opus 'To Pimp a Butterfly.' But during the interview when the questions started to concern his personal life, he confirmed that he and his long time girlfriend of 10 years, Whitney Alford, were engaged by that time.

Whitney Alford & Kendrick Lamar attends the 58th Annual Grammy Awards on February 15, 2016, in Los Angeles, California (Photo: Larry Busacca/Getty Images)
The engagement speculation had begun previously before the announcement because the power couple was photographed at a meet and greet session with fans in Compton. And in one of those photos, Whitney was spotted flaunting a massive rock 'ring' on her left finger.
While confirming the engagement, the rapper told, "At the end of the day, you want to always have real people around you. Period. Everybody that's been around me has been around me since day one. People that been by your side, you're supposed to honor that."
I wouldn't even call her my girl. That's my best friend. I don't even like the term that society has put in the world as far as being a companion – she's somebody I can tell my fears to...

- Kendrick Lamar told Billboard in January 2015
Kendrick Lamar Faced Backlash Because Of Whitney Alford's
 

Ethnicity

Right after Kendrick Lamar confirmed his engagement to Whitney Alford in April 2015, some so-called Dark Skin Activists took offense to him getting engaged to a 'light-skinned woman.' To be precise, the self-proclaimed Dark Skin Activist Rashida Strober, who runs the "Dark Skin Is Beautiful" Campaign, took to Facebook to call out Lamar over Alford's ethnicity.

On her Facebook post, Strober wrote, "Well, well, well would you looky here."ANOTHER FAKE CONSCIOUS MUTHER F-KER EXPOSED. I will never support him nor his music with one dime of my money and encourage all dark skinned women not to either," she added.

Following her conflicting comments, many of Strober's supporters were also quick to label the rapper a hypocrite by prefacing his overtly Afro-centric music based on the African-American experience and being someone who's been an outspoken activist for the Black Lives Matter Movement.

Whitney, by the way, is three-quarters black and has always identified as a black woman.

These allegations, however, did very little to deter their relationship as Kendrick Lamar and his fiancée Whitney Alford, never really replied back to the comments made by Strober.
Whitney Alford Is Inspiration Behind Kendrick Lamar's Determined & Possibly His Ever-Growing Net Worth
Not soon after getting introduced to each other, the high school sweethearts began dating. While Whitney Alford was focused on making a living as a makeup artist, her fiance made waves in the music industry as a hot prospect with the release of his 2003 coming of age debut mixtape 'Hub City Threat: Minor Of The Year.'
Though there haven't been many instances of Kendrick mentioning his muse explicitly on his records, a die-hard stan like myself will ask you to paddle back into his catalog and listen to his song titled 'Determined' from his 2009 self-titled EP. In 'Determined,' he raps:
Man, me and my girl split the bucket of KFC. She listening to Drake and all I can say is "Damn. These ****** that much better than me, baby?" I don't think this is meant to be. Cause I'm always losing self esteem. She paused the iPhone then said, "Huh?" I repeated what I said then she replied, "Shut up." You know you the best boy, you gotta keep doing it.  But don't forget when you do, just keep you in it. And never listen to what the industry say.  Don't be a typical artist, be more like Jay. Russell, Barry Gordy, Quincy Jones, Bob Johnson, Sean Combs, L.A. Reid
Kendrick here ruminates on his early struggles as an aspiring artist and being consoled by his muse, who chimes in with words of encouragement by calling him the best and asking him to persevere.
If anything, Whitney's advice is foretelling of what was to proceed in years that would follow. Today, as of December 2020, Kendrick has more accolades and classic works than Drake, and they no longer have to share a bucket of KFC, thanks to his earnings—'The Sing About Me' rapper is reportedly worth more than $75 million according to Celebrity Net Worth.
Whitney Alford And Fiance Kendrick Lamar Are Parents To A Daughter
On Friday, July 26, 2019, Whitney Alford and her fiance Kendrick Lamar welcomed their first child, a baby girl, whose name is yet to be disclosed. The pair had also kept the details of Alford's pregnancy a secret.
Presently, Alford, Lamar, and their over a year old daughter propels their family life privately together and are based in Los Angeles, California.