Former TMZ Host Van Lathan Had A Fiancee Back In 2018
Info that Van Lathan had a fiance in 2017 came out when he appeared as a guest in The Breakfast Club in 2018. However, after the episode of The Breakfast Club, there has been no news about Lathan's partner and his current relationship status is unknown.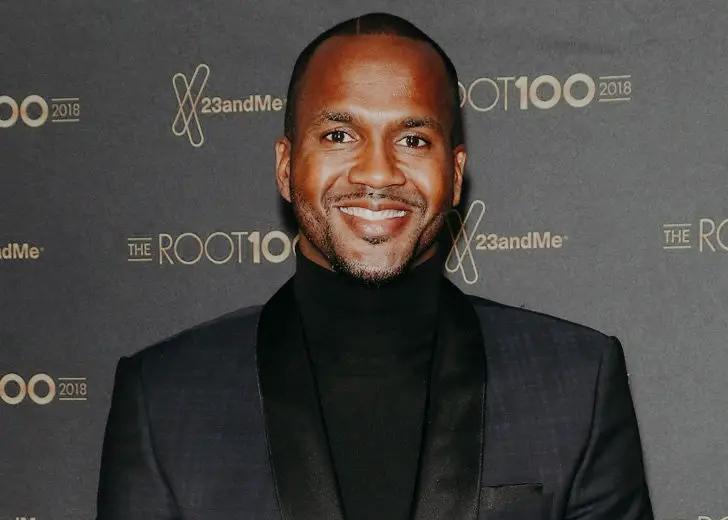 Van Lathan became a household name after confronting Kanye West on his comment that slavery was a choice. Then, he garnered whole new attention after getting fired from TMZ. But Lathan wasn't the talk of the town for just that. People were curious about the 40-year-old media personality when he mentioned having someone in his life in 2018.
Let's find out if he is still with the same person he mentioned in his interview. And also know the exact reason why he was let go of the site.
Is Van Lathan Still With Fiancee?
Well, it is not sure as of now, but Van Lathan did have a fiancee back in 2018.
When he appeared as a guest in The Breakfast Club podcast in 2018, his friend and the show host Charlamagne shared that they went on vacation to Anguilla with their partners. Charlamagne then revealed that he was with his wife while Lathan was with his fiance. So, Charlamagne's day does prove that the podcaster had a fiancee then.
But, he hasn't talked about his relationship after that, which provides us with no reports of his current relationship status. 
Argument With Kanye West Put Van Lathan On Spotlight
Van Lathan's popularity came to rise when he argued against Kanye West on TMZ Live in May of 2018. He confronted Kanye for his comment that American slavery was a choice. Kanye had commented:
"When you hear about slavery for 400 years... For 400 years? That sounds like a choice. You were there for 400 years and it's all of y'all. It's like we're mentally imprisoned."
Lathan disagreed with Kanye and expressed his disappointment at Kanye's words. Soon, the matter blew up, and people wanted to know more about the confrontation. Later on, he sat with The Mike and Donny Show to discuss his dispute with Kanye West. In the show, Lathan mentioned that Kanye is wrong about his views on slavery since their ancestors were devoid of the choices back then. 
He also shared that he was reluctant to listen to Kanye's music at the time. But, he got over that, putting aside their difference in opinion as music meant too much for him.
Well, the confrontations was not the first time Lathan shed his opinion regarding race. He also shared his differing viewpoint about racial equality in a talk with Interview magazine in June of 2020. He stated that a better goal for America was to have racial justice rather than racial equality.
Van Lathan Fired After Physical Confrontation With 'TMZ Live' Co-Presenter
In 2019, the still pictures of the media personality physically confronting his co-presenter Michael Babcock during the filming of "TMZ Live" surfaced. Lathan, who was arguably the most compelling TMZ personality, could be seen grabbing his colleagues' neck in the picture.
Fans got to know of the newsroom drama when Lathan tweeted a cryptic tweet predicting something bad would happen. Sadly, it did come true as TMZ fired him.
It's looking like tomorrow is going to suck. 😂😂😂😂. We good up there God? Okay, cool Just checking. — NOT VAN JONES BUT VAN LATHAN (@VanLathan) October 21, 2019
But why did the row start between the colleagues in the first place? Apparently, it was triggered after a discussion on the photographs of talk show host Ellen Degeneres seated with ex-president George W Bush. But, the involved parties and TMZ did not comment on the agenda of the discussion.
Although fired from the network, Lathan has said that he was more than thankful for the opportunity given in TMZ. He has moved on from that point and is currently busy doing podcasts.
In 2020, he joined Ringer as host of two of their podcasts: Way Down in the Hole and Higher Learning. In Higher Learning, he is heard dissecting the biggest topics in black culture, politics, and sports with Rachel Lindsay and guests.