Were Tony Dokoupil's Two Children Born From His First Marriage?
Co-anchor of CBS This Morning Tony Dokoupil's life is much more interesting than you think. Did you know that two of his three children are actually not from his current wife?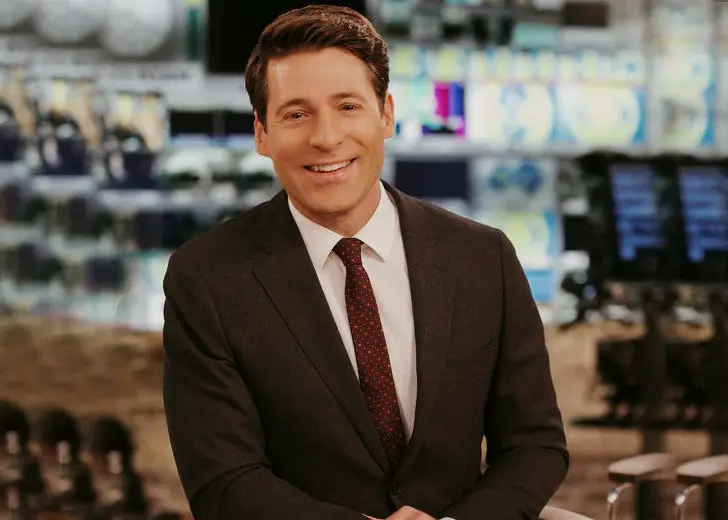 Co-anchor of CBS This Morning, Tony Dokoupil, is married to the NBC correspondent, Katy Tur. And, it's no surprise that the duo has a son named Teddy. But, it turns out, Dokoupil is the father of two more children.
So, is the mother of the two kids his first wife?
Well, find out, with extra details on his personal life, current wife, and children.
Tony Dokoupil Married Katy Tur on Utahn Desert in 2017
Dokoupil and Katy met each other in a makeup room at MSNBC when Tony was a reporter at the network. As their friendship blossomed into love, they eloped to Utah and got married in the middle of a desert in October 2017. They even wrote their vows and exchanged it through a "nondenominational ceremony" with no altars.
Since then, Tony and Katy have sustained a beautiful marriage as a perfect couple. The duo even hosted the 41st annual News & Documentary Awards in September 2020.
Tony and Wife Tur Had Their First and Only Child in 2019
Tony and his wife Tur waited only two years from the wedding to have their first child: Katy Tur gave birth to a boy in April 2019 and named him Theodore "Teddy" Dokoupil.
Interestingly, Dokoupil and his wife made Teddy a part of a CBS broadcast in May 2020. They featured him on CBS Sunday morning's "Working from Home" series to elaborate on how they managed to work for two different networks from a single basement during the COVID's work-from-home period.
Tony Dokoupil Had Affirmed Having Children Already in 2014
While Tony and Katy have only one child together, Tony has two other kids. He has openly claimed to be a father of three in his Instagram bio.
Here, the interesting part is, he had children, a son and a daughter, long before his marriage to Katy. He talked about his kids publicly in an interview with Time in April 2014. When asked if he would ever tell his kids about their grandfather, who went jail for dealing weed, his reply was:
Yes, eventually. I talked with my father about this the other day.
In that interview, he also revealed that his son was at the age of 5. So, it can be figured that his son is now around the age of 10 or 11. 
Is The Mother Of the Two Kids Tony Dokoupil's Ex-Wife?
Well, answering the question, for now, is like throwing the arrow in the dark. Tony has neither mentioned anything as first marriage nor been vocal about the mother of his two children. So, concluding that his previous partner was his first wife or ex-wife would be inappropriate.
While the kids' mother's identity remains a mystery, one thing is clear; the children have a good relationship with Dokoupil's current wife, Katy. They were present at the time she gave birth to Teddy. And, she had made her colleague, Kasie Hunt, to air the news as:
"Many smooches and snuggles later, Theodore, Mom, big brother and big sister are wondering if they make a swaddle big enough for five"
Her words made it clear that they all were together at a particular moment as a family.