Tom Cruise Is Rocking the Same Haircut in 'Top Gun: Maverick' as He Did in His 1986 Hit 'Top Gun'
In 2018, Tom Cruise's photo fueled up social media as the actor looked very much like what he did in the first 'Top Gun' from 1986.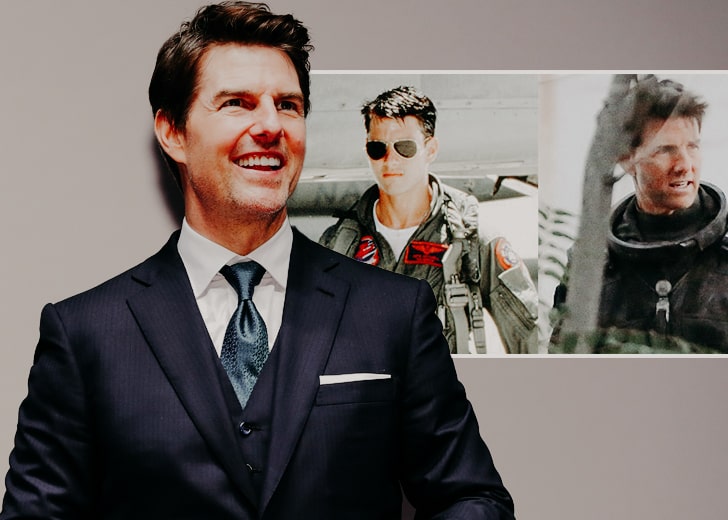 In 2018, when Tom Cruise's photos surfaced on the internet, people were in shock as the actor looked very much like his old self from back in 1986. The context? He was filming for Top Gun: Maverick. The similarities in question? His hairstyle, the same one he had 32 years ago!
A Tale of Ageless Cruise and 'Top Gun' Hair
Cruise barely seems to age. The fact that someone in his fifties pulled off some outrageous stunts in Mission Impossible: Fallout was baffling enough, and now with Top Gun: Maverick set to hit the theatres on July 2, 2021, it is only a matter of time until we question whether he has a fountain of youth in his backyard.
Top Gun: Maverick will follow the 35-year-old classic Top Gun, which was beloved by movie fans across the globe. The action movie from the 80s featured some incredible spectacle, including a ruggedly handsome Cruise and his always-in-place hairstyle.

Tom Cruise in 1986's and 2021's Top Gun movie (Source: Hollywood life)
After 35 years, the sequel may see more advanced technologies used, but it looks like one thing will remain the same—Cruise's handsomeness! Even after all these years, he looks exactly the same.
Looking at the photos from the shooting location and the short trailer, one will actually have to do a double-take to see if our eyes are deceiving us.
Rocking Different Haircuts Over The Years
The superstar, whose name is an introduction and a brand, has provided fans with the inspiration for multiple haircuts. Be it long hair or short spikes; Cruise can rock any and every trim in style. 
The topmost cut on the list is his Top Gun hair. Simple and slick, Cruise's hairstyle from the 1986 movie is a go-to summer grooming reference for men of all ages. Ever since the movie was released, this haircut has been a weapon in barbers' arsenals. 

Tom Cruise in 1986's Top Gun (Source: GQ magazine)
Another hit trim is the shorter on the sides and somewhat longer on top hairstyle, which complimented the actor brilliantly in the 2006 movie Mission: Impossible III.

Tom Cruise in the 2006 movie Mission Impossible III (Source: Nerdist)
The elegant and pulled-back hairstyle that Cruise donned at the premiere of his film Edge Of Tomorrow in 2014 and the Pioneer of the Year award in 2018 was another hairstyle milestone set by the hero.
He grew his hair slightly and then pull it to the side and backward to achieve a classy, elegant look.
Besides that, he's had blonde highlights, a shaggy razor cut, a buzz cut, and even a classic tapered hairdo. All of which have been tried and tested by his fans, but we're pretty sure none could do it as well as Cruise did!