'Smacking Me in the Face:' Kelly Clarkson Tears up after Heartwarming 'Already Gone' Performance
Kelly Clarkson was brought to tears by Corey Ward's performance of her 2009 song Already Gone.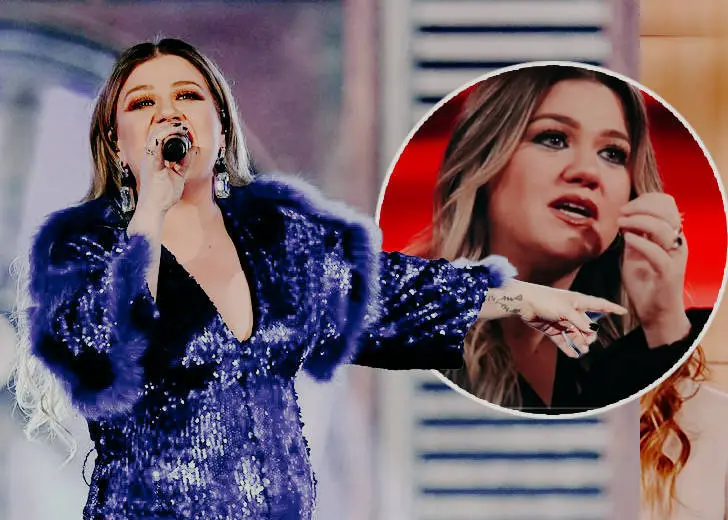 Kelly Clarkson released her song Already Gone in 2009. It tells the story of a relationship that's destined to end despite best efforts from both parties. When she wrote the song, she revealed she was thinking along the lines of, "It's ok. It doesn't always have to work out."
The same song now has a deeper meaning for Clarkson after hearing Corey Ward perform it. The The Voice coach was brought to tears after hearing him perform the number dear to her heart. She returned to her seat at the NBC singing competition after weeks of absence.
Hearing him sing that to me, in my life now. It's like, 'Are you smacking in the face with my own message?' 
Already Gone seemed to resonate with Clarkson more than ever as she is going through a divorce with her husband, Brandon Blackstock.
Clarkson Filed For Divorce
Clarkson and Blackstock first met in 2006 at the Academy of Country Music Awards. She was rehearsing with Rascal Flatts, and Blackstock happened to be the group's tour manager at the time.
The two didn't date until 2012 when they reconnected through their mutual friend Blake Shelton. After 10 months of going out, Clarkson announced she was engaged on December 16, 2012. 
I'M ENGAGED!!!!! I wanted y'all to know!! Happiest night of my life last night! I am so lucky and am with the greatest man ever :) — Kelly Clarkson (@kellyclarkson) December 15, 2012
10 more months after their engagement, the singer and talent manager tied the knot at Blackberry Farm in Walland, Tennessee, on October 20, 2013. After seven years of marriage, she filed for divorce in June 2020 citing "irreconcilable differences."
The married couple have two children together, daughter River Rose (born June 12, 2014) and son Remington Alexander Blackstock (born April 12, 2016). 
TMZ reported Clarkson wanted joint custody of their kids and wanted their prenup enforced. Roughly a month prior to the news of their divorce breaking out, they had put their L.A. home on the market for $10 million.
Clarkson was awarded primary physical custody of her kids with Blackstock getting the kids on 1st, 3rd, and 5th weekends of each month.
Clarkson Wrote 60 Songs While Dealing With Her Divorce
The first American Idol revealed that going through divorce had been incredibly tough for her. She also added that she had written approximately 60 songs during the divorce process. 
Clarkson sees writing songs as an outlet stating and added that it had been helpful in going through the difficult process.
I don't know how anybody goes through grief like divorce, any kind of grief, any kind of loss without having an outlet like this. I have written like 60 songs… Anytime you go through some life, it's such an awesome thing to have that outlet, regardless of whether people hear it or not.
The Voice coach also shared that music helped her heal with fellow coach John Legend's latest album Bigger Love even being therapeutic for her.