6 Times 'Ridiculousness' Host Steelo Brim and His Dogs Stole Our Hearts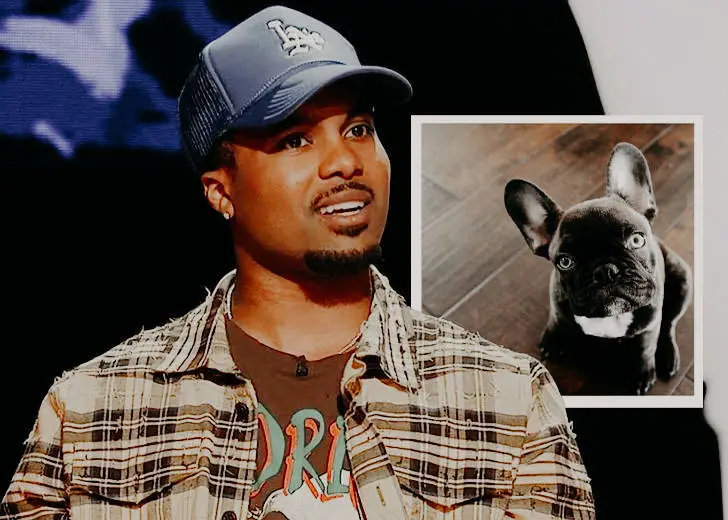 The Ridiculousness host Sterling "Steelo" Brim is very fond of his furry friends and his dog, Nucky, is almost as popular as he is.
The actor owns two adorable dogs, Nucky and Wrigley, whom he refers to as his children.
His Instagram posts show off his adorable pets alongside him. Sadly, we mostly get to see only one of his pets, a french bulldog, Nucky.
While fans wonder how he manages time amid his busy schedule, it seems like Brim is forever glued to his puppies and even keeps them together while he's working from home. 
The bulldog is a star himself, with beautiful blue eyes, medium height, and a compactly built body. Not only that, but the puppy also has his own Instagram account.  
Steelo Brim petting his dog Nucky in April 2021. (Photo: Instagram)
The Hardball actor once lost both canines in March 2019. The security cameras in his house had picked up footage of a woman walking away with his pets.
Brim then took his social media handles to ask for help from his followers.
Luckily, Brim was united with his pooches a few hours later.
He took to Twitter to inform the fans that he got his dogs back. In the tweet, he also revealed that he held the culprits as hostages for a short period with a fee.
The Ridiculousness presenter added he was delighted to get his pets back home safely.  
For all my twitter fam wondering I got my dogs back. Just a small fee and slightly holding them hostage but other than that all is well. Just happy to have them home ðŸ™ÂðŸÂ¾ — Sterling Brim (@SteeloBrim) March 30, 2019
Let's take a look at the times Brim and Nucky stole our hearts. 
1) "Nah! These are not contacts, I was born with these eyes and my eyes do all the talking!"
The Ridiculousness star posted this picture on 2015 National Puppy Day, dated March 24, 2015. 
In the caption, he disclosed Nucky was ready for his photoshoot. He also joked his upper would impress a lot of female dogs with his eyes. Well, there's no denying that! 
2) Brim is such a good dad, seriously, a responsible dog owner!   
This photo was taken after Nucky had his surgery from a slipped disk in January 2018. Brim shared that the canine was so much better already.
3) The caption says it all: "It's kinda Hard being KING."
4)  Let me sit on your lap please, I promise I won't disturb you.  
This picture was taken when Brim was working from home, hosting the Wine and Weed podcast with Sam Jay, John Ros, and Chris Reinacher in November 2020. 
And his pooch visible wanted to be a part of their team.  
5) The duo surely knows how to take the perfect selfie!  
Brim uploaded this adorable selfie on Instagram back in September 2015. In the caption, he dubbed him and his dog "Squad!"
6) Isn't he ADORABULL?  
Nucky looked adorable as he upped his game for posing in the picture.
With his body resting on the green lawn and his point ears in the display, the pupper looked right at the camera. No doubt, he is a pro at modeling.
And if that's not enough, here's an extra dose of cuteness!
1) Brim with his second child, Wrigley!   
2) Puppy love! 
3) "Please put me down Steelo, I'm scared!"