'Selena: The Series' Cast: Why Christian Serratos May Not Be The Best Choice To Play Selena Quintanilla?
My point is that Selena should have been portrayed by someone who personified how Selena was in real life.  After all, the influential Latin artist of the '90s was known for her blazing sassy personality, fiery attitude, and controversial endeavors.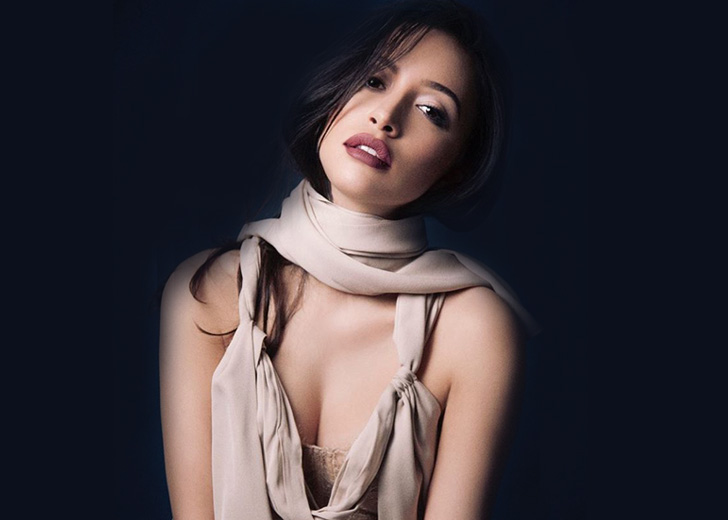 It has been over two and a half decades since iconic Mexican-American singer Selena Quintanilla was shot fatally by her once-trusted accomplice. Since her demise, there have been attempts to keep her legacy alive not only through her music but with the production of her biographical show and movie. 
As of 2020, Netflix is also set to release a series based on the life of the "Queen of Tejano music." The first part of the upcoming show Selena: The Series will be released sometime around 2020, but a set date is yet to be revealed. The streaming site shared a tweet on November 12, 2019.
Get your first look at Christian Serratos, who will play Selena Quintanilla in a coming of age story chronicling the iconic singer's rise.

Selena: The Series — Part 1 premieres in 2020. pic.twitter.com/3U7hBrxLHi — Netflix (@netflix) November 12, 2019
A younger version of the titular character will be played by child actress-singer Madison Taylor Baez. Meanwhile, the center of focus remains Christian Serratos, who portrays an adult Selena. 
The trailer of Selena: The Series received positive responses from some viewers, but others still doubt if Serratos is the best choice for playing the Latino singer.
Why Christian Serratos May Not Be The Perfect Match To Play Selena?
In the acting industry, biopic roles are hard to acquire. They are generally awarded based on one's close resemblance to the historical figures. If not so, only someone with a proven track record may land such a role.  
A biopic role also has a lot of baggage attached to it. Fans expect the performing actor to not only give justice to the historical significance of the role but somehow take ownership of the whole production team and casts if anything goes wrong with the project. 
On the positive side, Serratos is a talented actress who has shown great acting performances in The Twilight movie series, Cow Belles, Flight 7500, and on The Walking Dead. She surely has a proven track record as a TV actress. 
However, she has never been part of a biographical movie/show till now. Also, some differential factors between the actress and her biopic role Selena Quintanilla may play in the narrative of those fans who haven't liked Serrato's appointment on Selena The Series cast.
Differential Factors Between Christian Serratos and Selena Quintanilla
Christian Serratos Is Way Older Than Selena
Given Selena was only 23 years and 11 months at the time of her death on March 31, 1995, Christian Serratos, who will be 30 on September 21, 2020, may not accurately relate to the nostalgic stage of the late singer's life — either as a late teenager or as an early 20-something-year-old.

Christian Serratos (LEFT) Tejano singer Selena Quintanilla (Right)
Previously, other actresses like Jennifer Lopez and Maya Zapata also portrayed the iconic musical figure in the 1997 movie Selena and Telemundo's Spanish-language show El secreto de Selena (2018), respectively. Lopez was around 28 when the film released, whereas Maya was 37 when the series premiered.
Henceforth, it might be considered biased to single out Serratos based on her age; but I am not claiming that Jennifer Lopez and Maya Zapata were better choices either.
My point is that Selena should have been portrayed by someone who personified how Selena was in real life.  After all, the influential Latin artist of the '90s was known for her blazing sassy personality, fiery attitude, and controversial endeavors. 
Christian Serratos Doesn't Share The Same Ethnic Heritage With Selena
Amor Prohibido singer Selena Quintanilla-Perez was an entertainer of mixed ethnicity consisting of Mexican and Native American ancestry. Her father Abraham Quintanilla Jr. is of Mexican descent; whereas, Selena's mother, Marcella Samora, has Cherokee heritage.
On the other hand, Christian Serratos is also half-Mexican, but she lacks a Native American heritage. 
The ethnicity factor may not be the sole determinant to judge Serratos' role. Still, it adds up to the debate of whether an ethnic-specific role should be given to an actor of a different heritage. 
Some Claim She Has Closer Resemblance To Jennifer Lopez Than Selena

Jennifer Lopez as Selena in a scene of the 1997 movie, Selena (Photo: YouTube.
There have been accusations that Serratos looks more like Jennifer Lopez of the Selena movie than the real-life singer herself. One fan commented on the Selena: The Series official trailer, stating, "This looks like an actress acting as Jennifer Lopez acting as Selena."
A similar point was heard from another fan, who claimed, "She looks like Jennifer Lopez, not Selena, I understand Jennifer played Selena in the movie, but you guys are making a movie about Selena, not Jennifer."
Many more have also commented on social media and forums with similar statements. 
The Major Difference in Looks 

Physical features: Selena (Left) looks curvy in comparison to Christian Serratos (right) (Photo: Arlene Richie/Media Sources, Getty Images, and Kevin Winter/Getty Images North America) 
Although the height of Christain Serratos (1.7 m) and Selena Quintanilla (1.65 m) relatively match, their body orientation seems to be slightly different.
Fans argue that Serratos looks quite lean and slim as compared to Quintanilla, who was famous for wearing tight clothing that highlighted her curves and the lower part of the body.
Bodymeasurement.com reports that Serratos has banana body type, whereas Quintanilla had a pear-shaped body. 
Serratos Is A Mother Of A Three-Year-Old
The Walking Dead actress is married to a Danish singer named David Boyd. The couple has a daughter named Wolfgang Serratos Boyd, who was born in 2017.
While Quintanilla was also married to her Mexican-American guitarist husband Chris Perez, they didn't have children, possibly because of Tejanp's singer's busy career in singing and fashion. The pair had eloped and got married in their early 20's because the singer's father didn't like Perez.  
What next: Will Serratos Live Up To The Role?
To summarize, Serratos lacks drama in her life that we could see surround Quintanilla before and after her rise to fame.
Still, we need to give Serratos the benefit of the doubt that she will work diligently to put life into the role. Even Jennifer Lopez was criticized when she got appointed to play Selena in the 1997's biographical musical drama film, Selena. But later, Lopez was appreciated for her portrayal of Selena.
At present, it's still not revealed whether Serratos will sing on Selena: The Series. But if that's the requirement, then The Walking Dead actress at least has the singing potentiality.
'Selena: The Series' Casts
The cast of the series was announced back in 2019. The upcoming biographical drama web series includes Ricardo Chavira as Selena's father, Abraham Quintanillam Jr., and Seidy Lopez as her mother, Marcella Samora. Likewise, Jesse Posey will play Selena's husband Chris Perez, Noemi Gonzalez will appear as her sister Suzette Quintanilla, and Gabriel Chavarria will star as her brother A.B. Quintanilla III.