Sean Astin uses his step-father's surname despite having a biological father
Actor Sean Astin, of The Goonies and Lord of the Rings fame, uses his step-father John Astin's surname, despite having a biological father.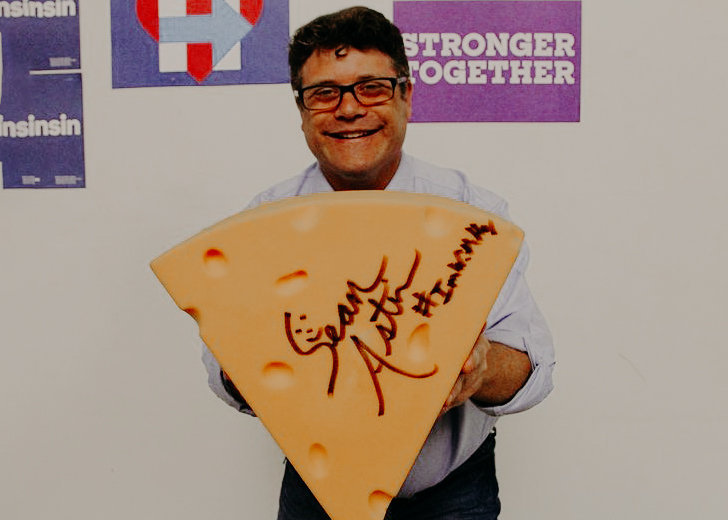 American actor Sean Astin, known for his performances in The Goonies and The Lord of the Rings, has always made media headlines because of his relationship with his three fathers.
He considers John Astin as his birth father and uses his last name while maintaining a good relationship with his biological father, Michael Tell, and his rumored father, Desi Arnaz Jr.
Confusion about Sean's Biological Father
Late actress Patty Duke welcomed her firstborn Sean on February 25, 1971, and grabbed immediate tabloid attention, as she kept the identity of the baby's father a mystery.
Duke had just come out of a scandalous relationship with Arnaz Jr. But, shortly after, Duke got married to music promoter Michael Tell, after a brief introduction with him. Because of that, the media speculated Tell to be the biological father of the actor.
However, the actress's marriage with Tell lasted just thirteen days and got annulled after a year. So, the mystery around Sean's biological father remained unanswered.
Later, Duke claimed that John Astin was the birth father of Sean. However, at that time, John was then married to his ex-wife. Duke and John had kept their romantic affair to themselves, initially. They eventually got married in 1972 after the birth of Sean, and John's divorce was finalized. John, then, gave his surname to the child.
Even though John and Duke raised Sean and his other son as parents, the told-truth was still confusing for Sean. In an interview with People magazine, the actor said:
There was a lot of stuff in the press early on, basically grew up without any real knowledge of all that stuff.
At fourteen years old, young Sean was told that his birth father was Arnaz Jr. In fact, Duke was the one who revealed the mystery to him. Getting to know about his paternal family background led the actor to bond with Arnaz Jr.
However, the next shock came to Sean when he was in his mid-20s. One of Tell's relatives told him that they were related to each other. That's when the talented actor decided to discover the truth on his own. 
Sean Took a DNA Paternity Test to Know the Truth about His Biological Dad
The Goonies actor was curious to know his biological father; thus, he underwent the science route. When Sean took the DNA Paternity test with all three of his speculated father, it unveiled that he was the biological son of Michael Tell.
In the 2001 interview with People, he said that John Astin was his father, while Michael Tell was his biological father.
If you want to know who I am, John Astin is my father, Michael Tell is my biological father.
My father is John Astin. He portrays Gomez Adams in the Adams Family.
I'm not sure what I just watched, but I have giant smile on my face and my body is...well, wriggling. Kooky show man. This dance...compelling... https://t.co/z1b8ohFrf8 — Sean Astin (@SeanAstin) December 25, 2017
Ever since then, Sean has maintained a good bond with all three. However, he regards John, who raised him since he was born, as his father, and uses his family name. Besides, he has a good relationship with Tell and Arnaz Jr.
I have a good relationship with Mike. That's who I am. I don't fault anybody, I don't fault myself or with Desi, who is like my godfather, I have such a powerful love bond with this man, he's a gorgeous human being.
Moreover, the actor doesn't blame anyone for this confusion and believes that spiritual connection means more to him than scientific facts.