WWE Star Sasha Banks' Designer Husband Sarath Ton Showcases Her Costume for WrestleMania 37
SmackDown Women's Champion Sasha Banks made a glamorous entry in her custom outfit designed by her husband Sarath Ton at 'WrestleMania 37.'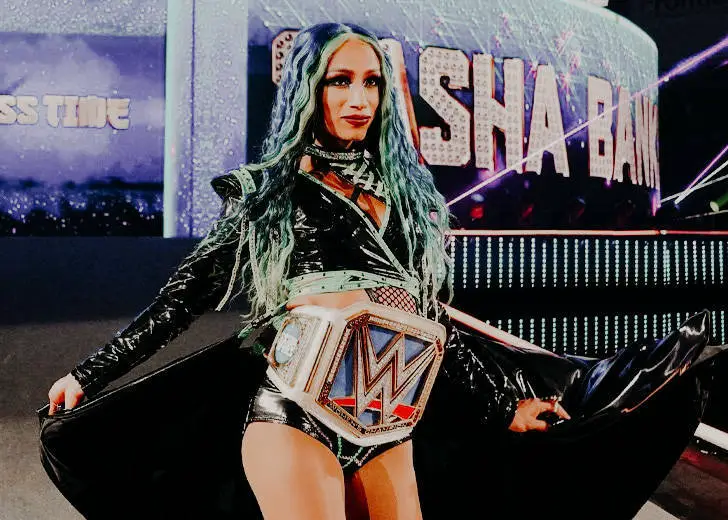 SmackDown Women's Champion Sasha Banks aka Mercedes Kaestner-Varnado made a glamorous entry in her custom outfit designed by her husband Sarath Ton at WrestleMania 37.
Ton took to his Instagram on April 11 to give a glimpse of Banks' breathtaking WrestleMania costume. The black latex outfit had neon green and white embellishments and crisscrossed details. 
The black and neon green top was attached to a choker designed for her neckline and her black shorts. A tight pair of black-colored thigh-high boots with neon green laces made her look bold. The right boot had "LEGIT" embellished on it. 
The athlete topped off the look with a black floor-length cape jacket designed exclusively by Jeffrey Kelly Designs and neon green highlights on her previously blue-colored hair.
Banks Lost the Match to Bianca Belair
The SmackDown Women's Champion made history at WrestleMania 37. She went against Bianca Belair in the major event during the first night of the two-day extravaganza to defend her title. It was the first-ever one-on-one women's WrestleMania key event.
Belair answered all the questions in beating Banks to win the SmackDown Women's Championship and bring Night One (April 11, 2021) of WrestleMania 37 to an end.
Belair AKA EST was visibly overwhelmed with emotions from the start as she approached the most important moment of her career. 
Belair and Banks not only became the first African-American women to compete in a single match on wrestling's Grandest Stage, but they also made history as the first African-American women to compete in a WrestleMania major event. 
The two fought their best fight for around twenty minutes before Belair stunned the veteran by planting the K.O.D. (Kiss Of Death). They also countered each other's attempts at the K.O.D. and the Backstabber before the final knock. 
Belair became a champion for the first time in her WWE career on the count of three, cementing her role in sports entertainment history with the debut.
Banks Joined WWE through a Try-Out Camp
The professional fighter began her wrestling career as a member of Chaotic Wrestling.
On October 1, 2010, she made her pro wrestling debut in an inter-gender tag team match with Nikki Roxx, but unfortunately lost to the opponent. She won her first match on January 7, 2011, when she and Roxx beat Alexxis and Mistress Belmont in a tag team match.
Banks joined WWE in August 2012 after she attended WWE tryout camp in June 2012. She was promoted to NXT, WWE's developmental division, where she took her ring name "Sasha Banks."
On December 12, 2012, she made her television debut on WWE NXT, losing to Paige. On the January 23, 2013 episode of NXT, Banks defeated Alicia Fox for her first televised victory. 
The 29-year-old appeared first for the Raw brand on July 25, defeating Charlotte to win the WWE Women's Championship for the first time. She was drafted to the Raw brand as part of the 2016 WWE draft, which took place on July 19.
Since then, Banks has made history at every level, appearing in the first-ever Women's WWE Iron Man, Hell in a Cell, Royal Rumble, and Elimination Chamber Matches. She has also won several Raw Women's Championships and teamed up with Bayley to become the first WWE Women's Tag Team Champions. 
The Boss has proved time and time again that she rules the roost by refusing to be overlooked.