Sara Rue Had A Weight Loss That Freed Her From Feeling Insecure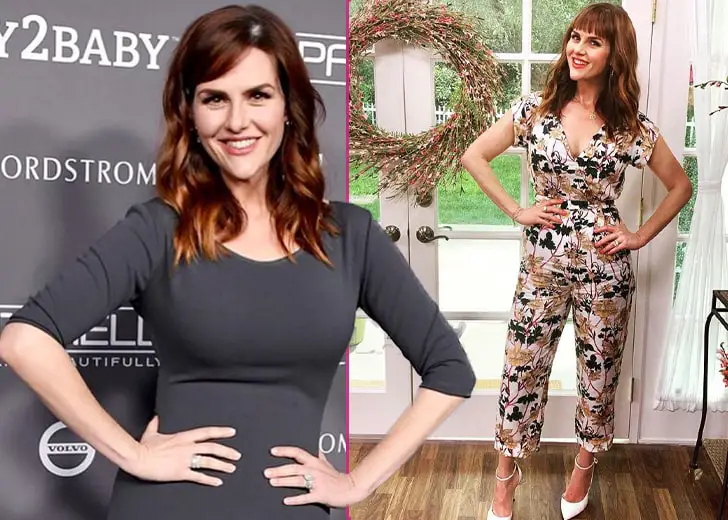 Important Note: This article is not written to denounce overweight individuals, nor it's penned to imply any form of negative assertions or connotations to being overweight. The author and Hollywoodmask understand and respect both the Body Positivity and Body Neutrality movement in a sense that we should treat each other with empathy and strive together to imagine a world in which we can channel our inner beauty and potentialities.
Sara Rue is no stranger to the spotlight as she has been working as a professional actor from the young age of nine. Despite her comfort in front of the lens, the actress-turned-producer has gone on record to state that during her yesteryears, she was always insecure about her body measurements. 
However, all that changed when she signed up for a weight loss program with Jenny Craig and managed to lose most of her body fat. Today, she is an advocate for weight loss and motivates obese women to take action to change their lives for the better. 
Sara Rue Overcame Mental hurdles To Lose 30 lbs. In 12 Weeks
Rue first signed up for the weight loss program under Jenny Craig in 2009 and within 12 weeks of her induction, she had shed thirty pounds of body fat. The actress would later act as a spokesperson for Jenny Craig—America's leading authority on weight loss. In an exclusive report from People in mid-2010, Rude talked about her journey so far. 
Rue disclosed that one of the hardest hurdles to overcome in the journey to weight loss was changing her mindset. But once she had overcome her own mental biases she was ready to do more. The key factor to her weight loss, as the actress claimed, was portion control. Because the regimen she was on was not a full-blown diet, but more of a lifestyle adjustment, she found the perfect balance that helped her to not slip up.
Rue Became Brave Enough To Wear A Bikini For The First Time In Her Life
The incredible weight loss also boosted her confidence to a great extent. Gone was the girl who felt insecure about her measurements, as she had gone from size 16 to size 6. Not just that, after a year and a half after she began the Jenny Craig program, she was able to confidently wear a bikini for the first time in her life. 
The actress who spent most of her life avoiding the beach was then featured in a nation-wide marketing campaign wearing a bikini in 2011. Rude did, however, admit to People magazine that it was a little strange trying on a bikini for the first time but after she had it on she thought to herself, "I look good." 
Rue Also Gathered Courage For Her First Half-Marathon
The then chubby red-haired actress had initially faced hurdles for most of her life and not just in the personal front. In the same report, the outlet disclosed that the actress had even lost a role because of their size. But by August 2010, Rue had lost fifty pounds and Rue, whose only exercise up to that point was walking her dogs around the block, was regularly logging up to an hour of cardio 5-6 days a week. 
Her stamina also benefited greatly from the Jenny Craig regiment, she opened up to People. She revealed that she was preparing for her first-ever half-marathon because she had gone up from one minute of running for every ten minutes of walking to running for two and a half hours straight.
"When I started running I would run for one minute and walk for ten. Now I can run for two-and-a-half hours straight. That's insane! I never would have thought six months ago that I would be able to run that much."
Sara Rue Is Inspiring Obese And Overweight Women To Take Action
Now that Rue has achieved her ideal body and in the pinnacle of her fitness, she has been inspiring other people struggling with the same insecurities to find their path to freedom. She now works to motivate obese and overweight women to take action through various campaigns. 
On December 10, 2015, Rue even took to Twitter to promote #iResolveNowChat for women struggling with obesity. The program hosted by Dr. Holly Wyatt was designed to raise awareness about the medical drawbacks of obesity and motivate obese people to take immediate action.