Rob Corddry's Wife And Kids Match His Comedic Prowess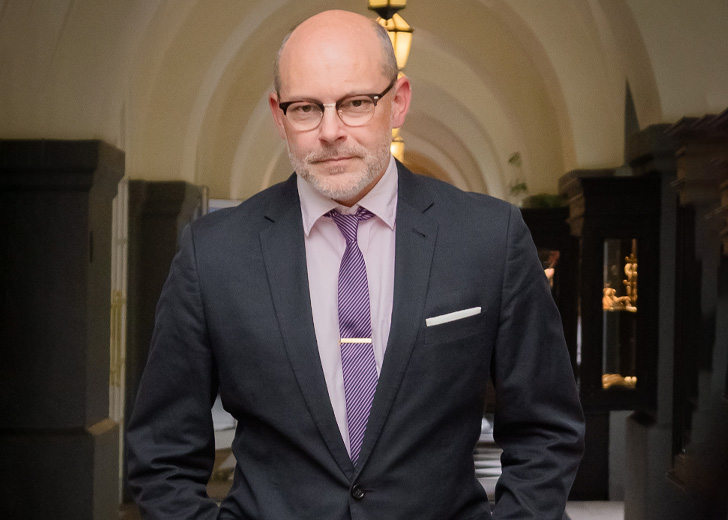 It is well-known that Emmy Award-winning actor/comedian Rob Corddry is a man of humor, but he isn't the only one in the Corddry family with funnybones.
The comedian has a wife and two children, all of whom are already catching up with his witty humor.
Read on to learn more about Rob Corddry's family and their witty humor.
Rob Corddry Often Shares Witty Humors Of His Wife & Daughter On Twitter
The 49-year-old comedian often shares witty humor and jokes made by wife Sandra and 14-year-old daughter Sloane on Twitter. And after reading those jokes, one can clearly state that The Hot Tub Time Machine actor's family members don't necessarily take the back seat when it comes to having witty humor.
In one Tweet from July 2020, the celebrated comic shared a witty pun from his daughter:
My 14 year old: Hey Daddy... if I'm ever turned into a dog but still have a human brain, I'm going to go up to a bunch of random people, and I won't say "Woof woof" like they'd expext. I'm gonna say "Leedleleedleleedleleedle!"
Similarly, on October 11, 2018, his wife's retort was on display for the Twitterverse to admire. 
Rob Corddry Has Been Married Since 2002
The Children's Hospital creator has been married to Sandra Corddry since 2002. However, Sandra has kept a low profile despite her husband's massive popularity. 
That being said, the comedian-wife has not completely wrapped herself out of the limelight. Mrs. Corddry often attends celebrity events and programs along with Rob.

Rob Corddry and his wife Sandra in 2016 (Photo: Todd Williamson/Getty Images)
In one of those instances, the power couple attended the LA Premiere of Paramount Pictures' film Office Christmas Party at Regency Village Theatre on December 7, 2016, in Westwood, California. In the movie, the American funny fan had portrayed the character of Jeremy.
The Couple Has Raised Two Wonderful Funny Children
The husband and wife are parents of two children: both daughters, Sloane Sullivan, and Marlo Stevenson Corddry.
The couple welcomed their first daughter Sloane Sullivan on July 3, 2006, in New York City. At the time of birth, the baby weighed 7 lbs—2 oz.
I am so excited to have a girl! I'm really looking forward to having tea parties and playing with pandas...I know exactly what to say to a girl, and that's, "More sugar! More fake sugar!" - Rob Corddry told People before the birth of his first daughter 
Two years later, on November 12, 2008, the Corddry pair gave birth to their second daughter Marlo Stevenson Corddry. The couple had announced the pregnancy and sex of the baby earlier in September.
The comedian's youngest daughter is turning out to be an exceptional guitarist, who, even at the tender age of 8, could shred a Joe Satriani masterpiece. Flummoxed and happy by the daughter's prowess, the proud father frequently flaunts her guitar skills via Instagram. 
Presently, Rob, his wife Sandra, and their two daughters Sloane, aged 14, and Marlo, aged 12, reside together in Los Angeles.