Know How Rachel Hollis' Net Worth Is Connected To Her Book Sales
Rachel Hollis is a best-selling author, entrepreneur, and motivational speaker. She adds to her net worth through her speaking events, rise app, and book sales. But how much is her total net worth? Learn about the details here.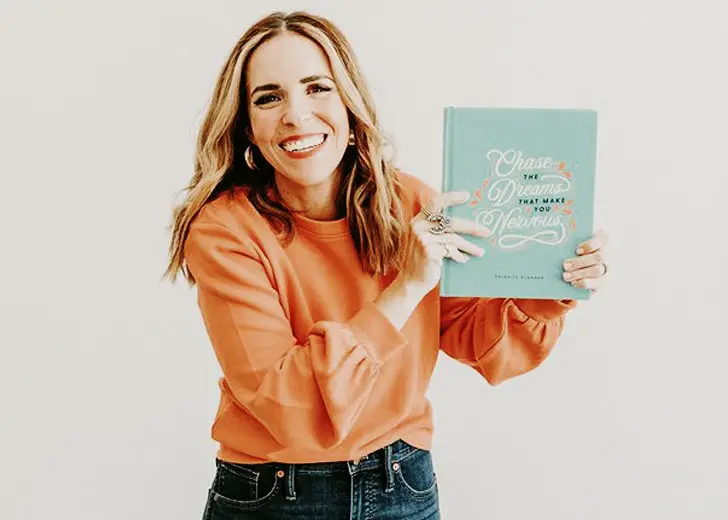 Rachel Hollis, the mother of four, is an entrepreneur, author, and motivational speaker who has authored four books so far in her career.
Her self-help book, 'Girl, Wash Your Face,' was featured in the New York Times' best-seller list for 84 weeks as of February 2020. The book was was originally published in February 6, 2018.
Rachel Hollis' Earnings From 'Girl, Wash Your Face'
'Girl, Wash Your Face' is Rachel Hollis's second book. The book consists of 20 chapters and each chapter addresses a lie that Hollis herself grew up believing, such as "I'll start tomorrow" and "I am defined by my weight". She addresses those lies and provides a message that women can overcome their insecurities if they work on themselves.
Contrary to how usual popular non-fiction books start off in the market, 'Girl, Wash Your Face' got off to a mediocre start. Hollis could only sell 27,000 copies in the first month of the book's publication.
However, things changed when the book sales went up drastically from the seventh week since its publication on 6 February 2018. As a result of the uptick, Hollis was able to sell almost 800,000 physical copies of the book and many more in electronic formats by the end of October 2018.
According to the Amazon page for the book, over three million copies of the book have been sold by now. Although, they do not specify whether the stated numbers are for just the physical copies of the book, the Kindle version, the audiobook, or all combined.
The current price for 'Girl, Wash Your Face' on Amazon varies according to what form of the book you want to buy. For a new hardcover version of the book, you will have to pay $11.77. You can also get the paperback copy for $10.45. As for the digital versions: the Kindle version costs $10.21, and the MP3 unabridged audiobook costs $11.88.
These prices, coupled with the report that she sold more than three million copies of the book, suggests that she made a lot of money from the book sales alone.
Rachel Hollis Also Earns Decent From Her Other Books
Rachel Hollis has placed other books on sale in Amazon, in addition to 'Girl, Wash Your Face' book. The other books include 'Girl, Stop Apologizing' (follow-up to Girl, Wash Your Face), 'Party Girl,' 'Sweet Girl,' 'Smart Girl,' and 'Didn't See That Coming.'
'Party Girl,' 'Sweet Girl,' and 'Smart Girl' are fiction books that revolve around a central theme of a young girl exploring her new relationships and learning about her unfamiliar world. This series is relatively cheaper ($4.99 for the Kindle versions for all of them on Amazon) compared to her previous book.
However, it's her upcoming book, 'Didn't See That Coming,' that is the main focus here.
In the book, Hollis explores her recent heartbreaks, fear, grief, loss, and betrayal to share a message about embracing difficult moments in life and focusing on the essentials. This book is set to be released on September 29, 2020. While the book can be pre-ordered from Amazon, the prices are higher than of 'Girl, Wash Your Face.'
The hardcover version of this book costs $14, paperback and large print versions cost $17.15, the Kindle version costs $12.99 and the unabridged audiobook costs $29.99 on Amazon.
Hollis looks set to earn very well from this book as it is set to ride the hype of her previous best-selling book. However, we will have to wait and see how well her latest book does in the market.
Hollis's Varied Source of Income Adds Up to Her Total Net Worth
Being the author of best-selling books such as 'Girl, Wash Your Face' and  'Didn't See That Coming,' Hollis clearly has the capacity to influence others. And this ability naturally flows into her success as a motivational speaker.
She is one of the best speakers around and charges a lot of money for a single event. According to All American Speakers, she reportedly charges over $200,000 for a single event—live or virtual.
In addition to that, Hollis is also the CCO of her own company, The Hollis Company. She started the company to further her motivational and inspirational work. Connected to this mindset and work is the Rise app, which is also her company's product.
The Rise app is a health, self-improvement, and lifestyle app that provide workout and motivation videos. It was originally developed to provide people with an experience that would be as close as attending a real-life Rise event.
Adding to that, the author also has merch and accessories such as journals, planners, and notebooks which she makes available on her website.
Now, although her total net worth figure is undisclosed, you must have acquired the idea about her ongoing as well as previous sources of income and how those source has contributed to her lifestyle and total net worth.