Phil Mickelson's Weight Loss Has Just Two Secret Ingredients
"I've got to eat a lot less, and I've got to eat better. I just can't eat as much, and I have to let my body recover," said a younger Phil Mickelson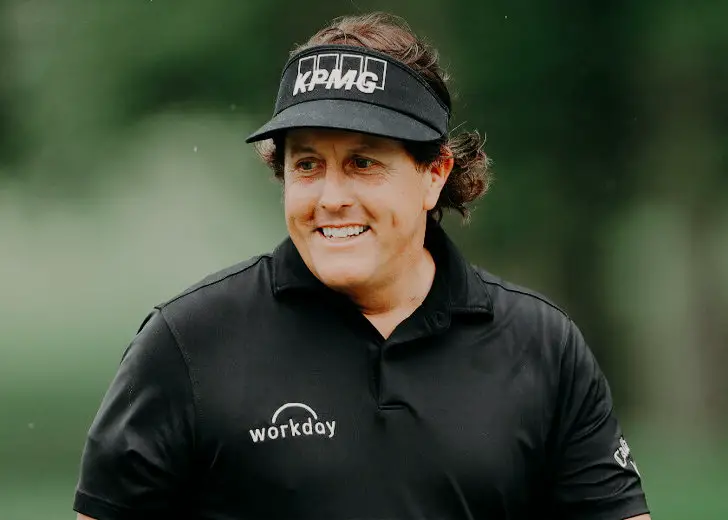 Phil Mickelson heard lots of comments due to his overweight. Finally, it's his turn to be in the best shape ever! More precisely, he started the new journey about a year ago and continued on the path of severe weight loss. 2020 marked a fantastic chapter of his life as he stood stouter than the golf players half of his age. Reports say that Phil Mickelson is now focusing more seriously on his gourmet coffee business blend to reduce stress, Coffee for Wellness.
Mickelson's Sudden Decision to Lose Weight
In 2019, Mickelson broke his social media hiatus to let his fans know that he took the break because he wasn't feeling good about himself or how he was playing. In a heartwarming video, the pro golfer said he needed a hard reset before the 2019 British Open Championship.
"The last ten days I've done what I call a hard reset, to change and try to make things better. I have lost 15 pounds [6.8kg]. I've done a six-day fast with water and a special coffee blend for wellness that I've been working on with Dave Phillips, and went on a bit of a retreat," said the 50-year-old golfer.
So, what's the Special Coffee Blend for Wellness that Phil mentioned in his video?
Phil Mickelson's 'Special Coffee Blend' Ingredients
As per Golf, the unique coffee blend recommended by Phil Mickelson is prepared using the following ingredients:
350-450 grams (Ethiopian beans)
Two to three tbsp. MCT or XCT oil
Large scoop flavorless collagen protein powder
Dash of Himalayan pink sea salt
A small glass of almond milk
200 mg L-Theanine
One tbsp. Manuka honey
One tsp. cinnamon
The MCT or XCT oil curbs appetite and helps to promote fat burning, while the collagen powder helps in muscle recovery. This coffee and water helped Mickelson to achieve his desirable weight within a short span.
Phil Mickelson's Incredible Transformation Journey 
Recently, Phil Mickelson posted two photographs on his Instagram handle and made a comparison between the two. The picture of 2006 taken at Winged Foot looked different from the current body structure of Mickelson. The player added in the caption that when he was 36 years old, he was not conscious of his health. Showing the consciousness in the current times, he mockingly said that in the adjacent picture taken at the same venue, he looks a bit "different."
Phil Mickelson's weight loss journey is highly inspiring for golf lovers. Moreover, they can get enough tips from the celebrity player regarding the secrets of such good shape. Many people got curious about the meaning of becoming accountable for health. These were the actual words that Mickelson used in his post. He said that it indicated how one is responsible for the good or bad condition of their health. Also, to make the audience aware of his past health condition, he clarified his previous food habits.
Phil said that he used to take anything that made him happy. Of course, people must be satisfied while having the food, but health is also important. However, in those days, he lacked proper education. The result was evident from his body shape. According to the golfer, there are only two secret ingredients to lead a healthy lifestyle. One is education, and the other is honesty. 
Earlier, Phil wasn't aware of the toxic nature of soda or excessive coffee. It is after knowing the truth that he decided to cut them off entirely from his diet. He opined that everyone must be much conscious about their regular food habits. If food can provide energy, it can cause harm too. He proved eliminating bad habits from life can be the only way to live healthily.