Peter Alexander And His Wife Juggle Anchoring And Parenting Amidst A Pandemic
Peter Alexander, NBC News' White House Correspondent, and his wife, ABC7's Alison Starling, have been very busy juggling their work and two kids amid the pandemic. However, despite all the hectic work schedules, the couple has been able to give ample time to their kids.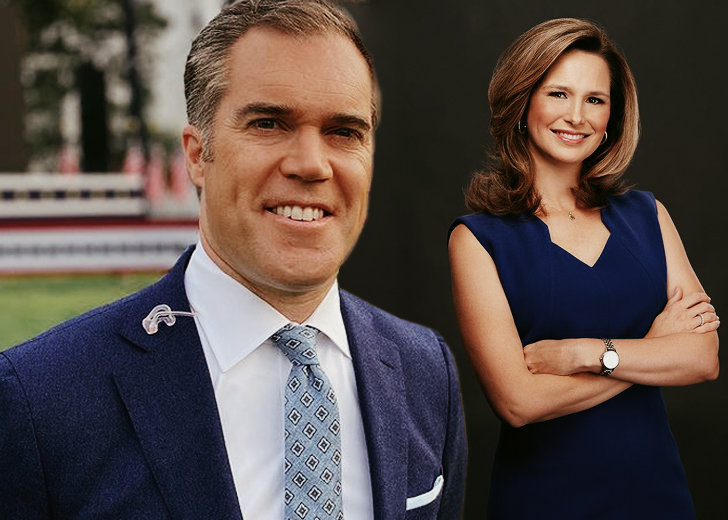 NBC News' White House Correspondent Peter Alexander has been interviewing and butting heads with US presidents since the early 2000s. Alexander has been busy delivering important news to people, even in this global pandemic, and so is his wife, who has also been involved in extensive journalistic works for a very long time.
But, the couple also has parenting responsibilities towards their two kids. So, how are they handling both anchoring and parenting jobs during these dangerous times? Read along to find out.
Peter Alexander Has Two Daughters With Wife Alison Starling
Peter Alexander's wife is five-time Emmy Award-winning ABC7/WJLA-TV anchor Alison Starling and they have been married for eight years now.
Alexander and Starling tied the knot on April 21, 2012, on the roof of the Newseum in Washington. Since then, they have had two kids, both of whom are girls.
Ava, the elder daughter, started her 7th trip around the sun on July 23, 2020. As for Emma, the younger one, she turned five on July 15 this year.
Alexander shares July as a birthday month with both his little girls as his birthday falls on July 29. As of 2020, he is 44 years of age. This makes Starling, who is 47 years old as of 2020, the odd one out in the family as she was born on October 28.
The Couple Have Been Working Throughout The Pandemic
COVID-19 pandemic has made everyone's life very difficult. While most people have been forced to stay inside their own homes, some have to get out even during these risky times. And journalists are one of those people, including Alexander and Starling.
The two national news reporters have been working throughout the pandemic, whether from home or their work studios.
The couple went to their work stations to bring people news about the pandemic till mid-March. Starling let people know that she and her husband were working till that time through a selfie on Instagram on March 19, 2020, writing, "We are both working today... along with our colleagues, to bring you important information during this uneasy time."
Further, she thanked the essential workers and her babysitter in the caption of the picture. "We want to thank the Doctors, Nurses, Physician Assistants, and other health care workers for your tireless work. Thanks to our beloved Patti for caring for our children and the other parents, babysitters, and nannies out there working overtime," she wrote.
However, as the situation got direr, the couple had to start working from home. From around the end of that same month, Alison set up her own work station at home and delivered news from there.
At one point, the pair even broadcasted for their respective employers, Starling for ABC and Alexander for NBC, at the same time from different rooms in the same house.
Alexander And Starling Handled Work-From-Home And Kids Very Well
The work from home situation gave the couple a chance to keep their kids safe from the virus. But, this also meant that the little girls were going to be around when they were working.
And indeed they were. The kids occasionally came into their work stations, where there were wires and pieces of equipment for broadcasting, for pictures with their parents. Once, Ava even appeared behind her mother on the camera with a helmet on, ready for riding her bike, amid a live broadcast.
But, for the most part, the home studios were off-limits for the girls. They usually waited outside the rooms, patiently most of the time.
Along with the parents' work situation, the pandemic had also changed the kids' academic situation. They had to start attending classes from home, which was a whole different ball game, both for the couple and the little ones.
On an Instagram post on September 3, 2020, Alexander's wife revealed that there had been many problems with virtual learning that particular day, which might not have been the only time of such occurrence.
However, in the caption of the picture, which shows the two kids with books and headphones, Starling acknowledged the teachers' effort and enthusiasm and the possibility of such problems arising multiple times as long as this situation lasts. She also encouraged people to hang in there till the crisis ended.
The family still found ways to have fun, even when the world was close to being shut down. In one instance, the ABC7 reporter took a day off to take her kids for an "adventure." The three went strawberry picking and then spent a while at Oatland House & Gardens. Another time, the family went on a Monopoly marathon.
All in all, it is evident that Alexander and his wife are handling the pandemic situation very well, considering the hectic schedules that the two of them should have.