Remembering Oscar-Winning Actress Olympia Dukakis In Her 5 Defining Roles
Olympia Dukakis was best known for her supporting role as Cher's mother in the romantic comedy 'Moonstruck.'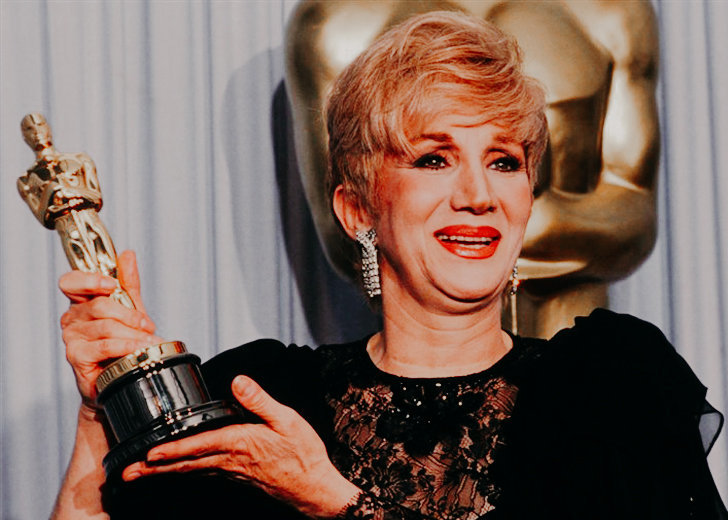 Olympia Dukakis, a screen actress best known for her supporting role as Cher's mother in the romantic comedy Moonstruck died on May 1, 2021. She was 89.
Her brother, Apollo Dukakis, announced her death in a Facebook post, writing: "My beloved sister, Olympia Dukakis, passed away this morning in New York City. After many months of failing health, she is finally at peace and with her Louis."
Her talent agent, Allison Levy, also confirmed the actress' death to NBC News. 
Dukakis made her career playing a sardonic Italian mom who interfered in her children's life too much in some of the most iconic movies. 
The Sardonic Mother 
The late actress had a TV and stage career that spanned decades, but she skyrocketed to fame when she landed her breakout role as Rose Castorini — the nosy-but-sensitive mother to widowed bookkeeper Loretta Castorini played by in Norman Jewison's Moonstruck (1987).
A year later at the 1988 Academy Awards, Dukakis won the best-supporting actress while Cher took home the best actress award for their performances in the film.
When news of her death broke out, The Academy tweeted its condolences, showing appreciation for the warmth, humor, and wit she carried with her. 
Dukakis in 'Steel Magnolias'
The actress was a master of deadpan humor, and she made everybody laugh with her stellar performance in the 1989 film Steel Magnolias as Clairee Belcher. Dukakis stars as the wealthy widow of a Southern mayor known for her love of gossip who goads Shirley MacLaine to distraction.
Belcher encouraged a grieving M'Lynn Eatenton, portrayed by Sally Field, to slap Shirley MacLaine's Ouiser Boudreaux, saying, "Knock her lights out, M'Lynn!" Dukakis was nominated for the role in the Funniest Supporting Actress in a Motion Picture category at the American Comedy Awards. 
'In the Land of Women'
In Jon Kasdan's debut feature as a writer-director movie In the Land of Women, Adam Brody's character, Carter Webb, an aspiring screenwriter in Los Angeles, is back in the market after his girlfriend unexpectedly breaks up with him.
He flees to Michigan to care for his ailing grandmother, Dukakis' Phyllis. Dukakis plays the senile grandmother who is is waiting around to die and wants everyone within earshot to know.
'Cloudburst'
In 2013, Dukakis took on a different role than her normal matriarchal ones. She returned to the silver screen as "a foul-mouthed lesbian" in Cloudburst, a story about lesbian partners who fight legal and personal obstacles in their 80s.
Dukakis' sharp-tongued Stella breaks out Brenda Fricker's Dot from a nursing home to drive to Canada and get married so that they can stay together legally. In an interview with Guardian, the actress admitted she could barely recognize herself in the film.
[Director] Thom Fitzgerald kept pushing me out of my comfort zone and making me say things that were more and more outrageous.
On Relationship with Her Own Mother
In 2020, the actress released a documentary titled Olympia, directed and produced by her own NYU Film grad student Harry Mavromichalis. Therein, she frankly spoke about all her experiences of grappling with drug use and thoughts of taking her own life. 
We have seen her as a mother on-screen, but in her documentary, the actress detailed the relationship with her own mother. "My mother was not the kind of mother who would tell us she loved us or that she was proud of us, but we knew she was," she iterated.