Meet Olivier Rousteing's Adoptive and Biological Parents — He Was Adopted When He Was Five Months
"This guy — mixed race, gay and orphan — he didn't start out at zero. He started at minus 10," Massimo Piombini, the chief executive of Balmain, said of Rousting.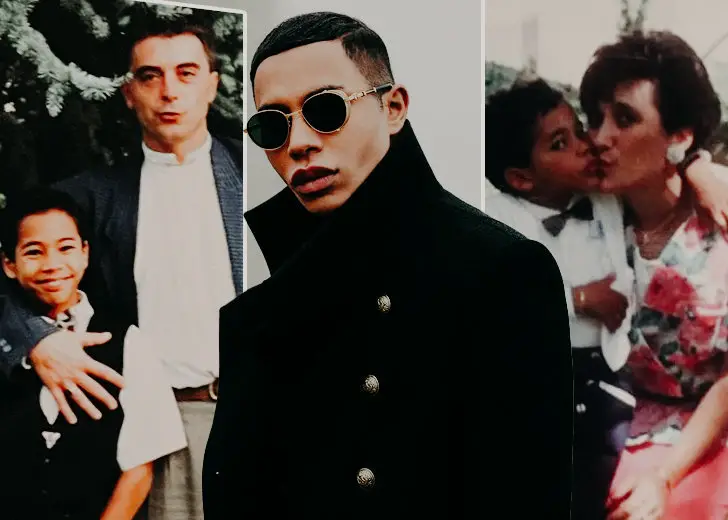 Olivier Rousteing burst into the fashion consciousness at the age of 25. Although it does not sound like much, he was one of the youngest ever designers to lead a major French brand, Balmain.
Rousteing, who claimed to love Kris Jenner like a mother, identified as mixed-race his entire life, knowing full well that the loving couple he knew as his parents had not birthed him. 
However, for the fashion mogul, fashion had always been about offering people a way to express their identity, but he had yet to find his own.
Eventually, he realized the hypocrisy of it all, not all on his own, and put in the work to trace his origins under the guise of a documentary.
For his documentary, Wonder Boy, Rousting teamed up with director slash producer Anissa Bonnefont to uncover his past. 
Olivier Rousteing's Journey to Find His Birth Mother
While there was enough known about his past for the public to draw a tentative image, there were many blanks in his story. 
For instance, it was public knowledge that he was adopted as a baby by a French couple in Bordeaux when he was five months old. His appearance had led him to believe that he came from a mixed-race parentage. 
That introduction worked for the press to draw a picture of the man, but on his own, he struggled with rejection.
Why did a mother leave a seven-day-old baby at the orphanage?
Olivier Rousteing's Struggle with Rejection
The wunderkind designer struggled with the question whilst lacking the courage to seek out answers. Rousteing did not want to be rejected again. 
Massimo Piombini, the chief executive of Balman, once told The New York Times,
This guy — mixed race, gay and orphan — he didn't start out at zero. He started at minus 10.
During the course of filming, Rousting found out that his mother was still in France. However, there were laws in place that withheld his mother's real identity. 
Olivier Rousteing Wrote a Letter to His Birth Mother
He was offered a chance to write a letter to her, though. The social workers would have delivered the letter to her. But his fear of rejection was rooted deep, and he had not yet decided to pen down his questions. 
He also found out that his mother was a Somalian and his father was Ethiopian, making him "African-African." The revelation upended the mixed-race identity he had built over the years. 
Even so, he does not want pity from those who watch Wonder Boy. Instead, he told the publication,
I want people to see this as a movie about a fighter who faced the world. There is a real crisis of identity today, it's hard to be yourself. But maybe the people who see it will understand me more.
As for his adoptive parents, he knew for a fact that they loved him from day one. During an interview with Vogue Australia, he introduced his father as Bruno-Jean and his mother as Lydia. 
He also revealed that his adoptive mother had cancer when she was 15 and had to have her ovaries removed. His father was with her for the entire battle. 
When Lydia said to her would-be husband that she could not bear him a child, he replied, "Let's adopt a baby." 
And the rest, as they say, is history.