Norman Lear Had A Tough Childhood, What Is His Net Worth Now ?
Norman Lear is a notable American television writer and producer who has racked up an impressive career in Hollywood. One quick look at his IMDb page is enough to realize that Lear means business.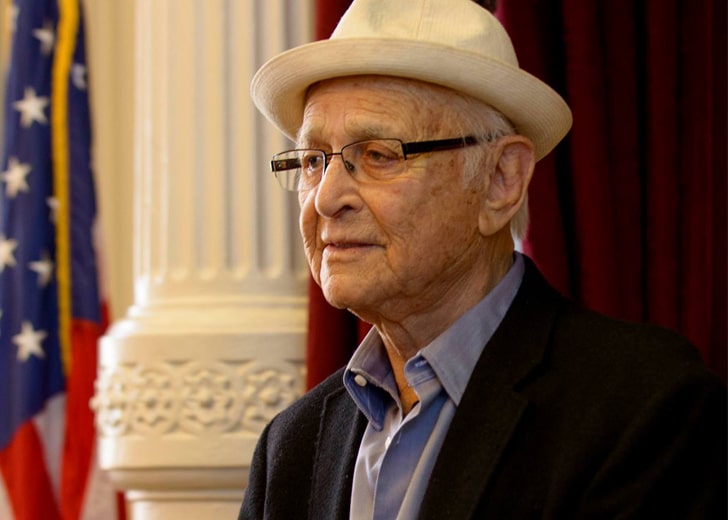 One quick look at American television writer Norman Lear's resume is enough to reveal that Lear means business.
He has written for over forty TV shows and produced over sixty others, including All In The Family, One Day At a Time, c, Maude, Good Times, Sunday Dinner, The Jeffersons, Fernwood Tonight, Guess Who Died, and The George Gobel Show
.
Now, add to the credits the shows he has acted in or directed himself, and the New Haven, Connecticut, has a multi-million dollar net worth. 
Who is Norman Lear?
Norman Lear is a veteran in both the field of battle and the entertainment industry. He is known for pioneering the TV industry in the '70s. He is credited for creating the most groundbreaking shows of the television era, such as All in the Family and Good Times. 
Just the fact that he is still actively working after seven decades of contribution to the industry is jaw-dropping, and the fact that he is doing so at the age of 98 is simply indescribable. 
Growing Up, Norman Lear had a Rough Childhood 
Born in New Haven, Connecticut, on July 27, 1922, Norman Milton Lear had a pretty rough childhood. 
When the showbiz veteran was 9, his father was convicted of selling fake bonds and was sent to prison. And as it was the time of the great depression(worldwide economic depression), things became harder financially for his family.
Eventually, in his father's absence, his mother left him to live with his relatives.
During this time, Lear's press-agent uncle Jack would visit him from time to time, and in every visit, Uncle Jack would toss him a quarter. That's when Lear found his purpose. He wanted to be the person who could flip someone a quarter.
And with determination to move ahead, Lear joined the US Army to fight in the war as soon as he was able.
Norman Lear Served in the WWII
Barely after his teenage years, Lear joined the United States Army Air Forces and served in the second world war. After he had flown some fifty-odd flying missions, the war halted in 1945. Then, he came home and pursued a career in public relations.
Soon after, he moved into Los Angeles, where he hoped to cash in more significant opportunities. Leaving his public relations days behind, Lear chose to become a comedy writer alongside his cousin's husband, Ed Simmons.
Lear started Working in Showbiz in 1950
According to his IMDb page, Lear first started writing for a TV series called All-Star Revue in 1950. By 1953, Lear and Simmons wrote skits for acts like Rowan and Martin and Martin and Lewis.
The comedic writers earned a record-breaking $52,000 per piece to write on three Martin and Lewis comedy specials. Which, if accounted for inflation, amounts to five hundred thousand dollars today. 
In the latter part of the '60s, Lear began working on a standup based on a blue-collar American family, a show that would come to be known as All in the Family when CBS finally released it in 1971. Although it started rough, the show became the highest-rated TV show for the next five years.
Lear is a Major Contributor to the Norman Lear Centre
Lear is also a significant contributor to The Lear Centre, nonpartisan research and public policy institute that studies the social, political, economic, and cultural impact of entertainment on the world.
The center got its name after Lear made a generous gift to the institute in the year 2000. He had founded the organization at the USC Annenberg School for Communication and Journalism.
Located in the University of Southern California's Annenberg School for Communication and Journalism Campus, Norman Lear Center translates its findings into action through testimony, journalism, strategic research, and innovative public outreach campaigns.
Norman Lear Paid $112 Million for Divorce Settlement
Like his professional life, his personal life has also been quite eventful. The World War II veteran has been married three times over the years. His first marriage to Charlotte Rosen lasted from 1944 to 1956.
The same year as his first divorce, Lear married his second wife, Frances Loeb. The married went on to last for about three decades until the couple filed for a divorce in 1985.
The legendary writer made history with his divorce as he was ordered to pay Francis an unprecedented $112 million divorce settlement, the same as around $270 million today. 
In 1987, Lear tied the knot for the third time with a producer by the name of Lyn Davis. They have been married to her ever since.
What is Norman Lear's Net Worth?
Despite the immense hardships that Lear faced during his youth, he has led a surprisingly eventful life. From rags to riches, his net worth was around 200 million dollars in 2019, as estimated by Celebrity Net Worth.
Lear and his wife, Lyn Davis, now has a 14,000 sq ft. mansion with a separate guest house, pool, gym, spa, tennis, security offices, and a 35-car garage that they purchased for $6.5 million in 1995.
They have since put the 8 acres of the luxurious estate for sale for just under $40 million. The extravagant couple also owns a two-bedroom condo off Central Park in NYC, which they bought in 2008 for $10.2 million.