'Total Bellas' Star Nikki Bella Shares Her Journey Back to Pre-baby Body
Former WWE wrestler shut down rumors about her pregnancy and has been working to get her Pre-Baby body back.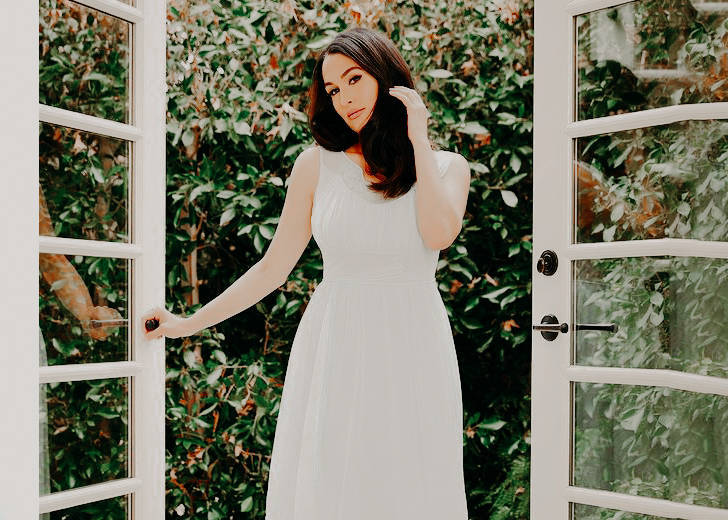 Retired professional wrestler, Nikki Bella, gave birth to her first child Matteo on July 31, 2020, with her fiance, Artem Chigvintsev. Now, eight months after the birth of Matteo, Nikki is already on her journey to get her pre-baby body back. 
The new mom shares her working out on her social media like Instagram and TikTok while raising an eight-month-old baby. 
Nikki's Workouts 
The WWE superstar often shares videos of her working out and using various devices to help her get a toned body. She is usually seen working out with her twin sister Brie Bella and her coach Scott Thom. 
Nikki started working out five months after giving birth. As per her Instagram stories, she revealed she would begin with 'The Yoga Standard 30 day Challenge' in January 2021. Now, four months after, the Total Bella star has been doing intense workouts. 
On March 11, she showed off her belly, which was slowly but steadily going back to her pre-baby body. The New York Times Best Seller revealed that healthy eating, an increase in workout activity, and Emsculpt Neo helped her get her body back. 
Nikki constantly uses the Emsculpt Neo, a device that helps sculpt the body by reducing fat and building muscles. She claimed to use it to make her 'mommy makeover' fun and used it on her abs and bottom to refine them along with her workouts. 
Nikki Replies to Pregnancy Rumors
On April 13, Nikki shut down rumors of her pregnancy via her Instagram stories. Many people were asking her if she was expecting another child, which the wrestler did not appreciate. 
She debunked the rumors and said that hormones, body changes, and eight pounds of water weight made her look as such. In reply to the person who asked if she was pregnant, Nikki said that her dress was baggy, and because of her travels, she was bloated.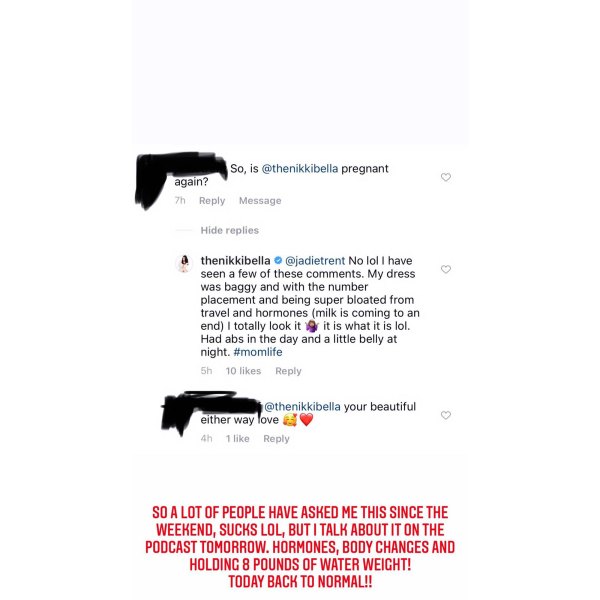 Nikki Bella debunks pregnancy rumors. (Source: Instagram)
She and her twin sister talked about this issue on their podcast The Bellas as well. Brie has two children, Birdie and Buddy. The twins talked about the expectations of people on them to go back to their pre-baby bodies. 
They also talked about mental health and how much it was affected by unrealistic expectations and pressure on them to look perfect. Brie claimed social media was to be blamed because of its filtered world and expectations, to which Nikki added that there is no perfect body.
Mental Health and Body Positivity 
The Bella twins are a strong advocate for mental health and body positivity when it comes to the postpartum stage for women. Both have been very vocal about postpartum depression and their body after giving birth to their child. 
Nikki opened up about her depression in their podcast. She confessed to her sister that she was not doing okay and felt invisible. After going to the doctor, she understood her situation and feelings, which she communicated to her fiancé Chigvintsev. 
Brie has also opened up about body positivity. On March 22, she shared an unfiltered photo proudly showing off her scars and excess skin on her belly. She said that her saggy stomach was normal after having babies. However, it was hard for her to look in the mirror.
Nonetheless, she is grateful and encouraged to build herself back. She revealed she is proud of her 'treasure marks,' and they remind her of the special connection she has with her children.