Openly Gay Nick Grimshaw Plans Partner! Dating Differently, Looks For Family
Nick Grimshaw struggled with his sexuality from his early days...five years after joining BBC he came out as a gay...He has never had a stable partner...He even had mentioned he would like to have a baby with one of his girlfriends...He has an estimated net worth of $2 Million and a salary of...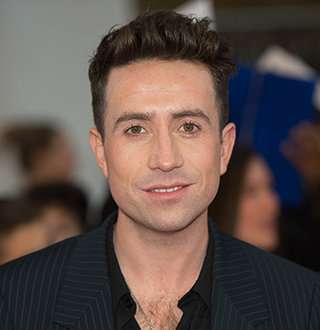 Workaholic Nick Grimshaw had always prioritized his work over relationships. The openly gay radio host, however, decided to focus on his personal matters just as he had done with his professional life.
English television and radio presenter Nick Grimshaw is widely known for hosting a plethora of shows on BBC Radio 1. Working for Channel 4 roles in T4 and The Album Chart Show are also his other notable works. He has been hosting on The Radio 1 Breakfast Show since 2012.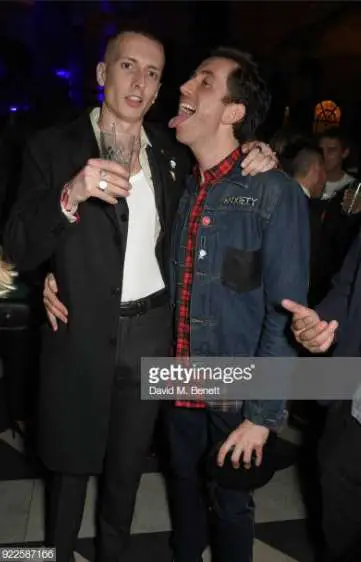 Theo Ellis and Nick Grimshaw attend Universal Music BRIT Awards AfterParty 2018 hosted by Soho. (Photo: gettyimages.com)
Nick began his career by joining BBC Radio 1 in September 2007 as a host for BBC's youth strand Switch. Later, he hosted the Radio 1's Weekend Breakfast Show from October 2008 to May 2009. The same year he went on to present the midnight slot on BBC Radio.
His other features include Peaceful Ponderings, Fresh off Stage, and Monday Night Pop Quiz. In summer 2011, he hosted a live 6 part series for Channel 4 titled New Look Style the Nation.
On 11 July 2012, Nick replaced Chris Moyles and became the host of The Radio 1 Breakfast Show. However, after taking the helms of the show, the show's ratings showed a sharp dip losing more than a million listeners.
The following year he hosted That Music Show. Along with his hosting duties, Nick joined the twelfth series of The X Factor as a judge on 16 June 2015. He also gave a shot in films with appearances in Wreck Ir Ralph(2012) and Absolutely Fabulous: The Movie(2016).
Nick Grimshaw's Net Worth, What's His Salary at BBC Radio 1?
Nick has successfully established his name in the field of radio and TV and is one of the most recognized voices in the world. 
That success has been reflected in his earnings as he is one of the highest paid personnel in the Beeb. As of 2018, Nick has an estimated net worth of $2 Million and a salary of  £350,000 and £399,999 a year at BBC Radio 1. This amount is expected to increase with his increasing rise in the entertainment industry. 
However, he has not just been accumulating the riches that comes in his way. He is an active philanthropist and is involved with various charities conducting fundraising events. Similarly, he was also a part of a twelve-hour bicycle ride in March 2014 raising more than 115,000 euros for good causes.
Being One Of Few Openly Gay White Ethnicity Radio Personality 
Nick was born on 14 August 1984 in Oldham, England, possessing white ethnicity passed on to him from his parents. He attended the University of Liverpool from 2002 to 2005 studying Media Studies and Communication and graduated with DipHE rather than the conventional bachelor's degree.
He struggled with his sexuality from his early days and kept his sexuality hidden in fear of being bullied. However, five years after joining BBC he came out as a gay. 
After coming out as gay on 17 August 2012, Nick has been open about his lovelife. 
Nick Grimshaw Gay Life Revelation; Wants Kids & Partner  
Nick Grimshaw has never fallen in serious love during his entire life and has never had a stable partner. Recently in an interview with The Times in 2018, he expressed his feeling towards having a partner. He said:
I think the reason I wanted a relationship before was so my friends would say, 'Oh my God, he's got a boyfriend — and he's gorgeous!' As a kind of self-validation. Whereas now I think I want someone to be nice to me and who can teach me things — I'm quite open to that. I always put my career, friends and social life first before. My attitude to boyfriends was: if you do not fit into my life then it's not going to work. Whereas now I'd be prepared to make more effort.
It looks like Nick is up to something serious now. With relationships thoughts, he also has opinions about having a child on his mind. No wonder, he has recently adopted a pug mix pup, and he takes care of it like his baby. He feels like adopting a dog is a good practice for parenthood because he certainly wants to have a gayby.
He even had mentioned he would like to have a baby with one of his girlfriends. In an interview with The Sun in 2016, Nick expressed his desire to have a kid one day, saying:
Or I would like to have a baby with one of my girl friends. I haven't discussed it with them yet, but I would quite like it. I looked after one of my friend's kids last week and it was full-on. It was a lot looking after two dogs, a kid and trying to do some work.
After spending more than three decades of his life with no serious relationships, Nick is finally opening up for a change. And the radio star is not just seeking a partner for the sake of dating, and he is giving it a real go.