Nicholas Kristof And Wife Sheryl WuDunn Are Rivals-Turned-Lovers
Just two years into their marriage in 1990, the pair were awarded the Pulitzer Prize for "International Reporting" for their coverage of China's Tiananmen Square democracy movement, making them the first-ever married couple to win a Pulitzer for journalism.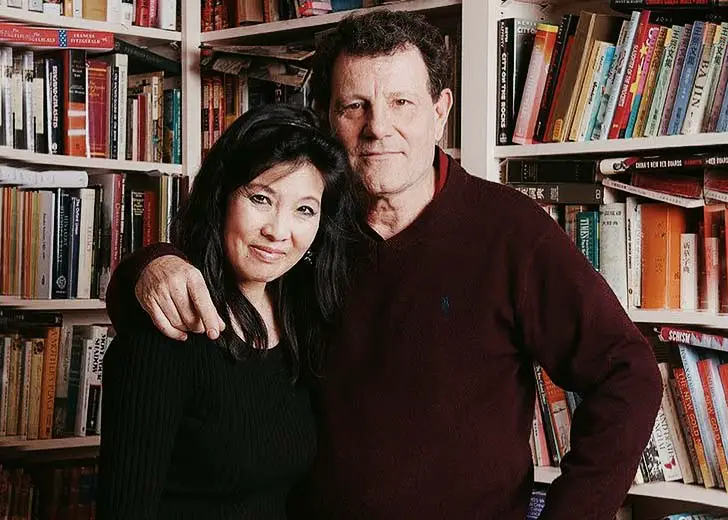 Nicholas Kristof and wife Sheryl WuDunn are not your average run-of-the-mill twosome. The rivals-turned-couple made quite a few headlines, literally, for their journalism with The New York Times. 
Just two years into their marriage in 1990, the pair were awarded the Pulitzer Prize for "International Reporting" for their coverage of China's Tiananmen Square democracy movement, making them the first-ever married couple to win a Pulitzer for journalism.
Between them, the duo has been married for over three decades and shares three children, a Pulitzer prize, and several books on various important issues. 
Who is Sheryl WuDunn? 
Sheryl was born on November 16, 1959, in New York. She is a journalist, political commentator, author, business executive, lecturer, and financial advisor. She has a rich educational background; she studied MPA from Princeton University, MBA from Havard University, and BA from Princeton University.  
The third-generation Chinese American has co-authored five best-selling nonfiction books with husband Nicholas Kristof, a veteran journalist.
Kristof was born and brought up on a sheep and cherry farm near Yamhill, Oregon. Being the excellent academic that he is, he graduated Phi Beta Kappa from Harvard College. He then studied law at Oxford University on a Rhodes Scholarship, graduating with first-class honors.
Nicholas' Wife Sheryl WuDunn is a Business Executive  
Sheryl, a third-generation Chinese American, has been serving as a senior managing director at an investment banking boutique called Mid-Market Securities since 2011. However, her love for reporting channels its way to the books she co-authors with her husband. The couple usually tries and addresses incredibly practical solutions to societal problems through their books. 
The Havard MBA graduate is also a co-founder of a strategic development service company called FullSky Partners. Furthermore, she has also been involved in portfolio and investment strategic management for Goldman Sachs. 
Nicholas And Wife got Married in 1988
 In 1988, The New York Times columnist Nicholas Kristoff wedded Sheryl WuDunn, who was working for the Wall Street Journal at the time. Their dating life was defined by mutual respect for journalism. 
They were married by Rev. David Anderson in a ceremony conducted at St. Cloud Presbyterian Church in West Orange, New Jersey.
The couple shares authorship for the likes of 'China Wakes: The Struggle for the Soul of a Rising Power,' 'Thunder from the East: Portrait of a Rising Asia,' 'Half The Sky,' 'A Path Appears: Transforming Lives, Creating Opportunity,' and their lastest 'Tightrope: Americans Reaching for Hope.' These books have a familiar inspiring note of idealism, bravery, and above all, a deep and generous spirit toward others.
We may all have more time for reading. If so, check out my book with Sheryl @WuDunn, "Tightrope," about underlying US problems, told through the kids on my old No. 6 school bus. @TaraWestover said it was "One of the most important books I've read on the state of our disunion." pic.twitter.com/8kgpcmNxgh — Nicholas Kristof (@NickKristof) March 22, 2020
Along With a Pulitzer Prize, Nicholas and Sheryl Share Three Kids Too
In an interview with Business Insider, Nicholas confessed that he was often inquired about how he could write a book with his wife and still manage to stay married. He responded, "We have three kids together, and if you can raise kids together, a book is a piece of cake."
Nicholas and Sheryl are parents to sons Gregory and Geoffrey, and daughter Caroline. As The New York Times suggests, having his Chinese and Japanese corrected by his children is one of Nicholas' favorite pass times. 
In an interview with Oprah Winfrey, the couple revealed that empathy was something that they wished for every child to learn. The talk titled "A Word to Parents" explained how empathy and compassion are not learned from the academic curriculum but instead picked up from parents.
To teach their kids to be empathetic, they often took the children to see how the less fortunate children of the world must live. They believe that once the kids put a face to hunger, the experience becomes more real.
This ingenious couple is one of the best examples of what a successful marriage looks like—a marriage based on a vast foundation of love: love for their work, love for their children, love for the world, and their love for each other.
This is How The Union of the Two Rivals Took Place 
Apart from his impressive academic resume, the New York Times correspondent Nicholas Kristoff is also an avid traveler and a passionate journalist. These are a few traits he shares with his wife, Sheryl, a graduate from the Fieldston School.
Kristoff said to America Aljazeera that they both checked one another in their relationship. He implied that they could have worked better as a colleague rather than rivals—he was associated with The New York Times, and WuDunn was working with The Wall Street Journal when they started dating.
"We both edit each other. When I met Sheryl, when we started dating, she was working for The Wall Street Journal, I for The New York Times, and boy, it's so much better having collaborated with her as a colleague rather than as a rival.'
His wife, Sheryl, worked as a foreign correspondent for the publication from 1990 to 2000. Afterthat, she handled two business executive positions for three years, And between 2004 to 2007, she acted as an editor for energy, alternative energy, global industry, and technology.