A crush of many, NFL expert Cynthia Frelund's love life is unknown to her fans
The NFL is one of the most-watched sports in the United States as well as the rest of the world. The beautiful host of NFL, Cynthia Frelund makes the audience's head turn every time she appears on the screen. The lady, with her beauty, talent, aura, and charm has managed to win the hearts of many NFL fans.  Maintaining the secrecy of her private life, she doesn't talk about it at all but this seems to have worked in her favor as in the mind of male viewers, "She is Single and all ready to Mingle".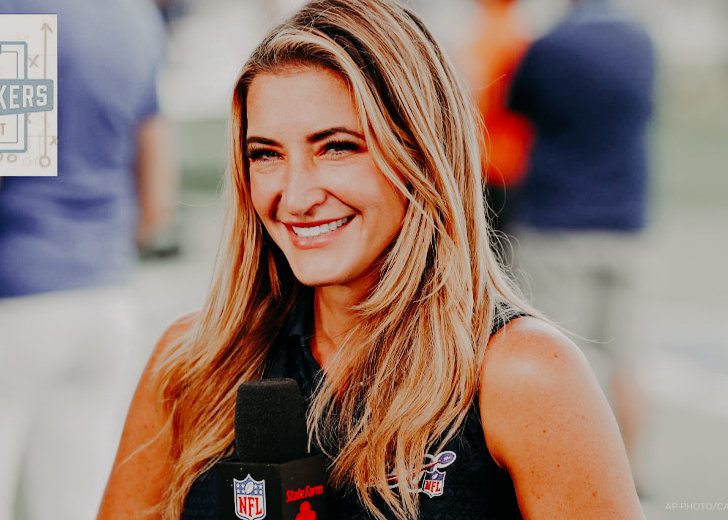 Cynthia Frelund, who currently hosts NFL shows, reveals the intricacies of the sport in great detail. But it isn't just her talent and knowledge of football that keeps the fans glued to their TV screen. Her beauty and charm, equally, have managed to win the hearts of many football fans. 
Maintaining the secrecy of her private life, she doesn't talk about it at all, but this seems to have worked in her favor as in the mind of male viewers, "she is single and ready to mingle."
So is the 41-year-old NFL expert really single? Or is she just good at hiding her love life from the eyes of her fan followers?
Frelund Never Speaks about the Man in Her Life
Ever since Frelund debuted as a Predictive Analytics Expert in the NFL Network in 2016, football fans seemed to have fallen in love with her beauty and confidence.
As football has more concentrated male followers, the reporter, evidently, has become the crush of many.
However, this beauty with a brain has never given an insight into her romantic life, which leads her curious admirers to think more about her intimate space.
She Often Shares Photos with Her Male Friends
Miss Frelund never shares a picture with her life partner, but she often uploads photos of herself with her male co-workers, which have, at times, created some unwanted speculations about her relationship with them.
In 2016, the blonde beauty posted a regular selfie with her co-worker Michael Irvin with his hands on her waist. The picture was captioned, "Pretty Sure @michaelirvin88 is the only person that makes a selfie stick cool … Happy #nfl Week 3! @NFLGameDay."
Irvin was quick to respond to his co-worker with a double-meaning tweet, "Simply love pulling my stick out around you," which was highlighted as inappropriate by the fans about the word "stick," and he deleted the tweet immediately. The tweet was somewhat controversial and misunderstood by the audience, so later, he clarified his intentions and the meaning of the "stick" as a "selfie stick" in his next tweet.
The NFL Host Never Shies Away from Showing Love to Her Parents
The celebrated sports television personality never fails to appreciate her family, especially her parents. She often shares appreciation posts for her parents on Instagram—in one such instance, she posted childhood pictures with her mom and dad with heartwarming captions of their contributions and importance in her life. 
As the saying goes, "There's no love greater than a mother's love, and no care is greater than a father's care," it is the same for Frelund too. On June 17, 2018, she posted a childhood picture and her dad on Father's Day. Similarly, she also uploaded a photo with her mom on Mother's Day recently and wrote how much she means to her and loves her.