Pregnant Molly McGarth Fought Back Body-Shaming Trolls In Fashion
The California native is a sideline reporter for college football and college basketball telecasts broadcasted on ESPN network.  Molly McGrath is a fortunate lady as she has found her perfect partner with whom she is planning to step-forward their relationship. Molly revealed her plan to get married to her boyfriend through an Instagram post in late December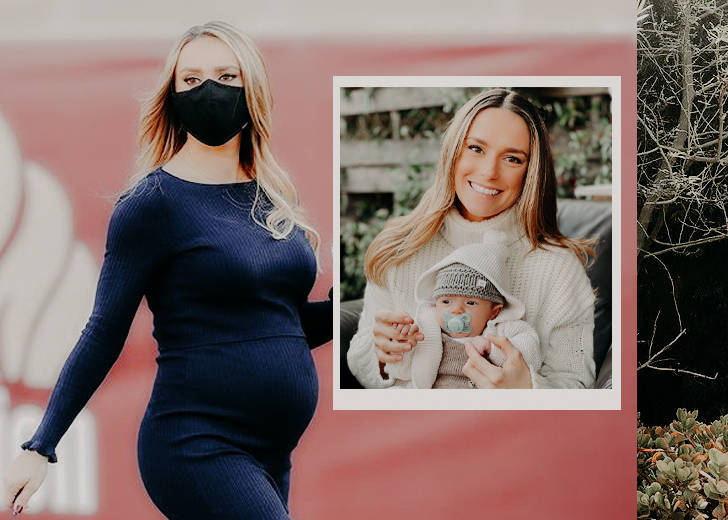 Molly McGrath is an American reporter who is working as an ESPN College Sports sideline reporter and host. The beautiful reporter is in a marital relationship with her husband, Max Dorsch. The adorable duo got married on the 2nd of July 2018 and have shared their journey together as best friends.
Just recently, Molly also announced the news of her pregnancy on Instagram. While most of the messages were from her well-wishers, she also became a victim of body-shaming. Later on, she came back with a strong reply to those who trolled her and provided words of comfort and even inspiration to pregnant women all over. 
Molly Is Married To Max Dorsch — Her Boyfriend and Husband For Life
Molly McGrath is married to Max Dorsc who is currently working as an Acquisitions Director at Taurus Investment Holdings, LLC since May 2019. 
It was on 2 July 2018 that Molly posted multiple pictures with her husband announcing that they got married. 
For the wedding gown, she embraced a gorgeous mermaid style gown with a sweetheart neckline that flowed to her open back with a cute ribbon bow sash, while her husband Max sported a navy blue suit matched with a magenta necktie and brown oxfords.  
The couple got married at the Resort at Squaw Creek, Lake Tahoe, California. 6 months prior to their wedding, they officiated the place and even revealed to the public the site of their wedding. 
Molly revealed that they had been on a 'location scout' of sorts for their wedding venue and decided to post the picture up once they settled that 'THIS' was the place that they were going to get married in. 
In addition to working as an Acquisitions Director, Molly's husband, Max has also worked for several other investment companies such as The Resmark companies, Starwood Mortgage Capital, and Starwood Property Trust, as his LinkedIn profile shows.
Molly McGrath Is Pregnant And Became Victim Of Body-Shaming Trolls
Turns out Molly is prone to make grand announcements of the important events in her life. In September 27, 2020, Molly announced to the public the news of her pregnancy in a similar fashion. She posted a picture of her baby bump with the caption that read 'baby's first game'. 
Immediately after the announcement, her comment section flooded with congratulatory messages from people she knew and her fans. 
However, not all were on the sunny side when it came to the reception of her pregnancy announcement. She also received a number of criticisms regarding her body from online trolls. Not the one to be deterred by such comments, she again took to Instagram to proudly display her pregnant body and also post a special message to her haters.
The post featured Molly wearing a horizontally striped shirt showing off her bump. In the caption, she first wrote about what she had to go through the night before. She wrote about how she had to stand for over 6 hours in the rain and could only get 3 hours of rest due to the last-minute changes to her flight. Having said that, she then went on to address a particular troll issue that was bugging her. 
Last night I was on my feet for over 6 hours straight, in the rain, and knew that I would only get 3 hours of sleep because of a last second flight change. For the first time, maybe ever, I let a cruel troll tweet about the changes of my pregnant body get to me.
After making her feelings clear about the troll, Molly then went on to explain how hard pregnancy was on a woman, especially for someone who was in their third trimester. She said that her feet and back constantly ached and how she constantly felt nauseated and exhausted. 
being pregnant is hard, especially as I enter my third trimester. My feet swell and hurt like I've never imagined and my back constantly aches. Not to mention the slew of other symptoms like nausea, heartburn, and exhaustion.
Molly then closed the caption with words that were sure to be inspiring to women all over, pregnant or otherwise. She mentioned that she was extremely proud to be a full-time working pregnant woman and how her condition would never slow her down - women are an incredible lot. She finished off by saying that anyone who didn't see that could, in her own words, kiss her big achey butt.
I am proud to be a pregnant woman working full-time and I am proud that the magnitude of creating a human life has not, and will not, slow me down. Women are freaking incredible and powerful and anyone who doesn't see that can kiss my big achey butt.
Now that's making a statement!
Molly McGrath's Career Heightens With Success
Molly started her career as a production assistant in ESPN back in 2011. She was later hired as a web reporter and in-arena host for the baseball team, Boston Celtics. Her career made a significant turn when she joined Fox Sports 1 as an update anchor in 2013. She worked as a lead sideline reporter for Fox College Football and Fox College Basketball for the media.
McGrath also exhibited her prowess as a series host in 2015 as she worked for ABC network as a host for robot combat television series, Battlebots. Molly returned to ESPN in 2016 as a sideline reporter for college sports and co-host of College Football Live. After covering news of the 2017 college football season, she was appointed as a co-host of a weekly program Big Ten Super Tuesday in 2018.