Mike Ditka and his wife of forty years are good samaritans who believe in the power of giving
Renowned former American NFL player plus coach Mike Ditka is a happily married man. He and his wife, Diana, have been married for more than four decades. In their long-lasting marriage, the couple is usually seen doing charitable works.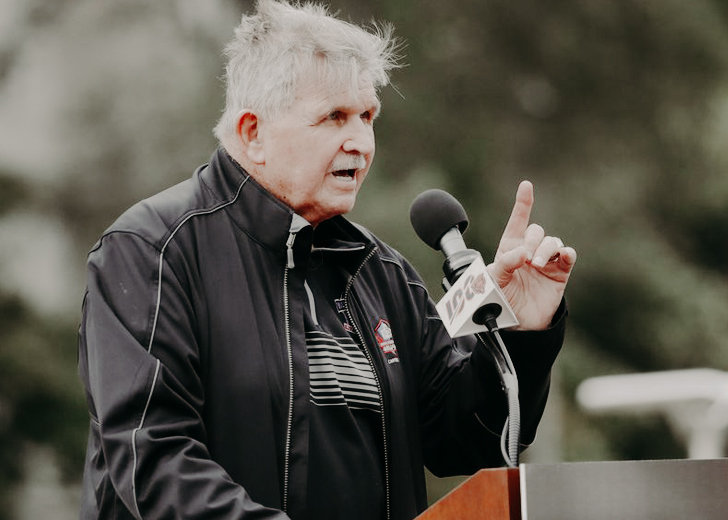 Michael Keller Dyczko Junior, popularly known as Mike Ditka, is a happily married man. The former American football player and his wife, Diana, have been married for over four decades. Yes, you read that right. Four decades!
How has this couple maintained such a long marital relationship? The answer you're looking for is loving each other unconditionally, spreading love, and reaching out to the needy ones.
The Couple Has Been Together Since 1977
The ESPN football analyst and his wife Diana have been together for more than 42 years. They took the wedding vows on July 8, 1977.

Mike Ditka with his wife, Diana Ditka. (Source: Pinterest)
However, the couple does not have any children of their own, according to ABC7. Also, no other details could be retrieved about the Ditka couple as they like to keep their life details under the wraps. 
Diana Always Wants Her Husband to Win
Mr. Ditka is a former football player turned coach, but his wife is the competitive one in the sport.
According to Tampa Bay Time, Mrs. Ditka is an avid football fan who wanted her husband and his team to win every game they played. She has even been spotted at her husband's team training facility a couple of times, ensuring they're training well. The outlet also reported on October 1, 2005, that she warned players not to return home if they didn't win the game.
Listen, if you guys don't win in Chicago, don't even bother to come back.
The Couple Believe in Philanthropy
The Ditkas are down to earth. They are frequently seen doing charitable acts whenever they have free time.
In one such instance, on June 25, 2018, they were seen attending the Shell/Pro Football Alumni Community Awards Gala—organized to support Beaver County—at Shadow Lakes. During the event, the former football player was honored with a lifetime achievement award. Afterward, the football-loving couple showed their kind gesture and donated $5,000.
On the very next day, on June 26, 2018, the couple was seen at the Misericordia Home, a non-profit organization in Chicago, where they attended the fun event and once again showed their generous nature.
Furthermore, the television commentator is also the president at Gridiron Greats Assistance Fund, a non-profit organization established to provide hands-on and financial assistance to retired NFL players and their families dealing with difficulties. 
Mike Has Four Children From His Previous Marriage
Before his marital relationship with his current wife, the NFL Hall of Fame recipient was married to another woman named Margery 'Dougherty' Ditka. The former couple, who tied the knot on January 28, 1961, knew each other since high school.
A year after their wedding, Mike and Margery welcomed their first child, a son named Michael. Likewise, in the next five years, they welcomed three more children: a son named Mark in 1963, a daughter named Megan in 1965, and a son named Matt in 1967.
However, the former duo could not take their relationship forward, as they officially separated on September 21, 1973. The reason for their separation remains unknown.