Mehdi Hasan Shares a Daughter with Mysterious Wife ━ Also Know His Parents, Net Worth and Height
Award-winning British journalist Mehdi Hasan is married to a wife and together, they have a daughter.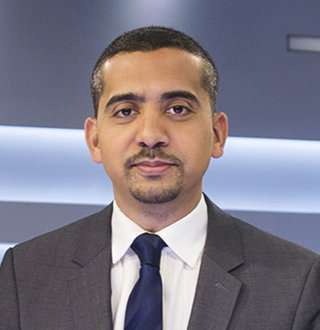 Quick Information
Nationality British
Profession

Journalist

Relationship Status

Married

Wife/Spouse

Name Not Disclosed

Ethnicity/Race

Asian

College

University of Oxford

Height/ How Tall?

5 Feet 7 Inches

Daughter/s

One

Birth Year

1979

Birth Place

Swindon, United Kingdom

Birth Name

Mehdi Raza Hasan

Father

Raza Hasan

Hair Color

Black

Eye Color

Black

Children/Kids

1
Mehdi Hasan, award-winning British-American political journalist and broadcaster, is best known as the anchor of Al Jazeera English programs such as The Café, Head to Head, and UpFront.
He was formerly the political editor of the UK edition of The Huffington Post. He has also co-authored the biography of Ed Miliband, a Shadow Secretary of State for Business, Energy and Industrial Strategy.
Presently, he hosts a show named The Mehdi Hasan Show which initially aired on the Peacock in October 2020 and on MSNBC since February 2021.
Get along to know more about his personal as well as professional life.
Hasan Is Married to Wife
Hasan has always been a secretive person - and that's why people have less idea about his love life. That being said, the journalist is a married man and relishes a family life with his wife and daughter.
Although he has not revealed the identity of his wife and daughter, he often mentions them in his articles and Twitter posts. He also has kept his wedding details and relationship timeline private.
In one instance, on April 17, 2015, Hasan had tweeted that he and his wife went out for dinner in DC.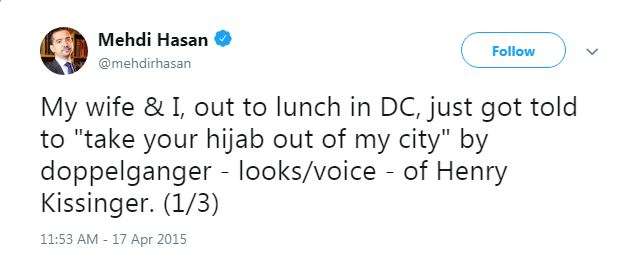 Mehdi Hasan mentioned his wife on Twitter. (Photo: Mehdi Hasan's Twitter)
Likewise, Hasan mentioned his daughter's age to be 7-year-old in an article that he wrote, published on HuffPost in 2014. Going by that detail, his daughter is 14-year-old, as of 2021.
The Mehdi Hasan Show host also informed his followers on Twitter that his daughter got her black belt on November 7, 2020.
My daughter got her black belt 💪ðŸÂ½ at the very same moment the news broke that Trump lost. What a day. Memorable is an understatement. Time for a celebration (for the black belt, of course). ðŸ˜Å½ — Mehdi Hasan (@mehdirhasan) November 7, 2020
Moreover, Hasan is too concerned about his daughter and family, who always have to face difficulties because they belong to the Muslim community. In one of his articles in The Guardian, he has mentioned that he had no idea how to tell his daughter that the new president Donald Trump doesn't like them because they are Muslims.
His family life is kept hidden because of the controversies he often falls due to his outspoken nature and comments. Nevertheless, most fans are waiting to know more about his family life and how he manages his private time with his daughter and wife.
His Wife Was Wrongly Treated by Southwest Airlines' Flight Attendant
In December 2019, Hasan constantly mentioned his wife on Twitter after she was wrongly treated by Southwest Airlines' flight attendant.
According to him, his wife, whom he noted was wearing a headscarf, made a request with a flight attendant to swap seats so she'd be next to Hasan and their children - when they were flying from Houston to Washington, D.C. on December 2, 2019.
To her surprise, the flight attendant allegedly "escalated" the situation and threatened to boot her off the flight. That very moment brought tears to Hasan's wife.
The flight attendant called ground staff onto the plane, complained about the Muslim woman - my wife! - to them, & escalated rather than de-escalated the situation - simply because my wife politely asked a guy if he'd give up his seat for our family (which he was fine with!).
The next day, Hasan took to Twitter to call out Southwest Airlines and write down all the details of the unpleasant interaction involving the flight attendant and his wife.
Hey @SouthwestAir: not a good look for your flight attendant on SW5539 to DC last night to loudly tell a brown woman in a headscarf she'll be "escorted off the plane" for making people feel "uncomfortable" - because she wanted to sit with her husband & kids!
1/#flyingwhileMuslim — Mehdi Hasan (@mehdirhasan) December 2, 2019
Sometime later, a spokeswoman for Southwest addressed the allegations made on them by Hasan while stating Yahoo Lifestyle.
The statement read: "We are working to collect information based on the recent customer claim made on social [media]. We also are in contact with the customer who originated the tweet."
"We take these situations very seriously and are dedicated to ensuring any issue raised is thoroughly investigated and reviewed in a timely manner."
Hasan's Bio: Belongs to British Indian Family
Hasan was born on July 10, 1979, to a family of Indian origin. His parents are originally from India but later settled in England.
His father, Raza Hasan, is an engineer from Hyderabad, India, whereas his mother is a "desi doctor."
My mother, who is a desi doctor and disappointed neither of her kids became doctors, will be so proud of me finally: https://t.co/fmcKvfI6ed — Mehdi Hasan (@mehdirhasan) March 4, 2020
The journalist attended Merchant Taylors' School, a day independent school only for boys, in Three Rivers District of Hertfordshire. Following that, he went to Oxford University, where he received his degree in Philosophy, Politics, and Economics in 2000.
Speaking of his height, Hasan has not publically disclosed his height, but he once jokingly hinted through a tweet that he was not a very tall man.
"You realize how short you are when you stand next to the former heavyweight champion of the world," he wrote while posting a picture with Vitali Klitschko, a former professional boxer.
His Net Worth
The experienced journalist Hasan has won several awards in his long career. He was awarded the 'Services to Media' award at the 'British Muslim Awards' in January 2014.
Likewise, he was named 'European Young Leader' by the Brussels-based Friends of Europe think tank in 2017. He is also the recipient of 2019's Society of Professional Journalists' Sigma Delta Chi Award for Online Column Writing.
With all his professional success, it remains sure that he has accumulated a huge sum to his name. Still, like his personal life, the exact knowledge of his net worth and his annual salary is under the wraps.