Matty Matheson Is Successfully Building His Net Worth Even after Departing from Vice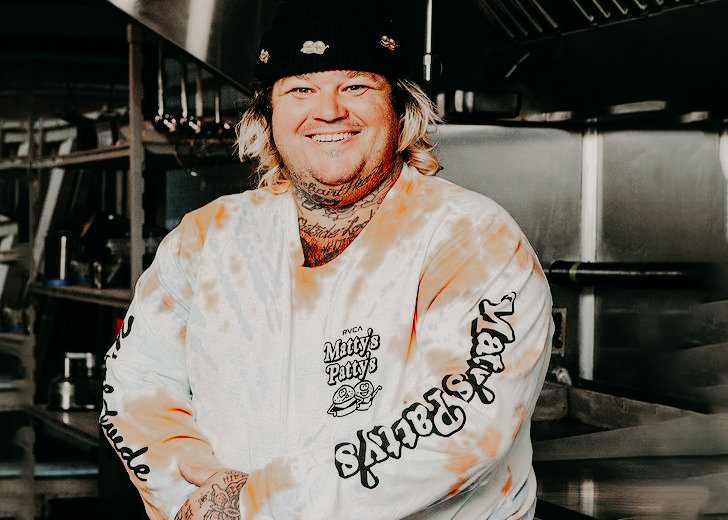 Canadian Chef Matty Matheson has built a successful career as a chef and social media personality.
Even though he is not a part of Vice TV anymore, he has a handsome net worth. Courtesy of his best-selling cookbooks, cookwares, merchandise, and YouTube channel, among other ventures.
Why Did Matty Matheson Leave Vice?
Matheson worked as an executive chef at the New Parts and Labour Restaurant up until 2013 in Toronto, Canada.
With his outgoing personality, he landed in the Vice TV series Munchies where he appeared on the episode titled 'How to Make a Perfect Cheeseburger.' The video marked his first official appearance in front of the global audience. 
The culinary expert was eventually cast in multiple cooking shows produced by the same network. 
Matty Matheson cooking Porchetta for his show on Vice in December 2017. (Photo: Instagram)
He hosted TV shows such as Keep It Canada, It's Suppertime, and Dead Set on Life, which gave serious padding to his net worth.
As delicious as his dishes were, his quirky and funny personality garnered much attention from viewers, making the shows successful.
However, the star chef ended his long term professional relationship with Vice TV with mutual understanding in 2019. Matheson decided to leave the network as he wanted to produce a cooking show on his own.
One of the other reasons he stopped working with the network was because he didn't want to do another travel show.
With Vice, I hit a ceiling with them, and they hit a ceiling with me. I didn't want to do another travel show. I don't think the world needs another white guy traveling the world identifying different cultures, We just had a nice separation, thank you for everything.
Matty Matheson Started YouTube Channel
In the hope of getting his next big deal as a chef and a TV host, Matheson went to Los Angeles, imagining he would get high-profile shows or even a Netflix show.
Even though he shot some cooking reels and had few meetings, nothing really sparked from him. That led him to start his own YouTube channel. 
I went to L.A., I had the meetings, and nothing was clicking, I shot some sizzle reels, I shot some pilots, and it just got to the point where I was like, [expletive] everybody, I'm just going to do YouTube myself.
In July 2019, Matheson began shooting for the first season of his own show, Just a Dash.
Later, in October 2019, he uploaded the first episode of the self-produced and self-directed cooking show, where he shared the recipe for Bone Broth Brigade Oxtail Pho. 
Following his first YouTube show's success, the culinary professional came up with several other online cooking series, including Home Style Cookery, Just a Dash Season 2, and Hangover Cures.
As of January 2022, his YouTube channel has gathered over 63 million views on YouTube and over 937K subscribers. 
Evidently, the success of his YouTube journey has definitely contributed to his net worth as well.
Matty Matheson's Net Worth and Source of Income
Besides his YouTube channel, Matheson has a major sponsorship with McCain Canada. He signed the brand deal during the pandemic times. 
If the right opportunity comes along and I feel okay about it, I'll do it. If you're not a complete monster, we can work together. There are some brands I can work with and some I can't. In a pandemic, me losing the amount that I lost, when McCain called, I said yes. You want me to make frozen french fries? I'm in. That's going to help feed my family, the business, and my small team.
Speaking about his business, Matheson has a small business with two employees working under him. The team is very dedicated and works very hard for the success of their business. 
The YouTuber also currently oversees two web series that includes a podcast titled Powerful Truth Angels and a small farm operation series titled Blue Goose Farm.
The podcast is an unfiltered show where he shares unscripted stories, whereas the latter is a web series with music producer Benny Blanco.
Matty Matheson showing off his store's cast iron cookware in January 2022. (Photo: Instagram)  
In addition to that, he earns from his best-selling cookbook titled Matty Matheson A Cookbook.
The celebrity chef is also a stakeholder at Maker Pizza, Toronto, and a new venture called Matty Matheson's Meat & Three, which was launched during the pandemic.
The other source of income for his budding net worth is Matheson's cookware, where he sells cast irons, pepper, salt cellars, and other kitchen wares.
He also manages his merch comprising of customized T-shirts, keychains, and more.
And that's not all, his net worth is supported by his Blue Goose Farm, where he and partner Keenan McVey work together to grow foods especially targeted for restaurants.
As per Celebrity Net Worth, Matheson's net worth is $2 million as of this time of writing.