Matthew McConaughey Auditioned for 'Dazed and Confused' Intending It to Be a 3-Day Summer Job
McConaughey's audition was 'alright, alright, alright.'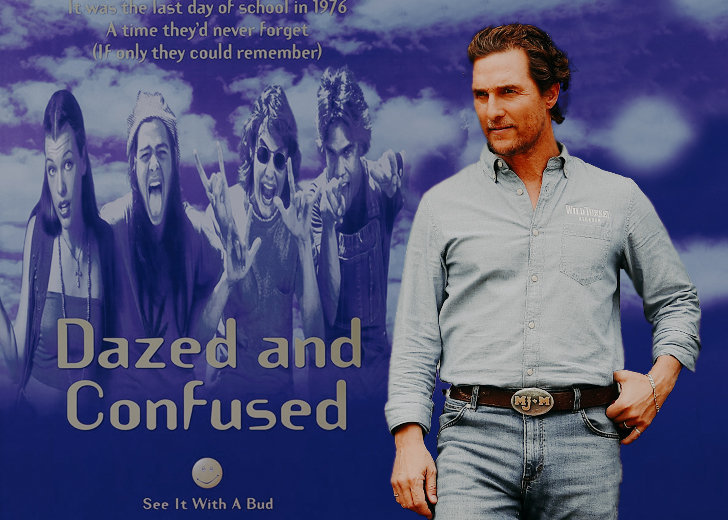 In his memoir Greenlights, released last year, Oscar-winning actor Matthew McConaughey reflected on the notable moments in both his private and professional life. The actor opened up about the time he landed his breakout role in Dazed and Confused. 
Casting director Don Phillips was having a drink at a bar in Austin when the bartender phoned his friend McConaughey and told him to come down and meet the Hollywood director.
Phillips asked the actor to audition for a small part in the upcoming film, and he did. He won the role by chatting about golf and sharing a joint with Phillips.
In a recent YouTube reaction video uploaded by the actor on his channel, he admits that he initially took on the role in the movie as a three-day summer job.
In the audition tape that McConaughey is reacting to, he is seen saying that famous line, "That's what I love about these high school girls, man. I get older; they stay the same age", which is also said to have served as a launchpad for his character.
Dazed and Confused Is a Cult Classic
Dazed and Confused is a film set in a small Texas town in the summer of 1976, that three groups of seniors and one freshman on the last day of school.
There is no real conflict, villain, or story to tell. The plot is based simply on high-school kids having the time of their life. 
Despite the lack of a meaningful plot, the film works well as the group of teenagers search for a good time, avoid authority, and dream of the future.
McConaughey stars as the chilled-out high-school grad David Wooderson who gives Zen wisdom like "Just keep livin."
Wooderson's trademark drawl, "Alright, alright, alright," which he uses while cruising for girls, also ended up being the movie's most famous line and has been intrinsically linked to the actor his entire career. 
The director Richard Linklater captured the texture and details of the 1970s era without creating a cliche or parody.
The movie does not romanticize adolescence either and captures the reality of the coming-of-age well, making it relevant even after all these years. 
Dazed and Confused Added to Library of Congress
Every year the Library of Congress adds 25 films to the National Film Registry, and Linklater's affectionate take on the high school culture of a bygone era has been placed in the Library of Congress.
The National Film Preservation Board selects movies that deserve to be preserved for future generations.
These films are celebrated for showcasing essential moments and achievements in history.
They are at least 10 years old and deemed "culturally, historically or aesthetically significant," by Congress under the terms of the National Film Preservation Act. 
Dazed and Confused reserved a place in the much-acclaimed list for its reflection on American youth culture.