Bodybuilder Martyn Ford Signed up for MMA to Test Himself
The "Scariest Man on the Planet," Martyn Ford, had a near-death surgery in 2018. Now, he is preparing for his grand debut in MMA, testing his potential to go beyond his surgical obstacles.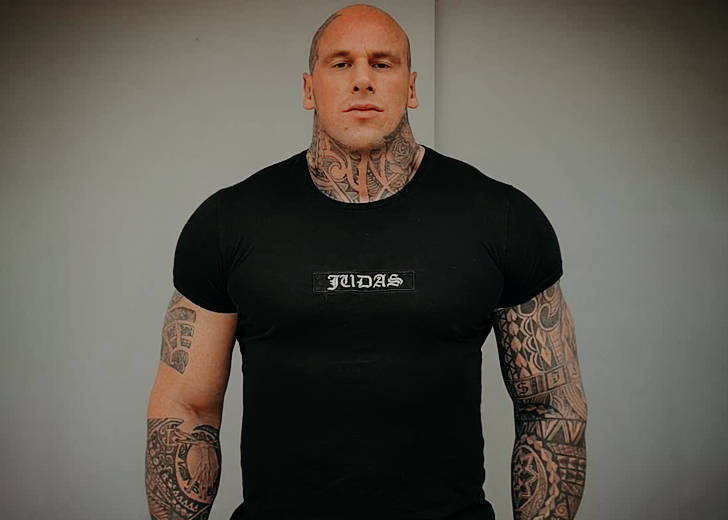 Dubbed the "Scariest Man on the Planet," the 6' 8'' British bodybuilder, fitness model, and actor Martyn Ford has begun training in preparation for his MMA debut. After undergoing a life-threatening surgery, he is now hellbent on testing his abilities.
The Monstrous Man In Film And Now In MMA
Standing tall at 6' 8'', with a shaved head and striking muscular physique covered in tattoos, Ford is one of the most intimidating people alive. Although he has a few acting credits to his name in movies such as Boyka: Undisputed (2016), Kingsman: The Golden Circle (2017), as well as the upcoming installation of the Fast and Furious series, he has also considered transitioning to Mixed Martial Arts (MMA). 
Ford, signed by the Polish MMA organization Konfrontacja Sztuk Walki (KSW), was speculated to make his debut in the cage against the 'Iranian Hulk' Sajad Gharibi. Although the bout didn't happen, his MMA debut is still on the cards.
This is perhaps why Ford has gotten back to training for his MMA debut. In an interview with Jiu-Jitsu Times, he commented on how the spontaneous nature of MMA and how it puts one in the fight-or-flight position was why he gravitated towards the sport. He also mentioned that he loved the idea of putting preparation into practice on the day of the fight, a sensation he found incomparable. 
The Jiu-Jitsu Times also reported that the athlete had trained for jiu-jitsu for a few years, and now that the gyms were open, he was back. 
Martyn's Struggles With Injuries And Overcoming Them
Before entering the realm of bodybuilding, Ford was aspiring to become a cricketer. Sadly, while training, he met with an injury that left him with glandular fever. Due to this, he was forced to go for surgery and then a hiatus for 12 months, an unfortunate turn considering how this was a formative period for his career. He had to abandon his hopes of going pro in cricket.
In 2018, the bodybuilder took it up on Instagram to share his near-death experience. An operation that he had as a baby had caused scar tissue to build up in his stomach. The only remedy was to get half his bowel removed. The scar-tissue had caused a blockage, nearly costing him his life, and he made it out of the ordeal with half his bowel and 14-inches of his intestine removed. 
Despite being told that he wouldn't regain his life of training and working out, he kept a strong focus, mindset, and determination to create his own reality and take his life into his own hands.