Market-share Of Netflix's Competitors HBO Max, Amazon Prime & Disney Discussed
Disney+ and HBO Max are entering a competitive market ruled by Netflix. And with the number of online streaming viewers increasing due to the ongoing pandemic, this competition has been nothing short of war—the war for dominance over our attention.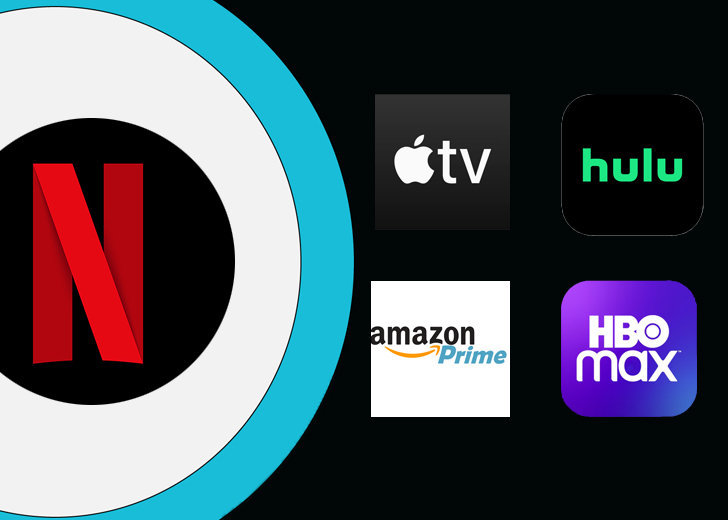 When Walt Disney and WarnerMedia launched their streaming services Disney+ and HBO Max respectively, it sent a clear message to the other streaming giants out there that they were in for a tough competition. 
But are Disney and WarnerMedia capable enough to beat the industry leader, Netflix? Read the article to find out.
Fascinating History of Netflix
If you told someone just 4 to 5 years ago that a small streaming platform with a limited library would go on to become the king of online entertainment, then no one would have believed you. But here we are faced with the exact same reality now. 
In a little over 15 years, Netflix has gone on to become the most popular original-content-based video streaming service.
Netflix had just about 1000 titles in its service when it initially launched in 1998. And now, as of 2020, Netflix's current market capitalization is $194 billion dollars—which is higher than that of Disney's $186 billion.
The American media service provider was founded in 1997 by CEO Reed Hastings and co-founder Marc Randolf. Its initial business was purely a video rental service.
After significant growth in its services, Netflix allowed customers to keep the film they rented for as long as they liked. The company made this possible with its brand new subscriber-based model. But to rent a new film, the customers simply had to return the old one first.
This subscription-based video rental strategy worked great and even competed with Blockbuster—the number one video rental chain in the U.S at the time.
Who Are Netflix's Main Competition
In an Inc.com article dating back to as far as 2005, Reed Hastings wrote about the internet becoming the future of the movies. And he was right.
It was his initiation with Netflix that paved the way for other streaming services such as Hulu, Disney, Amazon, Apple, Warner Media, and NBC.
Apple launched its iTV streaming service termed Apple TV way back in 2007. But a decade later, it's extension service, Apple TV+ still hasn't managed to break in the game.
Furthermore, Amazon made use of its existing shipping service and a wide base of kindle reader to get as many subscribers for its new streaming service launching Amazon Prime in 2005. Not to be outdone, the Walt Disney Company and Warner Media announced their own streaming service, Disney Plus and HBO Max respectively.
News of Disney and Amazon, two of the most powerful companies, releasing their own platform meant that Netflix could no longer sit by and watch as these bigger, more resourceful companies might take away some of its 183 million subscribers.
Discussing Market Share Of All Streaming Competitors Of Netflix
Hulu
Hulu has 32 million subscribers as of the second quarter of 2020. The figure makes it one of the last in the streaming race even though it was released very early on.
The platform was launched in 2007 as a joint venture between Walt Disney Company, 21st Century Fox and NBC Universal.
Ironically, Hulu's greatest strength was also its weakness because none of the owning studios wanted to release their most valuable assets in the streaming platform for fear of sharing profits with the other two.
Regardless, the platform did manage to release some quality original contents such as The Hand Maid's Tale, Runaways, Castle Rock, Into the Dark, and Veronica Mars.
Now, it seems to be focussing on more youth-centric contents to draw in new subscribers. This is evident with their upcoming shows like Marvel's Hellstrom, Animaniacs, and Wild Cards.
Out of these, Wild Cards is the one to look after as it is touted to become a sleeper hit akin to that of Game of Thrones
Wild Cards is a sci-fi/fantasy series based on the book of the same name edited by famed American author George R.R Martin. He is widely acclaimed for his 'A Song of Ice and Fire' book series.
The 'Wild Cards' book revolves around a dystopian New York city whose 90% of the population has been wiped out by an alien "Wild Card" virus. The majority of remaining survivors thereafter develop bizarre physical deformities and the remaining minority who develop superhuman powers are left to save the world and themselves. 
The show is not the only superhero property of Hulu. They are also overlooking the development of Marvel's Hellstrom. The series is set within the Marvel Cinematic Universe and could very well come in the spotlight when Disney+ starts releasing its Marvel contents.
Amazon Prime
As of early 2020, Amazon Prime boasted subscribers of 150 million.
Their new titles include projects such as  The Boys Season 2, Jack Ryan Season 3, and The Walking Dead: World Beyond.
The new Walking Dead series will especially focus on two female protagonists and will tell the stories of young people growing up in a world infested with zombies. 
The series is currently in development in the U.S. Amazon has also already bought the distribution rights for Asia-Pacific, Middle-East, Africa and most of Europe.
Now The Walking Dead is over, discover a new story where Walkers still roam and the battle still rages. Watch The Walking Dead: World Beyond on (Amazon) Prime Video – Coming Spring 2020 pic.twitter.com/Sk8d1JKH2x — Amazon Prime Video UK (@primevideouk) November 25, 2019
Amazon Prime is the only competitor that is even coming close to Netflix's subscription numbers. The primary reason for Prime's success is because of its access to a large customer user base of Amazon.
Another factor that is giving Amazon Prime the push is its large library of contents. It boasts a total of 12,828 movies and increasing. It's a huge number compared to Netflix's 3781.
Even though Netflix gets the edge in terms of device compatibility, user experience, total subscribers, and content quality, Amazon Prime is definitely taking over the giant when it comes to content quantity.
Disney+
As of May 2020, Disney+ boasts 54.5 million subscribers.
Considering a giant of Disney's stature, 54.5 million subscribers seem to be very less. But when you take in the fact that their launch has not even been 10 months, then that number is surely impressive.
The reason for Disney's sudden increase in subscription numbers is because of their Marvel, Star Wars and Pixar properties. There are a multitude of eager fanbase all over the world who are ready to gobble up anything that these IPs have to put out.
The rise of Disney+ subscribers also meant the removal of many of its contents from Netflix such as Daredevil, Luke Cage, many of its Marvel properties, and Pixar IPs.
With its properties such as ESPN and Hulu, Disney is also in a better position compared to the rest of the other streaming competitors in terms of the loyal customer base.
Although there is plenty of scope for Disney to use its existing properties beyond the big screen, we have yet to see how much of a risk they are willing to take.
As is often the case, bigger companies do have a tendency to take lesser risks compared to their smaller counterparts.
HBO Max
WarnerMedia currently has not one, not two but three streaming services. HBO Now (transformed to HBO), HBO Go and HBO Max. As of December 2019, HBO Now had 10 million subscribers and HBO Go had altogether of 33 million subscribers, as per Statista. 
However, WarnerMedia said it will not release HBO Max subscriber numbers before its 2020 second-quarter earnings report. 
By 2025, HBO Max is looking to increase its subscriptions to 50 million in the US alone and 75 million to 90 million worldwide.
What makes HBO Max a lucrative streaming service is its access to WarnerMedia's vast library of properties that includes Warner Bros.' movies and TV series made in over a 100 year many more, classic movies made in collaboration with TCM  and contents from New Line, CNN, TNT, Cartoon Network, Adult Swim, DC, Looney Tunes, and Warner Bros.'
More importantly, HBO Max is also unique in terms of contents offered towards the specific DC fanbase (similar to Disney's Marvel brand). 
The streaming service by Warner Media has full access and rights to DC Comics properties, unlike Disney's Marvel. The latter has to share some of their film rights with Universal Pictures.
With regards Warner Media's DC IPs, the recently announced Snyder-Cut of Justice League film has many DC fans drooling for any scoop on new projects.
Their upcoming projects such as Green Lantern, Justice League Dark series, and many other DC animated shows will certainly keep DC fans engaged for a long time.
What are your plans for the following characters on film?
-Suicide Squad (Ayer Cut)
-Superman
-Green Lantern Corps
-Plastic Man
-Hawkman/Hawkgirl
-The Flash
-Batman (Affleck)
-Blackhawk
-New Gods
-Batgirl
-Nightwing
And for TV:
-Green Lantern
-Strange Adventures
-Bizarro TV pic.twitter.com/aaDU9BRgrS — Ryan 'All Day News' Anderson (@Ryans_Ramblings) June 29, 2020
In addition to DC titles, HBO Max can also leverage Warner Bros.owned properties such as Game of Thrones, The Sopranos, Westworld, Friends, Lord of the Rings, Lego films, Harry Potter series, Ghibli films, and their Conjuring film series
Apple TV+
Apple TV+ is different from Apple TV.
While, Apple TV is a digital media player and console-based service, Apple TV+ is a subscription video-on-demand service.
The Apple TV+ service was launched on November 1, 2019. A handful of renowned personalities such as Steven Spielberg, Oprah, and Jennifer Aniston were featured during the announcement of its new slate of original contents.
Since the launch to now, Apple TV+ newly-released contents have not hit big except for Aniston's The Morning Show.
But in future what may give Apple TV+ the push in the market is its existing Apple brand customer base. In order to compete, however, Apple has moved away from its closed-system model to make its Apple TV app available on most smart TVs.
Apple TV recently released Servant TV series by film-maker M. Night Shyamalan. It is also reported by Variety that director Damien Chazelle (Director of the famed La La Land) was assigned to a series exclusively for Apple TV.