Mark Mester And His Brothers Live Their Hungarian Family's American Dream
Mark Mester, is a well-known news anchor who was born in communist Hungary and moved to America with his family. He is currently working for the KTLA 5 Weekend Morning News and dating Isabella Murr.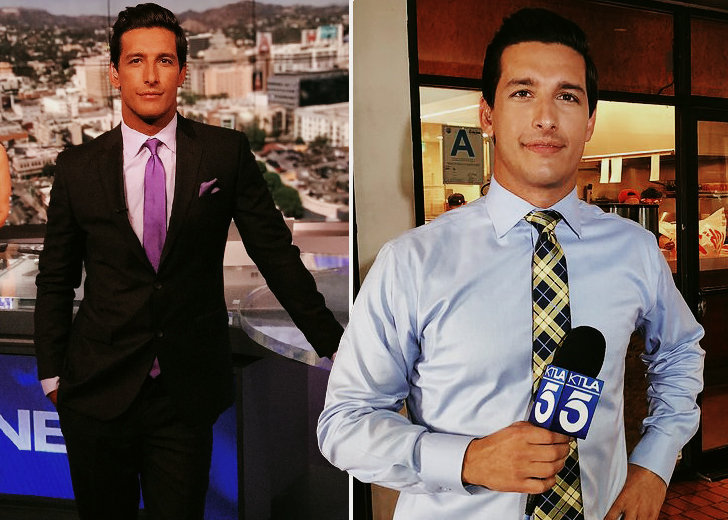 Following his father's American dream, American anchor Mark Mester - along with his family - immigrated to the United States in 1986. Now, 34 years later, he is a recognized American anchor. And his two brothers also hold respective successful careers.
Find details on how the Mester brothers live up to their family's expectations and get to know their journey from Hungary to America.
Mark Mester Moved to America at the Age of Two
Mark Mester was born in Budapest, Hungary, in December 1984. But as Hungary ran through a communist system, Mark's father, Dr. Andrew Mester, wanted to dodge the violence and lead a prosperous family in the land of opportunities, America.
To make his dream come true, he researched in Hungary and eventually got a research fellowship at the University of Pennsylvania.
Then, with high hopes and ambitions, Dr. Mester left Hungary with his sons, Mark and Matt, and his wife, who was pregnant with their third son, Luke. At the time, Mark - who is now 36 - was only two years old.
Nine years later, at the age of 11, Mark became a US citizen. Thereon, he completed his Bachelor's Degree in Business Economics from the University of California.
In September 2017, Mark posted a nostalgic video of the year that his family entered America on his Instagram account. Through the caption, he displayed his gratitude towards America for welcoming the Hungarian family in the land of opportunity to live the "American Dream." The video, shot by his father, shows a young Mark passionately waving American flags.
Mark Mester Fulfills Father And Grandmother's Dream
As visioned by his father, Mark currently lives the American dream.
He holds a successful career as a news anchor at KTLA 5 Weekend Morning News. Before joining KTLA in May 2014, he worked at KEYT-TV in Santa Barbara, California. And, if that's not enough, he is also doing great in his personal life. He is dating an EMT locale, Isabella Murr. He introduced her to his Instagram followers on August 15, 2020.
Interestingly, Mark is not only living out his father's dream, but also his grandmother's. On his birthday, December 27, 2019, Mark's father surprised him by coming to the sets of KTLA 5. In the interview that followed, he shared that Mark's grandmother wanted to be a radio host but couldn't be one due to political reasons. Moreover, he said that she would be proud to see Mark succeeding as a news anchor.
..she wanted to be a radio host but because of political reasons… she could not do it, so she would be so proud of you that you can do what she was dreaming of.
Father Supports Mark, "we are just hard workers."
Mark's father, Dr. Andrew Mester, is an ENT (Ear Nose Throat) specialist in Santa Barbara, CA. Avid watchers of KTLA 5 have seen him on-screen on numerous occasions to talk about Mark.
During his interview in KTLA in 2019, Mark mentioned his father as the "breadwinner" of the family, Dr. Andrew shared that Mark is also like him - a hard worker.
I was working and studying and did research, I still work 12 hours every single day including Friday. I love working, and my son inherited this, and we are just hard workers.
Mark's Brothers Also Have Their Careers Figured Out
Like Mark, his two brothers are also settled in America.
His elder brother, Matt Mester, is a family man with a wife and two lovely kids, a daughter and a son named Connor. Matt lives with his family in California and works as the Director of Engineering at Sideplate. He completed his Master's degree in Civil/Structural Engineering at Stanford University.
Unlike Mark and Matt, their youngest brother, Luke Mester, was born in America. He works in Oregon as a Sales Development Representative at Brandlive Inc. As per his Linkedin account, he has more than four years of experience as a Professional in Business Development.
In sum, with respective jobs, Mark and his brothers are living their father's American dream. Their journey from Hungary to Hollywood has been time and again mentioned in Mark's Instagram, Facebook, and KTLA5.