Who Is Mark Lewis Jones' Wife Gwenno Penrhyn? Know Her Career Details
Actor Mark Lewis Jones is an expert at keeping big secrets, hiding details of wife Gwenno Penrhyn, their wedding, and his kids. Learn about his personal life and his wife's career.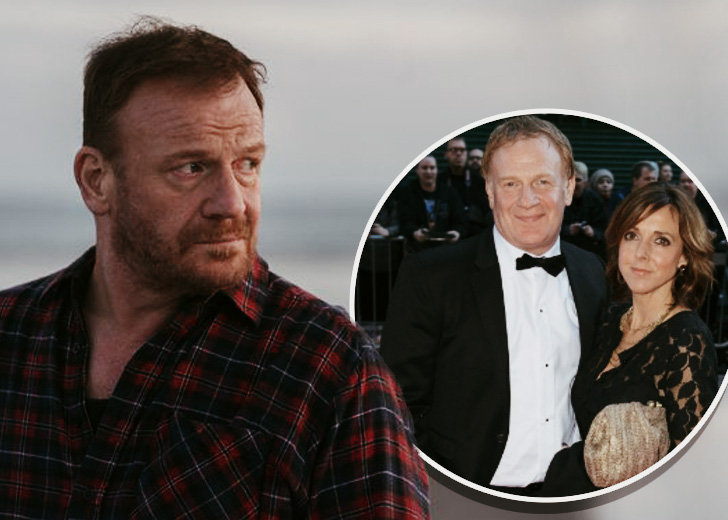 Mark Lewis Jones is a talented actor, popular for portraying roles such as First Order Captain Moden Canady in Star Wars: The Last Jedi, police inspector in the BBC drama series 55 Degrees North, and Rob Morgan series Stella.
Besides acting, he is also an expert at keeping big secrets. One of his best-kept secrets is the details of his wedding to Gewnno Penrhyn.
But who really is Gewnno Penrhyn? Read along to know more about Jones's relationship timeline with Penrhyn, wedding details, details of her boutique store, and Jones' children.
Jones met Penrhyn after She Turned 40
Jones and Penrhyn's fans have been queuing to know about their marriage and wedding. But the pair have kept their marriage private, sharing not-a-single information about their wedding and marriage.

Mark Lewis Jones with his wife Gwenno Penrhyn at 25th British Academy Cymru Awards at St David's Hall on October 2, 2016, in Cardiff, Wales. (Photo Source: Matthew Horwood/Getty Images)
Moreover, in an interview with Toolally, Penrhyn revealed that she met the actor after turning 40. She said, "I have always wanted to have my own clothes shop and when I turned 40 began making plans."
"I then met my now husband and decided the time was right! My Nain [grandmother in Welsh] whom I was very close to died and I decided to name the shop after her. Kiti was born," Jones's now-wife added.
Opened Her Boutique in 2015
From early on in her life, Penrhyn wanted to have her own clothing shop. Therefore, after a long career doing hair and make-up in drama and films, she finally gathered up the courage to open up her own clothing business.
Talking to Toolally in September 2018, she stated that she was 47-year-old then. She further disclosed that she was 40 when she started making plans about it.
But it was in 2015 when the Y Coleg Normal alum actually found the inspiration and support to start her own clothing store. She was spending time with Jones in London at the time.
While in London, she fell in love with shopping, especially in the exclusive boutiques of Notting Hill and Primrose Park. These places gave her an entry into a new world of fashion brands. She wanted to bring those brands to her native Cardiff, where they weren't available at the time.
She went back home and opened a boutique store in Pontcanna, Cardiff, and named it after her late grandmother, Kiti, whom she adored. Thus, Kiti Cymru was born.
What Does Kiti Cymru Offer?
Penrhyn's Kiti Cymru, an independent fashion boutique, offers a wide range of choices for female fashion wear. It has, in its collection, some of the finest European clothing labels for women.
Kiti also has a contemporary feel about it, something which they claim can be found nowhere else in Cardiff.
Kiti is genuinely an excellent place for fashion shopping, as it was successful in landing a place in The Telegraph's Top 50 best Boutiques In Britain in 2019.
Penrhyn Spent Her Early Career As A Make-up Artist
Penrhyn, a 49-year-old Cardiff native, is a Welsh fashion entrepreneur and former make-up artist.
She spent a fair amount of her early professional career as a make-up artist on various TV shows. The most initial job that she did as a make-up artist was in 2004, according to her page on IMDb. She worked in a TV series called Emym Roc, a Rol as an assistant make-up artist.
In 2007, she got the same gig. Penrhyn worked as an assistant make-up artist in the TV show Y Pris for six episodes.
Her last known job in the hair and makeup department was in 2013 when she worked as a makeup supervisor for two episodes in the TV series Hinterland.
Jones is a Dad of Four Children
Before getting married to Penrhyn, Jones relished secrete relationships. As a result, he is the father of four children now.
Speaking with Wales Online in November 2019, the actor revealed that he had four kids. He said that his youngest son's name was Jacob and that he was 15 at the time.
However, he did not reveal the names of his other children or the women who gave birth to those kids. But he implied that the 15-year-old was familiar with his father's reputation. "My youngest son, Jacob, who's 15 he's like 'shall I take the picture?' He's so used to it," Jones said.