Maria Brink's first-ever tattoo was for her son
American singer and songwriter Maria Brink flaunts her tattoos with panache. Her first-ever tattoo has a special place in her heart, as it was for one of the most important people in her life, i.e., her son.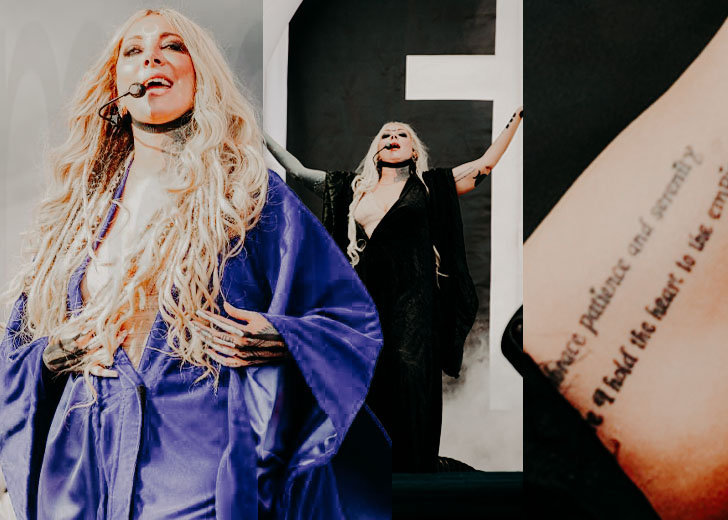 The frontwoman of the American heavy metal band In This Moment, Maria Brink, has as many as 19 tattoos on her body, and she flaunts them in style. Amongst those, her first-ever tattoo has a special place in her heart, as it was for one of the most important people in her life—her son.
'My Son Is My All'
Brink gave birth to her only child, a son named Davion Brink, when she was 15-years-old on April 14, 1992. She raised Davion as a single teenage mother and never revealed who the father was. Despite having to raise her son alone, the singer never failed as a parent.
However, she has rarely been seen walking out publicly with her son, neither has she shared many pictures with him on social media. But on the few occasions she has talked about her son, she has been vocal about how important he is in her life.
On January 16, 2016, Brink took to her Instagram to express how much Davion means to her and that everything she has ever achieved was all for her son. She further said that nothing was more sacred on this earth for her other than her son.
Nothing is more sacred to me on this earth. My son is my all . It's all for him!
Her First 'Infinity' Tattoo Was for Her Son
Talking about her first-ever tattoo with Pitcam TV in June 2015, Brink disclosed that it was dedicated to Davion. The said tattoo was a tiny "infinity" symbol on her lower back.
The singer further explained that the tattoo signified she and her son were forever connected if anything ever happened to either of them. The mother-son duo also says "forever infinity" every time they leave each other for their respective works.
Everytime me and my son leave each other or anything like that, we say forever infinity, means that we are forever connected if anything ever happened or whatever…
Her Other Tattoos
Besides her first tattoo, Brink has several others on her body. According to Steal Her Style, the singer has had at least 19 known tattoos, including a rose on her wrist, mandala on her thigh, triple goddess symbol on her upper arm, and a portrait on the back of her hand.
Similarly, she also has several quote tattoos—one of which is on her left bicep that reads, "I embrace patience and serenity, therefore I hold the heart to the empire."

Maria Brink's tattoo on her left bicep. (Photo: Steal Her Style)