HuffPost Chief Lydia Polgreen's Gay Love! Married Tag In Bio, Keeping Intact
Fans have been asking whether Lydia Polgreen is married/has a husband or single or gay...There was a certain black comedy in the story she told of her and partner going to interview a Sundanese warlord responsible for the cleansing campaign in Darfur... Her net worth after...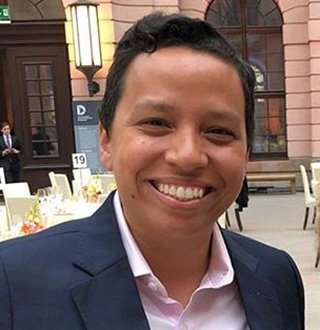 American journalist and executive editor Lydia Polgreen's married life has witnessed some fiery times from sustaining the relationship in an unacceptable culture to joint interviewing anti-gay Sudanese warlord alongside her artistic partner. 
The editor-in-chief of HuffPost, Lydia Polgreen, inevitably has had quite an impact in the field of journalism. She often says that she believes in her goal of being honest and standing up for people who don't have the platform to speak.
President Not Entertainer: HuffPost's commander Lydia Polgreen criticizes her magazine's 2015 decision to cover President Donald Trump's campaign as entertainment, in early 2018 - months later she would comment on Facebook's backlash of Alex Jones & Info Wars stating 'too little, too late,' and would also defend New York Time's Sarah Jeong's who would rise to controversy after her alleged anti-white tweets (Video: Published on Feb 13, 2018 )      
The 43-year-old  has won many awards in her career, most recently being the Livingston award in 2009. The first award (in 2006) she received was a George Polk Award in the category 'foreign reporting' from Long Island University for her coverage of ethnic violence in the Darfur region of Sudan.
Being a woman of color, queer and someone with limited means, Lydia began her career as a business manager and assistant editor for The Washington D.C Monthly.
Lydia Polgreen's Bio & Net Worth 
Media mogul Arianna Huffington stepped down from her namesake publication, Huffington post, and Polgreen took her place as the editor-in-chief in December 2016 after spending nearly 15 years at The New York Times, where she had gradually helped the company to increase its fan base in Latin America.
The former editorial director of NYT Global at The New York Times took numerous responsibility during her career in the organization, ranging from deputy international editor, the chief of South Africa, the West Africa's bureau chief from 2005 to 2009, and a correspondent for the New Delhi bureau. Prior to NYT, she worked as a reporter in New York State and Florida.
Interestingly, there are no clear revelations of Lydia Polgreen's salary at HuffPost, but since she is one of the few regular staffers to get paid and also the editor-in-chief, she likely earns a huge salary with millions also coming from her contract with the reputable organization.
Lydia Polgreen's Family & Upbringing
Polgreen was raised largely abroad (especially in Ghana) and in a mixed-race family comprising of her African immigrant mother from Ethiopia and her American disabled veteran father. 
She has two degrees - one from St. John's College (1997) and the other from Columbia University School of Journalism (2000).  
Is Lydia Polgreen Married, Who Is Her Husband / Wife? 
The George Polk Award winner was forced to conceal her relationship with her wife, Candace Feit while living in homophobic West Africa from 2005 to 2009.
The two met at college, and have been maintaining a strong bond ever since. She lives in Brooklyn with her wife, Candace, and three dogs - in an interview she said,  
My wife believes that we shouldn't have pure-breds, so all our dogs are rescue dogs. There is something about the completely unfiltered love of a dog that is incredibly life enriching.
While Lydia is a top-notch editor in the country, her wife, Candace, has had a fair share of success in her career as well. She is a documentary photographer and artist focusing on creating deep narratives of people and their relationship to their environments.
Her work has appeared in The New York Times, The The Globe, Dailymail, and The Los Angeles Times among many others.
Nigerian Gay Community Inspired Lydia Polgreen In 2005
Among many stories the famous 'queer & black editor' has covered till date, there are some that still influence her. One of those that really stuck was a piece that she did about the people who were organizing the first gay pride parade in Nigeria in 2005.
She met a small group of people who were organizing the parade, and there was a very conservative Anglican Bishop who was taking a strong stand against homosexuality. She was apparently quite inspired by the courage of the community who spoke up and identified themselves to speak out.
Lydia Polgreen Had Finally Come Out At College 
Polgreen was only much aware of her sexuality at the time, but she recalled her own coming out at college as a 'dawning realization,' talking to Out Exclusives in 2017. She further added,
'I always knew there was something different about me, but I didn't know how to put my finger on it...It was really like a light went on and suddenly this very clear thing about myself that had always been a subtext became text, and that was a remarkable thing.'
It was only when she joined college and met other lesbians, she realized that she was one of them as well.
Lydia Polgreen Interviewed Anti-Gay Warlord Alongside Wife Candace Feit, Now?
There was a certain black comedy in the story Polgreen told of her and partner Candace Feit, going to interview a Sundanese warlord responsible for the cleansing campaign in Darfur.
'We're at his mercy, we've been driven to this village in one of his trucks, and the two of us are sitting there, and you just imagine, What would that be like, if he knew we were a couple?'
The couple was living there at a time when gay people were being murdered in Sudan and Uganda, and there were front pages of newspapers outing people - so apparently, that was an eye-opening experience for them.
The moment she finally returned back to the US in 2006, her fans felt tremendous relief to see them safe, as they had viewed the collapsed part of the world through her reports and commended the couple for their bravery and fresh reporting. 
Thus, when Lydia was announced as a successor of Ariana Huffington in 2016, she boasted a courageous bio of reporting inequalities and violence not only in the US but also in  Africa.
However, she knew that the job of the chief-editor would attract controversies, but she took the job anyway since she had fought the hardest times in her life with her parents and lovely wife - who taught her to be strong in life.    
When Boss Supports You: Arianna Huffington posts picture with Lydia and her wife, Candace on 6 December 2016 (Photo: Twitter)
Back then, as her Huffpost promotion news surfaced, her former boss,  Arianna Huffington, even praised her on Twitter with the caption,
'So excited that my successor as EIC of HuffPost will be Lydia Polgreen, who I know will take HP to new heights. Here w/ Lydia & her wif
Not only the former boss, the pair's families and friends have also been completely supportive of their relationship, which wouldn't have been possible in the distant past. 
Thus, it has been undoubtedly a happy tingling feeling for the couple in 2018 - the year women and LGBTIQ voices have been highlighting the media spotlight.