Loni Love Is Enjoying Unmarried Life With Lover; Reveals Having Husband!
The relentlessly candid co-host of 'The Real' has made it clear that she does not have any plans to get married any time soon. However, Loni had been married in the past when she was very young and had to break the relationship to land her career as an entertainer. Today, she is happily dating her boyfriend, James Welsh, whom she met on a dating app in August 2018. Loni Love revealed that she made her boyfriend sign a Non-Disclosure Agreement when they first began dating, letting "The Real" fans in on the advantages of having one for themselves. Loni had an unfortunate miscarriage in her 20s. The experience of facing a miscarriage in her 20s changed her mindset about having kids or starting a family, leading to her no-children policy.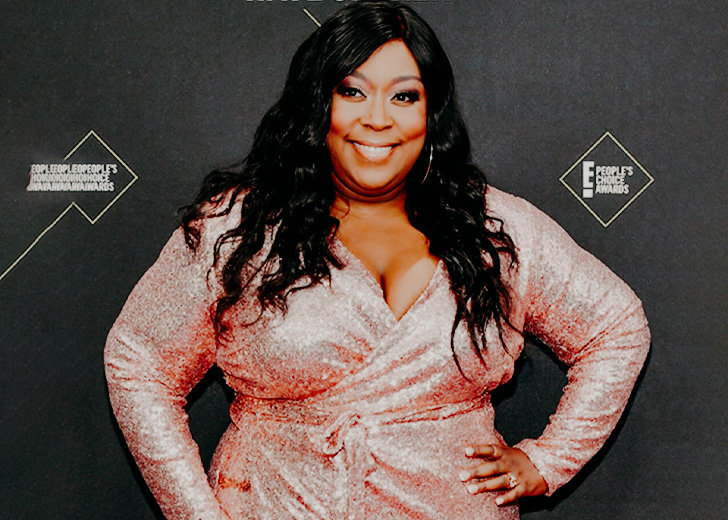 The 49-year-old TV personality is best known for her commentary on the VH1 nostalgia series I Love the 80's. Her witty commentary and outgoing personality turned her into a fan favorite overnight upon its airing. Working for CNN, she also gained popularity by covering the inauguration of President Barack Obama.
She currently hosts The Real talk Show along with Tamera Mowry, Jeannie Mai, and Adrienne Bailon. The syndicated talk show, which is known for following the lives of its hosts, was announced to run for two more seasons in 2018.
The comedian/actress has also become quite infamous for her stance on marriage. She had mentioned that she was happy to be a 'satisfied single' in many of her interviews. Funnily enough, this was never the case.
Nor is this true for her now. Unbeknownst to many of her fans, she was actually married a long-time back. This was revealed by Love herself in her Twitter handle. After her divorce, she stands by decision to stay unmarried but this certainly did not mean that she was not single and ready to mingle. 
2 years back, Love hit her fans with another curve ball by making her boyfriend public, which also turned heads and caused controversy. 
Loni Love Revealed She Was Once Married. Chose Marriage Over Career Instead. 
In September 2015, Loni confessed that she was once married using the hashtag BeingLoniLove via Twitter. The revelation was a total surprise for the people who hadn't read her 2013 book, Love Him Or Leave Him where she had also revealed about her married life.  
Later, in 2016, she again stated via Twitter that she was married but followed that up with the hashtag DealBreakerIn3Words, implying that her marriage was a deal-breaker for her. 
Love has become vocal about her failed marriage since early on. After the release of her book in 2013, she also went public about her failed marriage in The Real Daytime Show. 
In the show, Love said that she knew what the married hosts were talking about when they were talking about marriages. She then went on to divulge further details about her ex, who she mentioned as a 'fine' man. They dated for two years before he asked her to marry him in Vegas. 
According to her, the initial days of her marriage were blissful, which wasn't the case as time passed by. She realized that she was really young in comedy and protecting her marriage would sacrifice her growth in her career.
She faced the same dilemma with an ex-boyfriend she had faced years ago when she left her engineering career. So, this time around, she chose her career over her husband. That was the furthest that the Real Talk Show host cared to divulge about her marriage and left it at that. 
Regardless, that a long time back and Loni Love certainly seems to have put herself back in the dating game. 
Love Feels No Need To Get Married. Enjoying Unmarried Life With Boyfriend
The stand-up is currently dating actor James Welsh. Love revealed her new boyfriend's identity in an Instagram post dated December 5, 2015. That date was not just any date for Love, it was, as she posted herself, their 10th date. 
Love didn't just stop there. She took her newfound love-interest and showed him off any chance she could get. She then hit with another post in December 29, and this time it was of her vacation with her new paramour. 
Just recently, they celebrated Welsch's birthday together and Love even made her put on a birthday hat. Although Loni revealed her new man to the public, she hasn't disclosed any further info on their relationship like 'how they met?" and so on. 
But luckily some fragments of their relationship were revealed during RuPaul Show when the new couple themselves appeared to talk the details of how they had met and what was it like to be a famous interracial couple. 
The Real Loni Love
Loni's comedic career didn't take off until 2004 when she appeared on the singing show Star Search. Since then, she has gone on to feature in films and on many television shows. Her movie catalog includes Soul Plane (2004), Bad Asses (2014), and Paul Blart: Mall Cop 2 (2015). 
However, she has been doing stand-up comedy since her time at Prairie View A&M University, where she first discovered her comedic prowess winning a $50 dollar competition. 
The engineer-turned-comedian left a more significant mark on TV, starting from her 2003 appearances in VH1's I Love the 80's Strikes Back. Besides these, she has also covered for CNN. In 2013, she released her advice book titled Love Him Or Leave Him But Don't Get Stuck With Him.
As of 2018, she has either acted or performed as herself in more than 30 television shows since her debut in 2003. Her notable television credentials include panel game show Hollywood Squares (2003 - 2004), live-action sitcom show Ned's Declassified School Survival Guide (2004-2007), television series TruTV Presents: World's Dumbest..., comedy talk show Chelsea Lately, television comedy After Lately (2011 - 2013), and syndicated talk show The Real (2013-present).