Loni Love Reveals Having Husband! Once Married, Despising Boyfriend & Love Now?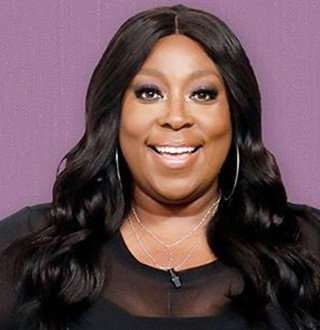 Quick Summary
| | |
| --- | --- |
| Date of Birth | July 12 ,1971 |
| Age | 48 Years 8 Month(s) |
| Nationality | American |
| Birth Place | Detroit, Michigan |
| Profession | Comedian |
| Career | 2003-present |
| Relationship Status | Single |
| Ex-Husband | Name Not Disclosed |
| Divorce/Split | Yes (Once) |
| Boyfriend | James Welsh |
| Net Worth | $1 Million |
| Income | Emmy Award |
| Awards | Emmy Award (2018) |
| Ethnicity/Race | Afro-American |
| High School | Cass Technical High School |
| College | Prairie View A&M University |
| Height/ How Tall? | 5' 6" (1.67 m) |
| Hair | Long |
| Hair Color | Dark Brown |
| Eye Color | Black |
| Official Site | http://www.lonilove.com |
| Lesbian | No |
Comedian/actress Loni Love has claimed to be a 'satisfied single' in many of her interviews. Funny enough, this wasn't always the case.
The 47-year-old TV personality is best known for her commentary on VH1 nostalgia series I Love the 80's. Her witty commentary and outgoing personality turned her into a fan favorite overnight upon its airing. Working for CNN, she also gained popularity by covering the inauguration of President Barack Obama.
She currently hosts The Real talk show along with Tamera Mowry, Jeannie Mai, and Adrienne Bailon. The syndicated talk show, which is known for following the lives of its hosts, was announced to run for two more seasons in 2018.
In addition to that, the year layered one more show in her polished resume - in July, Tabloids reported that the humorous television personality was given green-light to host her own autobiographical comedy show with the backing of Warner Bros, which is the parent company of Telepictures known for producing 'The Real.'
She has also appeared in the movies - Paul Blart: Mall Cop 2; Bad Asses on the Bayou; and Mother's Day.
Comedy Is Real: Larger than Life Personality Loni Love gets her own comedy show with Warner Bros in 2018 (Video: Published on Jul 24, 2018)
Love expressed joy with her fans upon landing a deal with Warner Bros, and at the same time also affirmed her fans of 'The Real' that she wouldn't leave the show, stating,
"I am thrilled to be developing a comedy with Warner Bros. as I continue to co-host The Real. My life's work is all about entertaining, inspiring and helping people become the best they can be."
Before she started her comedic and television career, she was working at Xerox as an engineer, but she left the stint for a noble cause. She sacrificed her position for another employee who was losing a job during a layoff. She worked for the reputed company designing and creating printed circuit boards for 8 years.
Loni Quit her Xerox Job Against Her 'Boyfriend'
Before pursuing her career in stand-up comedy, Loni worked as an engineer at Xerox in California for eight years. Against her then boyfriend's request, she quit her 'good job' and pursued a career in comedy.
She holds an electrical engineering degree from Prairie View A&M University in Texas. She had a brief stint at General Motors as an assembly line worker after her high school graduation. She was captivated by electrical engineering at the time when she was responsible for putting doors on the company's 1993 Oldsmobile Cutlasses.
You May Like: Openly Lesbian Comedian Hannah Gadsby On Dating Status, Partner, Weight Loss & Sexuality
Loni Love Career: The Real
Loni's comedic career didn't take off until 2004 when she appeared on singing show Star Search. Since then, she has gone on to feature in films and on many television shows. Her movie catalog includes Soul Plane(2004); Bad Asses(2014); and Paul Blart: Mall Cop 2.
However, she has been doing stand-up comedy since her time at Prairie View A&M University, where she first discovered about her comedic prowess winning a $50 dollar competition.
The engineer-turned-comedian has left a more significant mark on TV, starting from her 2003 appearances in VH1's I Love the 80's Strikes Back. Besides these, she has also covered for CNN. In 2013, she released her advice book titled Love Him Or Leave Him But Don't Get Stuck With Him.
As of 2018, she has either acted or performed as herself in more than 30 television show since her debut in 2003. Her notable television credentials include panel game show Hollywood Squares (2003 - 2004); live-action sitcom show Ned's Declassified School Survival Guide (2004-2007); television series TruTV Presents: World's Dumbest...; comedy talk show Chelsea Lately; television comedy After Lately (2011 - 2013); and syndicated talk show The Real (2013-present).
Her New Weight Loss Regimen
Despite her achievements, the Soul Plane star has had body image issue. Fearing public ridicule online, she once lost 50 pounds following a strict weight loss regimen, only to put on an additional 20 pounds months later.
You May Like: Alison Hammond Nearly Had Partner As Husband! Weight Loss Achiever's Personal Affairs
In May 2018, on The Real, she revealed that she's grown 30 pounds lighter since then. Learning from her previous experience, she said her new weight loss regimen primarily included portion control, increased in exercises and changing her lifestyle.
Before, she used to grab all the food when she went out, but 'now' she revealed that she liked to share her foods with someone - like she shares her 'half of the plate' with co-star Tamar whenever they go out for food.
Weight Loss Nooks: Lori Lane reveals her new weight loss secrets with her co-stars on The Real (Published on May 10, 2018)
Loni also advised her fans to cautiously plan their's weight loss strategy and not rush with a face-paced weight loss strategy that might initiate unbalanced weight loss and gain cycles. She also talked about the time when she lost 50 pounds but gained 70 pounds later because of her unhealthy lifestyle and rushed weight loss strategy.
Parents Had Cordial Relationship Despite Tragic Divorce
Born on 12 July 1971 in Detroit, Michigan, Loni grew up in the Brewster-Douglass Projects built for poor working families. Her parents had married in the crack era of the 70's but divorced when she was just a little girl. Despite the divorce, she claimed, in an episode of the Real Talk which aired on March 12, 2018, that her parents later developed a cordial relationship.
However, she was raised by her single mother after her parent's divorce. The mother-daughter duo had insufficient funds, but young Loni got introduced to book at an early age. Her mother made her join a book club, and she would get a book every month. The book from which she learned to read properly was 'Oh. the Place You'll Go' by Dr. Seuss.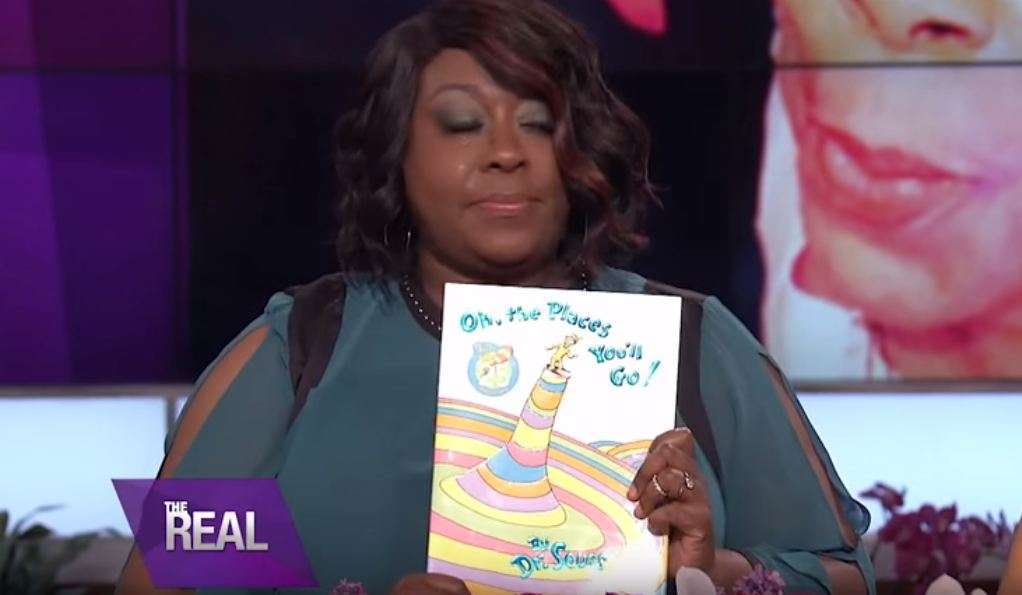 Power Of Books: Loni Love first teacher was famous kids book by Dr. Seuss, Oh, the Places You'll Go! (Photo: The Real)
She regards her mother as her 'first & last' priority.' She is thankful to her mother for teaching her the best lesson she could ever learn in her life that is to put herself first in any situation in order to be the best version of herself.
Loni Love Was Once Married
On 31 August 2016, Loni confessed that she was once married using the hashtag 'BeingLoniLove' via Twitter. The revelation was a total surprise for the people who hadn' read her 2013 book, Love Him Or Leave Him, But Don't Get Stuck with the Tab: Hilarious Advice for Real Women, where she had revealed about her married life.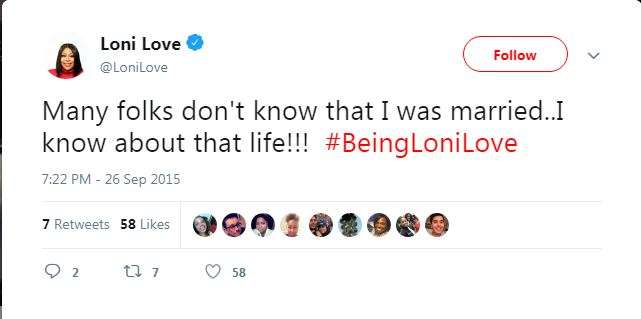 Marital secret: Loni speaks on her previous marriage with her secretive ex-husband (Photo: Loni Love's Twitter)
Later, in 2016, she also stated via Twitter that being married was a real deal breaker for her. Perhaps, it's a challenge for divorced persons to find new love.
While many were unaware about her past marital status in later years, she had revealed on the show in 2013 about why her marriage didn't work out.
Who Was Her Husband? Their Love Story
Loni has remained mum regarding the identity of her ex-husband. She is known as someone who often remains conservative about her personal life.
But what is known is that Loni got married after she left her engineering job. When she met a 'fine' man after she landed a brief gig, her love story begun. They dated for two years before her boyfriend asked her to marry him in Vegas. The initial days of her marriage were blissful, which wasn't the case as time passed by. She realized that she was really young in comedy and protecting her marriage would sacrifice her growth in her career.
She faced the same dilemma with her husband she had faced years ago - the time when she left her engineering career, she had gone against her then-boyfriend's will and broke up with him. She ultimately chose her career over her husband for whom it wasn't possible to move to other states in order to support her comedy career.
Therefore, we must now say, the self-proclaimed 'satisfied single' was once married to someone she could call her husband; who can say for sure that there won't be another?
She is definitely back into the dating game. She is confident of herself and knows what she wants in men. She once unknowingly dated a married man whose wife later politely called her to stop dating him after which she indeed stopped and said to her via phone that 'We were only part of a bible study.'
Loni Love's New Boyfriend In 2018 Is An Actor
Her last known boyfriend was then-23-year-old man Sam about whom she revealed on Ellen's show in 2014. She was 42 years old back then. Sam and Loni first met at a comedy club. She was the first one to initiate the conversation. She asked him to join her for a drink while they crossed paths. She said, "Hey baby, you want a drink?"
But not anymore as there is another known recent boyfriend of Loni. In the month of November 2018, she finally revealed her furtive boyfriend's identity.
She is currently dating actor James Welsh! Love revealed her new boyfriend's identity in an Instagram post. Even James shared a picture with her confirming their relationship.
Loni recently posted a lovely picture captioned "10th date" on 4 December 2018. This discloses the fact the two lovers had been lowkey dating from a very very long time!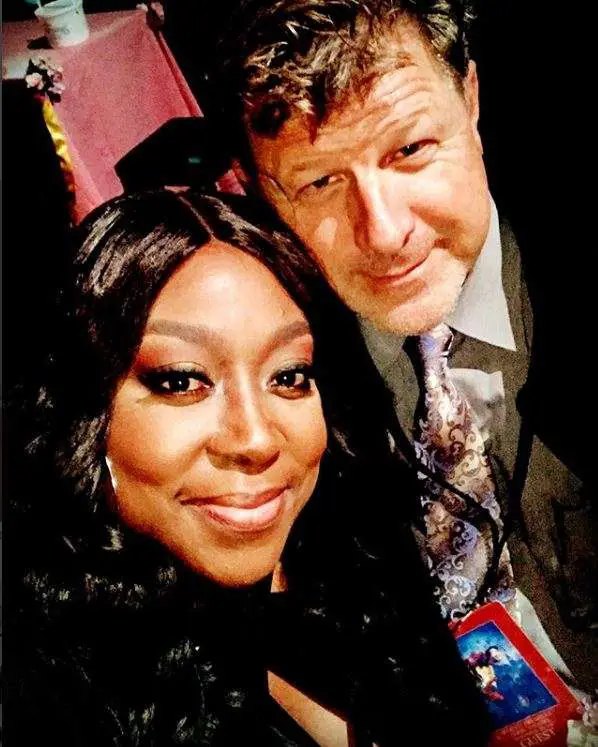 New Boyfriend: Loni Love shares a picture with James Welsh on their 10th date (Photo: Loni Love's Instagram)
Although Loni revealed her new man to the public, she hasn't disclosed any further detailed info on their relationship like 'How they met?" and so on.
But luckily some fragments of their relationship was revealed during the morning The Real talk-show as her co-stars stated that Welsh ghosted her one time after which Loni moved on. In defense of the ghosting incident, Love stated that her boyfriend is a businessman and went through a non-stop work at that time.
But their romance was rekindled after her boyfriend reached out to her once again. Taking their bond even further she is also planning to bring her new beau to the talk show in 2019. We can't wait for it!
---