Linzey Rozon Is Equestrian, Suggests Her Instagram Pictures
Linzey Rozon is not just a celebrity wife. She is also a beginner equestrian and an animal lover. Having started horse-riding in early 2019, she is already competing in lower-level equestrian tournaments on the back of her horse Usefull.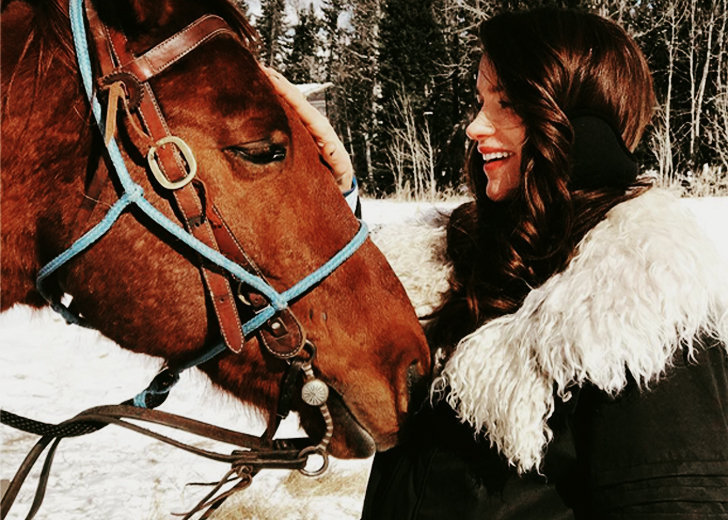 Linzey Rozon, the wife of Canadian actor Tim Rozon, is not just a celebrity wife. She is an equestrian who takes part in various horse riding competitions. A scroll through her Instagram, and you will be welcomed with photos of her galloping around on her horses and competing in various championships.
Below learn more about Linzey Rozon, her love for horse riding as well as her favorite horse.
When Did Tim And Linzey Get Married?
One of Tim's Instagram posts of 2019 suggests that they might have been married since 2015. In the posts that featured the couple kissing in a ceremonial style, he wrote, "Y4," attaching a heart emoji.
As of now, Tim's age is 44, whereas Linzey's age remains undisclosed. 
Linzey Rozon is an Avid Horse Lover
Linzey Rozon's Instagram is basically filled with two things—pictures of her husband and her horse. Occasionally, they are seen in the same picture too.
An avid equestrian, she rides a horse named "Usefull."
"Usefull" is a very distinct horse and won't be mistaken for any other horse because of his looks. It has a white patch on his face, running down from the top of his face down to his nose.
However, Linzey neither owns nor keeps "Usefull." He is actually owned by Allardyce Farm, a horse farm is run by Jamie-Lee Allardyce. And Jamie, too, thinks that "Usefull" is a great horse.
In an Instagram post on April 12, 2020, Allardyce posted a picture of "Usefull" and expressed her feelings regarding why he was such a great horse. In the caption of the post, she said that he was the horse with the most scope.
Usefull is the real unicorn of my barn. He's by far the horse with the most scope that I have ever owned. He knows his job inside and out and always saves my butt.
Then, she went on to praise "Usefull" for his wisdom and cleverness.
Usefull has been the best mentor for the past 3 and a half years. He's wise beyond his years and he knows how good looking he is.
Finally, Allardyce joked about how "Usefull" likes spending his days eating with another horse named Spencer even though he loves being an equestrian horse.
Linzey and 'Usefull' Take Part in Equestrian Tournaments
If we go back a bit into Linzey's Instagram, we can see that there is no mention of "Usefull" or any pictures of her eventing. Specifically, there are no pictures of Usefull before February 17, 2019.
This may suggest that Linzey got into equestrianism in around early 2019 and picked "Usefull" to be her horse of choice around that time as well. And within one month of posting his first-ever picture on her Instagram, they were already competing in tournaments.
On March 17, 2019, Linzey posted a video on Instagram which showcased her on Usefull's back at a tournament. The caption of the post read "Usefull & I in the classic today..."
Then, on March 23 that same year, she posted another video with the caption, "2019 goal accomplished. Made it to the 1.0's. Usefull. 8th out of 28 !!!!"
Since then, the Linzey-Usefull duo has competed in the François Ferland medal and 1.0 mini Prix tournaments, among others. They came 2nd in both those tournaments.