Kristi Yamaguchi: Gold Medalist, Dancer, Philanthropist, and More
Kristi Yamaguchi is the 1992 Winter Olympic figure skating gold medalist. She is also a children's book author, philanthropist, and dancer.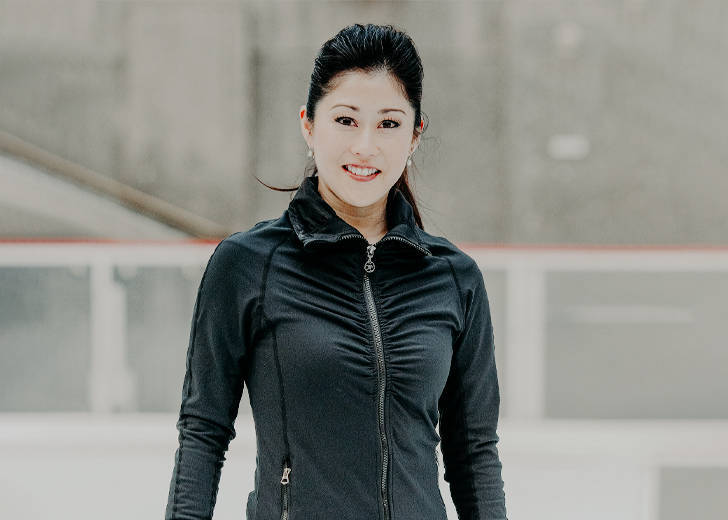 Kristi Yamaguchi is the ladies' single skating gold medalist in the 1992 Winter Olympics. She won the U.S. Figure Skating Championship the same year as well. An elite athlete who is also a successful Olympian, skating isn't the only thing Yamaguchi has made a name for herself in.
Aside from her career in skating, the Olympic gold medalist is known for her philanthropic works as well as being the winner of ABC's Dancing with the Stars during the program's sixth season run.
Yamaguchi is the founder of the Always Dream Foundation, a non-profit that supports underprivileged kids and promotes childhood literacy. And on that same note, she has also written children's books: 'Dream Big, Little Pig' and 'It's a Big World Little Pig.' She also authored two other books, 'Figure Skating for Dummies' and 'Always Dream,' the latter co-authored by Gregory Brown.
Yamaguchi Started Skating As Physical Therapy For Her Clubbed Feet
The story of Yamaguchi winning a gold medal in the Olympics is well-known, and her reputation as a brilliant figure skater is well deserved. But what most people don't know is that she was born with clubbed feet, a congenital disability where one or both feet are rotated inward and downward.
Yamaguchi shared her story of clubbed feet during her run in Dancing with the Stars.
I was born with clubbed feet, so my legs were both put in cast. I had a lot of corrections done when I was really little.
Her dancing partner in the show, Mark Ballas, also expressed his admiration for her: "The fact that Kristi has overcome her disability to become an Olympic champion makes me respect her even more."
Yamaguchi originally started ice skating at the age of six as a form of physical therapy for her clubbed feet. Overcoming the challenges posed by her clubbed feet, she went on to compete in and win both singles and junior pair division at the 1998 Junior World Championships.
Her victory at the Junior World Championships put Yamaguchi on the radar of the figure skating community, and she moved to Canada for further training in 1989.
Winning Gold Medal 
Yamaguchi represented the USA for figure skating at the 1992 Winter Olympics held at Albertville, France. She achieved victory for ladies' singles and became a gold medalist. She is also the World Figure Skating Championship winner for two consecutive years in 1991 and 1992.
Following her victory streak, the Olympian went on to have a successful professional career that lasted from 1992 to 2002. During that time, Yamaguchi toured with Stars on Ice and also won multiple competitions.
She even premiered her own annual TV special in 2003.
Yamaguchi Met Her Husband In The 1992 Winter Olympic
Not only did the 1992 Winter Olympic shoot Yamaguchi to international stardom, but it also put her on the path to marital bliss. It was at Albertville during the Olympics where she met Bret Hedican, her husband of more than twenty years.
Hedican was part of the American hockey team during the Olympic games and met Yamaguchi there. When talking to The USA Hockey Foundation, he recounted the story of the two met.
We met at the Olympics in 1992. She doesn't remember meeting me, but I remember meeting her. A few years after the opening ceremony, I was in Vancouver playing for the Vancouver Canucks and she was in town to skate. She was down below in the hallway by the locker room. I saw her and introduced myself to her and said, 'Hey I met you at the Olympic games in 1992. I was on the American team, and I just wanted to say hi.' That night, after she performed, she came over and we had a conversation. I said I was coming down to San Jose to play the Sharks the next week, and she was in San Jose. I asked if she wanted to come to the game. She went home that next day and looked at her photos from the opening ceremony, and there I was in one of her photos, so she knows I wasn't pulling her leg. She got a hold of me after that. We went out for ice cream at the Fairmont Hotel. We had ice cream before the game, and that's how it all started.
Yamaguchi and Hedican got married in Kona, Hawaii, in 2000.
Parents To Two Daughters
The Olympian couple welcomed their first child together, daughter Keara Kiyomi in 2003. Two years later, Yamaguchi gave birth to another daughter, Emma Yoshiko.
Hedican revealed that his younger daughter, Emma Yoshiko, wants to be an Olympian and does figure skating. As for Keara Kiyomi, she does competitive Hula.
As both Hedican and Yamaguchi are elite athletes, the family often partake in sports. Hedican has posted videos and photos of his daughters surfing, playing golf, and more on his Instagram.
Yamaguchi In Dancing In The Stars
Yamaguchi is a truly multifaceted personality who not only achieved victory at the Olympics but also in ABC's dancing TV show, Dancing with the Stars. A celebrity is paired with a professional dancer, and multiple teams compete against each other while performing their predetermined dances.
Yamaguchi participated in the sixth season of Dancing with the Stars, which ran in 2008. She was paired with professional dancer Mark Ballas, and the duo danced their way to victory, making her the first woman since season one to win the competition.
She returned to Dancing with the Stars almost a decade later in 2017 to compete in a set of three-person performances. Yamaguchi teamed up with her former dance partner Mark Ballas and the hugely popular violinist Lindsay Stirling and danced to 'Let's Face The Music And Dance' by Seth MacFarlane.
Children's Book Author
Aside from being a world-class skater and dancer, Yamaguchi is also an author with four books to her name. Her first book, Figure Skating for Dummies, published in 1997, derives from her vast knowledge and experience in figure skating to break down everything about the sport.
After Figure Skating for Dummies, Yamaguchi moved on to writing a children's book. She published Always Dream in 1998, which tells her personal story. She then released Dream Big, Little Pig in 2011, and It's A Big World Little Pig in 2012, both of which expand on the importance of persistence, confidence, and love.
Yamaguchi's Endorsements And Promotions
Following her victory at the 1992 Winter Olympic, Yamaguchi also became a corporate spokeswoman. According to her site, she sustained long-term relationships with Celanese Acetate and Mervyn's Department Stores. She also endorsed the 'Milk Mustache' campaign, Smart Ones, and the Platinum Council.
Yamaguchi is working with Kellogg's and OPI (nail care). On top of it all, she is also promoting the America Lung Association's 'Faces of Influenza' campaign.
Philanthropic Efforts
Yamaguchi is the founder of the Always Dream Foundation. It is a non-profit founded in 1996. The foundation has raised funds and supported children's charities in the San Francisco Bay area.
It also organized two large-scale events in Hawaii, where non-disabled and disabled children competed side by side in an Olympic-themed camp.
The foundation also partnered with the city of Fremont to build a playground. According to Yamaguchi, "It's a playground where children with disabilities and without disabilities can play together. It's completely wheelchair accessible, yet it's a regular playground."
As recognition for her philanthropic work on top of her athletic achievements, she was awarded the prestigious Thurman Munson Award in February of 2008.
Yamaguchi Is A Hall Of Fame Inductee
Aside from the Thurman Munson Award, Yamaguchi is the recipient of multiple other awards and accolades. She was named the 1996 'Skater of the Year' by American Skating World Magazine and appeared on International Figure Skating magazine's '25 Most Influential Names in Figure Skating' list multiple times. The Olympic gold medalist was also named figure skating's Most Influential person in the 2001-02 season.
Yamaguchi was inducted in the U.S. Figure Skating Hall of Fame in 1998 and the World Figure Skating Hall of Fame in 1999. Six years later, she was inducted into the USOC Olympic Hall of Fame on December 8, 2005.
She was also inducted into the California Hall of Fame on October 28, 2015, along with other well-known personalities such as Robert Downey Jr. and the legendary martial artist Bruce Lee.
Net Worth
As one of the most influential figure skaters ever, Yamaguchi had an awe-inspiring record of competition runs. According to The Richest, the Olympian made a total of $18 million throughout her career and ranked her as the 5th highest paid figure skater in the world.
Yamaguchi is also the winner of ABC's Dancing with the Stars and author of multiple books. According to Celebrity Net Worth, she has a net worth of $8 million.