Is Trump Aide Katrina Pierson Husband A Wrong Person?
Katrina Pierson is the senior advisor of President Donald Trump and his 2020 re-election campaign. She has been with Trump every since his 2016 Presidential Election Campaign. However, what is it about Pierson that made Donald Trump select her for the advisor position? And how did her early life help her become who she is now?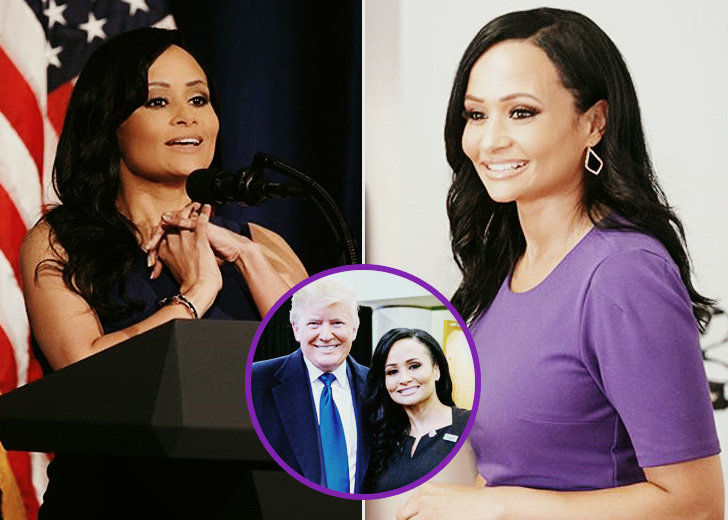 Former national campaign spokeswoman Katrina Pierson is a senior advisor of Trump's Campaigns. She was selected to be his senior advisor in 2018. And, now, she is going to be one of the essential people in Trump's re-election campaign for the 2020 US Presidential election. 
So, what did Trump see in her to appoint her as his senior advisor? How did her early life help her become who she is now?
Katrina Pierson was Selected as Trump's Senior Advisor in 2018
Katrina Pierson (birth name - Katrina Lenette Shaddix) joined President Donald Trump's campaign as a senior advisor in early 2018 after Trump made a request. He did so because he was building a team for the operations required for the 2018 mid-term elections.
However, Pierson's appointment was also long-term recruitment, as Trump envisioned her to be an important part of his 2020 Presidential re-election campaign. 
Newly appointed Trump's campaign manager Brad Parscale expressed his happiness in Pierson and former Trump aide John McEntee re-joining the Trump Campaign. He stated that that the campaign "will need the help of proven leaders" like Pierson to "promote the President's growing portfolio.
Katrina Pierson Worked for Donald Trump before Becoming Senior Advisor
Before being selected as Donald Trump's senior advisor, Pierson worked for him on his previous campaign.
Pierson had been a part of the tea party since 2009. And she was also a Trump supporter from around that time. In 2015, she met Trump and told him that if he ran for the presidential role, she wanted to help him win.
A few months later, she received the offer to be his national campaign spokeswoman in his 2016 Presidential Campaign. She accepted even though she knew she would be under constant scrutiny and attack from the media.
Katrina Pierson was Born to two teenagers
Politics isn't an easy job. The opposition will mock you if you are not consistently at your best and if you are not used to pressurizing bad days. For good, Pierson has faced enough hardships in her life to be able to handle the pressure.
The North Texan had a bad early life. Born to a 15-year-old white mother and 19-year-old black father, she was nearly given up for adoption. However, her mother eventually decided against it. So, she raised Pierson in Forney, Texas as a single mother, with next to nothing in her possession. Due to poverty, Pierson and her mother became dependent on drugs and government assistance.
She Divorced With Husband and Raised her Son As a Single Mother
Nevertheless, Pierson graduated from Forney High School before attending Kilgore College. But, to add on the hardship, she got pregnant and gave birth to a son at a young age. Not long after, she got married to the father of her kid in 1997.
However, her husband did not stick around for much; they divorced. The only thing about him that stuck with her was his surname, Pierson.
Like her own mother, Pierson then raised her son as a single mother. According to Dallasnews, 
Katrina Pierson was Arrested for Shoplifting in 1997
In 1997, Pierson was arrested for shoplifting. Much years later during her Congress candidacy in 2013, she disclosed that she got involved in the punishable offense because she required clothes for a job interview. 
Pierson Retrospects her Marriage and Troubled Past
In an interview with The Dallas Morning News in 2016, she confessed that she made bad decisions after her grandmother's death, and also said that her husband was the wrong person for her.
I got pregnant trying to reconnect to family. I married the absolute wrong person, and acted out. Eventually, I wised up after I turned 21 and decided to take control of my life. Life has a way of getting your attention.
What made Katrina Pierson Ready for Politics?
All the challenges Pierson faced in her life; poverty, a bad marriage, hard decisions, and raising her son as a single mother, point to the fact that she is a tough woman. Interestingly, she is the perfect example of "pulling yourself up by your bootstraps," an American and now majorly a Conservative approach to life.
She succeeded out of basically nothing in life after harsh poverty and a string of bad decisions. She got her degree in Biology from The University of Texas in 2006. Then, she worked in a medical office before finally getting into politics in 2009, all amid the trying times.
Pierson Praises Donald Trump in 'The Trump I Know'
Pierson was ready for the battlefield of politics when Trump first selected her as his campaign spokeswoman.
Speaking for The Trump I Know documentary, Pierson affirmed that what Trump saw in her was potential.
I'm a black, single mother, coming from poverty. What Donald Trump saw in me was potential.
Following that, she also said that Trump gave her an ample opportunity.
He gave me the opportunity of a lifetime, and that is the Donald Trump that I know.
Pierson seems to be making full use of the opportunity that she is handed by the POTUS, and proving how she is one of the ample members of the Trump Campaign.