Heart-Melting! Look At Kat Stickler's Reunion with Daughter MK after Solo Idaho Trip
Kat Stickler just got back from her weekend trip to Idaho and was greeted with the most heart-melting welcome by her baby daughter.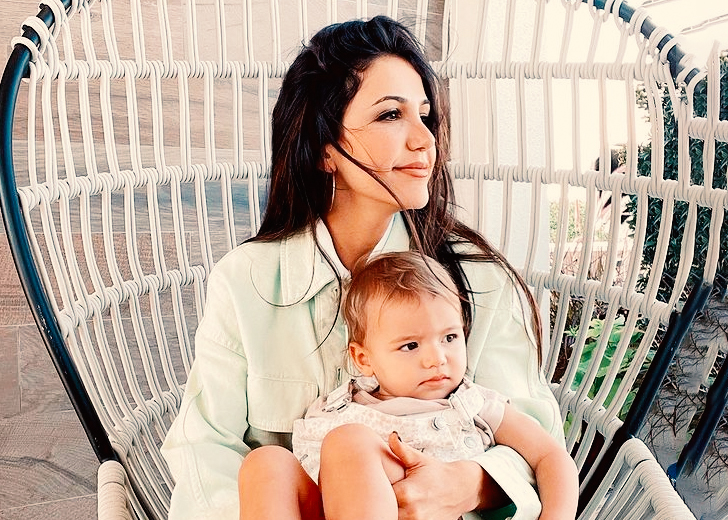 Kat Stickler, who is seemingly headed for a divorce, just got back from her solo trip to Idaho, and no one in the world is happier about her getting home than her baby daughter Mary-Katherine, better known by her moniker MK. 
Fans who intently follow Kat on Instagram would know that the social media celebrity took time out to spend a weekend and unwind in Idaho. 
In her most recent Instagram post, Kat shared an adorable video of her reunion with baby MK after the long weekend. 
Kat Stickler and Her Daughter MK's Sweet Reunion
The video began in the hallway right outside of what appeared to be her ex-husband Mike Stickler's apartment, with Kat tip-toeing to the front door. 
She tried to surprise the residents of the apartment, but to her surprise, she found the door locked from the inside. Mike came to the door jokingly, asking if it was the Uber. 
While he held the door wide open, viewers were greeted with their first look at the former couple's little bundle of joy.
Little MK let out a gasp of surprise as she instantly recognized her mum and made a run for what turned out to be a much-needed hug. 
Of course, Kat got down on her knees to greet her daughter with open arms, and just as MK went in for a hug, she stopped for a moment to land the most heart-melting gaze at her mother. 
After taking a good look at Kat, MK jumped right into her mother's arms and simply held Kat to her heart's content. 
Kat Stickler's Solo Trip
Over the weekend of the Fourth of July holidays, Kat had been out on a solo trip to beachside Idaho. Going by the location tag on her Instagram posts during that time, it was apparent that she spent her holidays at Gozzer Ranch in Idaho. 
Kat had kept fans in the loop with a steady supply of Instagram posts mapping her journey from Florida to the Gem State and back. 
The first one in the series came on July 2, as the TikTok star waved bye to the Sunshine State. The post came with a snap of her donning a laced floral crop top paired with blue jeans. 
The very next day, she uploaded a trio of snaps featuring her beachside tent. The dessert brown tent appeared to have a full-size bed and a cozy little porch with two very comfortable-looking wooden chairs. 
"Got a beach house I could sell you in Idaho," the caption read.
Obviously, a trip to beachside Idaho would be incomplete if one didn't spend some time in the water. So for the next installment in the series, Kat shared a couple of snaps from when she swam beside her boat. 
The snap featured Kat sunkissed by the golden rays of the evening sun as she was clad in a black bikini, beaming a full smile.
On day three of her trip, she grammed a TikTok video that caught her reaction to people questioning if she was ready to get back into the dating pool. Well, she ran straight onto the deck and dived into the open sea. 
As a fan aptly interpreted, her reaction was either, "I'm ready to dive right in" or ''omg, quit asking me, I'm running away."
This was followed by a couple of more seaside posts before she finally said her goodbyes to Idaho with a hopeful "till next time."
And by now, you know what happened next!