Kali Muscle is growing his fitness empire through supplements and merch
Kali Muscle is a renowned bodybuilder who came into the limelight because of his fantastic physique. He provides workout programs and useful fitness tips through his YouTube channel and official website.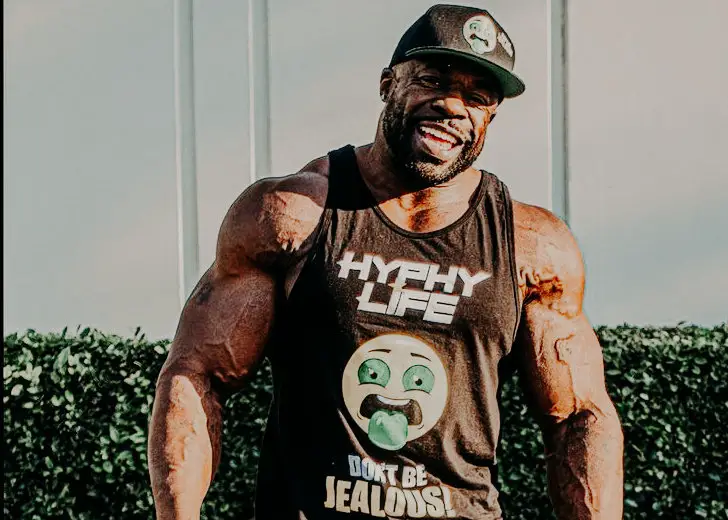 Chuck 'Kali Muscle' Kirkendall is a bodybuilder-cum-actor who has built a strong social media presence and amassed millions of fans and followers. 
Thanks to his out of this world physique, Kali Muscle has utilized his fame and fan following to grow his fitness empire.
He provides tips and tricks to attain a superb physique and has even launched his product/supplement named Hyphy Mud.
Kali Muscle's Fitness Journey Began in Prison
The 5-feet 9-inch tall bodybuilder's life was not the same as compared to now. He was raised, alongside his older brother, by his mother and step-father, who mistreated him.
The only thing that provided him comfort was the local gym and sports. Sadly, the comfort didn't last long. After his brother accidentally took his own life while playing around with a gun, the bodybuilder's life took a U-turn.
He faced a financial crisis, got involved in criminal activities, and began robbing houses and stores. During one of his robberies, he was caught and sentenced to San Quentin State Prison for seven years.
While at prison, he used his time by lifting weights at the prison gym. However, his path towards attaining a magnificent physique in jail wasn't that easy, mainly due to two things—the prison's food and the guards' decision to remove weights from the gym.
Nonetheless, he gained muscle and weighed around 230 lbs after a period.
Life Outside The Prison Walls
The former inmate left San Quentin State Prison for good around 2008. He had decided that he'd never go down that path again.
So, to start fresh, Kali Muscle started his self-titled YouTube channel and began uploading workout videos. 
Likewise, he also used his incredible physique to get guest-roles as a bodyguard or bouncer in several TV series and movies.
Later, in 2012, he entered the Mr. California competition and won the title thanks to his well-shaped body.
Following his success in Mr. California, he entered several other bodybuilding competitions, which eventually attracted more people to his YouTube channel.
When his channel saw a surge in viewers and subscribers, he started sharing fitness tips along with his regular workout videos.
The bodybuilder's popularity rose, and he amassed a healthy fan following on different social media platforms. People were eager to know how Chuck Kirkendall became Kali Muscle.
So, on March 9, 2015, he published a memoir named Xcon to Icon: The Kali Muscle Story, which tells the story of the bodybuilder's journey from a young boy with dreams to a role model to millions.
The entertainer is famous for his three major workout programs—Workout Bundle, Get Big, and Shredded. He also has Hyphy Mud merchandise, which includes gym wear, casual wear, and accessories.
The bodybuilder's life has completely changed now, and he is looking forward to expanding his fitness empire further.
What is Kali Muscle's Net Worth?
From all the sales of his supplements, merchandise, and YouTube earnings, the bodybuilder has a healthy bank balance.
Sadly, the fitness expert is yet to disclose his exact net worth.