Justin Roiland's Legal Feud With Bill Cosby Helped Form 'Rick and Morty'
Rick and Morty is a show whose roots lie in the legal misadventure with Bill Cosby that creator Justin Roiland suffered during his earlier days of filmmaking.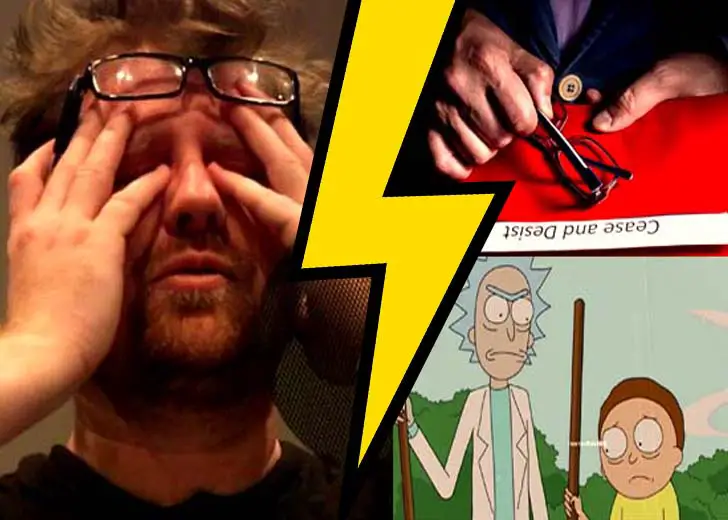 Justin Roiland's quirky animated show Rick and Morty (2013) is a massive hit among millennials and celebrities (that even includes rapper Kanye West).
With over successful four seasons to date, the show is a visual treat for the audience who are in search for content with a vast plot involving adult humor, ironical plots, surreal imagery, and a blend of thought-provoking meta-physical plus sci-fi elements.
And it turns out that the show also had an ironical yet humorous start; it wouldn't have existed if not for his legal misadventures during Rolands' early days in the arena of filmmaking.
This story shows how the show with a 94 percent rating on Rotten Tomatoes and a loyal fanbase sprung out from a trolling incident and legal trouble.
Legal Trouble With Bill Cosby
Before gaining fame for Rick and Morty, Justin started his filmmaking career professionally from non-profit creative venture Channel 101—it was created by Dan Harmon and Rob Schrab to screen short films collected from emerging artists.
At Channel 101, Justin made tons of shorts, including Friends Of Lovers (2004), but House Of Cosby (2005)was his breakout show on the platform.
The premise of the parody show consisted of a storyline of a fan of Bill Cosby who clones various versions of his idol and resides with them.

House Of Cosby's was a parody of comedian Bill Cosby from his show The Bill Cosby Show (1969) 
The animated show had quite an adult element as well. For instance, one of the clones in the show featured a clothless Cosby.
But just after completion of the show's fourth episode, comedian Bill Cosby sent a "cease and desist" letter through his attorney to Roiland, and the show was disbanded.  
Justin's Intentional Parody
Interestingly, Justin and Dan didn't take this experience of the legal feud as a setback and instead made another short in 2006 with a deliberate attempt "to poke fun at the idea of getting cease and desist letters."
And the short they made was none other than The Adventures Of Doc and Mharti (2006) based on Marty and Dr.Emmett from the movie Back To The Future.
Their short was a blatant pornographic-like rip off of the Back To The Future franchise. However, they didn't get into legal trouble after it premiered on Channel 101.
Revival Of The Parody
After Channel 101 stints, Justin started doing voice roles for shows such as Fish Hooks (2010) and Gravity Falls (2012) using the particular mumbling voice tone he created while voicing the characters on The Adventures Of Doc Mharti.
In 2012, writer Dan Harmon approached Roiland to make a pilot for an animated show for Adult Swim because of the latter's history in animation. The former also wanted latter in his team because they had worked together on numerous projects for Channel 101.
So, Roiland agreed to collab and went on with the idea to make a show based on their old short The Adventures Of Doc and Mharti.
The new show was, thus, named Rick and Morty. The show contained better animation and production value this time under Adult Swim.

Writer and co-creator of Rick and Morty Dan Harmon shares an old picture featuring him and Justin Roiland through Twitter (Photo Source: Twitter)
Prior to the collaboration, Harmon was fired as the showrunner of his series Community (2009) due to creative differences with NBC network.