John Cena Has an Unholy Love For 'Peacemaker' Costume and We Love to See It
John Cena loves been doing interviews while dressed as the Peacemaker, a unique yet equally badass costume.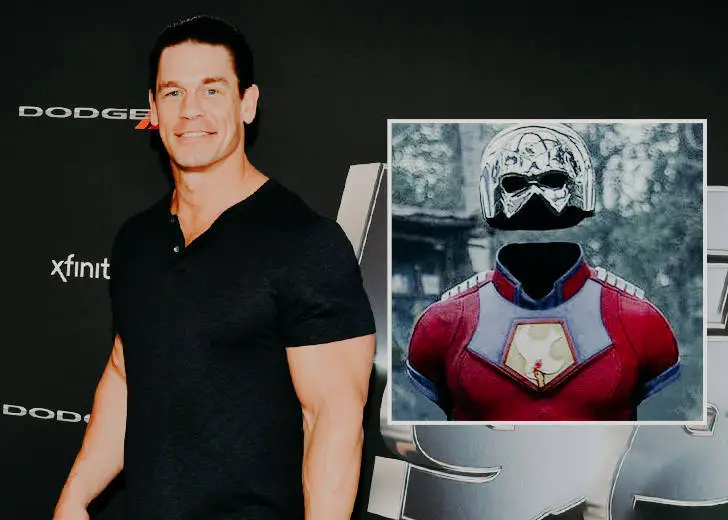 WWE superstar and actor John Cena's love for The Suicide Squad's Peacemaker runs deep.
Cena is all set to portray Peacemaker in the DC Extended Universe's The Suicide Squad, which is arguably his biggest acting role to date. The actor is currently shooting the movie in Canada, which will air exclusively on HBO Max. 
 
The actor certainly loves his new look and is spending most of his time in the anti-hero costume. In fact, he's been doing interviews in it for the past couple of weeks. 
In an interview with former NBA star Shaquille O'Neal on March 28, 2021, the 16-time WWE Champion wore his Peacemaker attire, excluding the round shape golden headpiece. He also did his signature "You can't see me" move with the blue gloves on.
Similarly, on The Late Show with Stephen Colbert on April 6, 2021, he appeared in his blue and red Peacemaker gear to join in the conversation. Colbert even appreciated his effort for wearing something special. Cena also put on his Golden Helmet to complete the superhero outfit.
"That is the dumbest helmet ever committed to a superhero," Colbert said, to which the wrestler replied that perspective is everything. He explained he could not see how it looks on him but he could only assume that it looks "super radically awesome."
The talk show host compared the golden headpiece with a "clamshell package."
Apparently, Cena's dedication to his character and the movie has surprised the Peacemaker director, James Gunn, as well. Gunn poked fun at the artist on Twitter, saying he always wears his costume in his recent interviews. He also clarified that he's not asking him to do it with a laughing emoji.
As far as his role as Peacemaker is concerned, it's clear that WB and DC have comprehensive plans for the character since he's the first to get his own spin-off series. 
Cena Took the Peacemaker Costume to Nap in It
According to Gunn, the wrestler also took a costume home to see how it would be to take a nap in it, apart from wearing the costume for the interviews.
According to Cena the costume is made of an "overly comfy cotton blend" while the colors are very "subdued avant garde" combined with unpretentious nouveau that screamed "which way to liberty beach."
The actor revealed in a January 2020  interview that when he first met Gunn and stepped into his office, he was astounded to see the walls covered in storyboards for The Suicide Squad. Cena compared his storytelling style with his career as a WWE performer.
Talking about his superhero costume back then, he was pretty excited. "I guess I'm used to my costume being jean shorts and a tee-shirt. So, it's a nice little change-up that I didn't have to wear a ball cap and wristbands, but it was really cool," Cena said.
The Suicide Squad will hit the silver screen on August 4, 2021. The movie stars Pete Davidson, Margot Robbie, Idris Elba, Nathan Fillion, Alice Braga, Joel Kinnaman, Sylvester Stallone, Mikaela Hoover, Taika Waititi, David Dastmalchian, Jai Courtney, and Viola Davis.