At 80, John Amos Is Proving That Age Is Just a Number — a Brief Look at His Career
At the age of 81, John Amos is still active in the industry, surpassing all rumors of him being dead — a brief look at his career & net worth.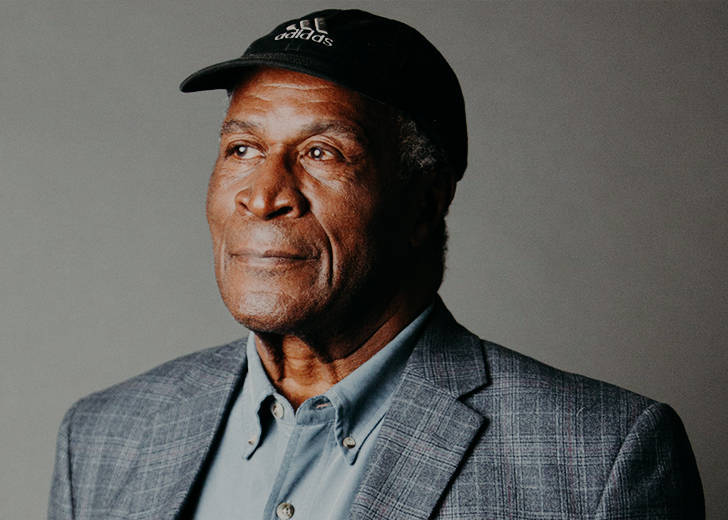 Known for his role as James Evans, Sr. on the TV series Good Times, John Amos has been a significant name in Hollywood ever since his debut in 1970. Currently, at the age of 81, Amos is still active in the industry, surpassing all the rumors of him being dead. 
Amos Brought Afro-American Voice To The Platform 
Amos appeared in various small shows and commercials before getting his big break from the series Good Times. As James Evans, Sr., his role was a spinoff from the show Maude (1972) to Good Times (1974), which Amos plays spectacularly.
Being an African-American himself, he gave his input to make the show better. However, this was not received well by the writers of the show. Amos was a strong advocate against the stereotype portrayed for the African-American community. So the Good Times star bashed the writers constantly, which eventually led to his dismissal from the show in 1976.

John in his role as James Evans, Sr in Good Times with his co-star Esther Rolle (Source: Good Times | Hollywood Outbreak)
However, this did not set him back in his career. On the contrary, he appeared in a game-changing TV series called Roots. He even got nominated for a Primetime Emmy award for performance in the show.
After this, Amos' career in TV series took off. Some of the most notable series that he starred in are: 704 Hauser, All in the Family, Hunter, The District, Men in Trees, The West Wing, and All About the Andersons. 
Even though the 81-year-old actor isn't a series regular anywhere today, the audience has loved his recurring guest appearance in many other shows. His recurring characters like Fred Wilkes in The Fresh Prince of Bel-Air, Ed in Two and a Half Men, as well as The Ranch, and Sgt. Hamilton Strawn in Martin are some of his most remarkable performances on TV. 
Altogether, the Roots star has appeared in more than 55 TV shows, accounting for both permanent as well as a guest appearances. 
His Illustrious Career In The Industry, Going Strong Still After 4 Decades
Even after being established in the scene, his film career actually started in 1971. He starred in 2 movies; Vanishing Point and Sweet Sweetback's Baadasssss Song, but he never got any credits for being on those movies. 
Amos's first actual movie was Disney's The World's Greatest Athlete, and since then, he has starred in over 30 movies in his 50 years in the industry. The movies he has starred in have been critically acclaimed, with him receiving a lot of praises for his acting. Some of his unforgettable movies are; Die Hard 2, The Watermelon Heist, Hauntsville, Two Evil Eyes, and Coming to America.
In fact, after 33 years of release, the second installment of Coming to America, namely Coming 2 America, is going to be released in 2021. Amos shall be reprising his character, Cleo, at the age of 81. 

John Amos in his role as Cleo McDowell in Coming to America (Source: Coming to America)
Amos Has Rightfully Received His Accolades
To date, Amos has grabbed three wins and four nominations under his name. As deserving as he is, he has won the highest number of TV Land awards, receiving awards for Mary Tyler Moore, Good Times, and Roots. He has been nominated for Image Awards, DVD exclusive Awards, CableAce Awards, and Primetime Emmy awards. In 2020, he was inaugurated in the New Jersey Hall of Fame. 
With such an outstanding career, Amos has a net worth of a whopping $3 million according to Celebrity Net Worth.
Amos History With Sports And Music 
The 81-year-old  had a brief career in football before moving to Hollywood. He played for various teams from the mid to late 60s' however, unfortunately, he couldn't make it big in football. Therefore, he moved to Hollywood in the 1970s. 
Amos was greatly interested in music as well. He appeared in a music video for Natural Born Killaz by Dr. Dre and Ice Cube. The celebrated actor even released an album of country songs in 2009. However, he hasn't released any tracks as of recent. 
He's Still Going, With 5 More Works In The Pipeline 
As per IMDb, there are five new upcoming projects for the 81-year-old actor.
Because of Charley, The Baby Pact, Devotion, and Capture the Flag do not have a release date yet. However,  Because of Charley is in the post-production stage. Others continue to remain in the pre-production stage. That being said, these movies are bound to deliver given Amos' track record regardless of his old age.