Joe Namath's Daughter Pulls The Namath Family Back In Controversy
Joe Namath has described his daughters as 'Not Being Rational' in their teenage years.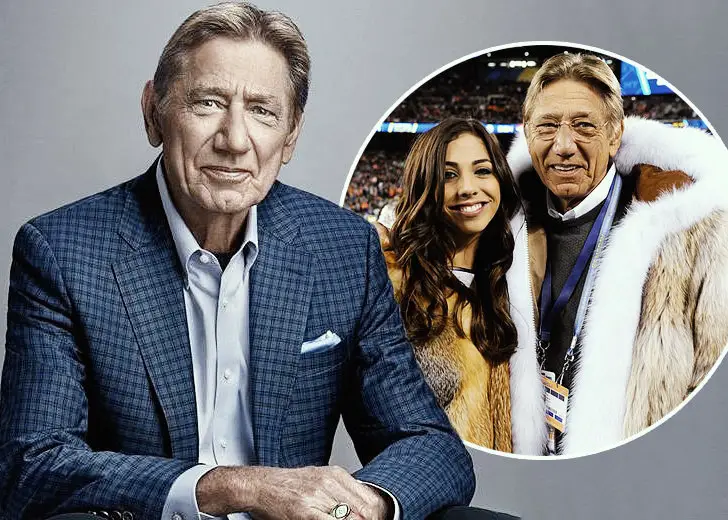 Legendary New York Jets quarterback and cult status hero Joe Namath's story off the pitch has been rather unsavory, to say the least. Ever since his ex-wife Deborah Mays left him in 1998, the Jets legend's life has been marred by controversies regarding his alcohol and drug abuse.
The bad publicity surrounding him has been so much so that even his two daughters have been embroiled in it and threaten to taint his life just as he is getting his life straight.
Namath Dragged Into Yet Another Controversy As Eldest Daughter's Ex Demands Financial Report
Just when the quarterback hall of farmer's life was finally devoid of controversies, he got caught in yet another scandal in August 2019. This time, his eldest daughter Jessica Namath's husband brought the unwanted spotlight into the family.
His eldest daughter filed for divorce from her husband, Brian Kennedy, in September 2016 on the grounds of her husband's drug and alcohol abuse as well as anger management issues. In addition to that, she also sought child support for their 2-year son. 

Joe Namath with the eldest daughter Jessica (photo: Dailymail)
However, Kennedy did not relent as he brought the quarterback into the drama by asking him to submit his financial documents, including credit card statements and tax returns, in order to claim that Jessica is actually being supported by her wealthy father.
This demand was to prove that Jessica did not need Kennedy's financial support as she had already had ample gifts from her wealthy father. 
On the other hand, Jessica's attorneys retaliated by claiming that the estranged ex's demands were an overreach in his right to get personal and financial reports of the Namath family.  
The Upper West Side condo that Namath had gifted to both his daughter and son-in-law after their wedding in July 2015 was also brought into the issue on the grounds of one of the hall-of-famer's "gifts" to his daughter. As it turned out, the condo that cost $1.01 million, was in fact, jointly owned by Namath and both his daughter and son-in-law. 
Youngest Daughter, Olivia, Was Pregnant At Just 16
Back in 2007, a few years after his divorce from his wife, his youngest daughter, Olivia Namath, made the news when she became pregnant at just age 16. During the time of the birth of Namath's grandchild, Olivia was still attending high school in Florida.
Although the news in itself wasn't all too controversial, what riled up the media was the reports that the baby's father, Edwin Baker III, had been arrested on meth possession, burglary, and auto theft three times the year before the birth of the baby.

Joe Namath with daughters, Olivia and Jessica and granddaughter (photo: People.com)
As if that news wasn't controversial enough, three years after the child's birth, Olivia herself was arrested on drug possession charges. In 2010, Olivia was caught in West Palm Beach with a pound of marijuana in her car. Olivia was just 19 years at the time.
Namath's youngest controversies seem to have abated after Olivia finally married her baby daddy in 2014. 
Namath's Battle With Alcoholism 
Namath struggled with alcohol even before he married Deborah 'Tatiana' Mays in 1984. His pre-marriage alcoholism days went rather off the radar primarily because he was a bachelor.
Despite his alcoholism, the quarterback was still a much sought-after athlete and even endorsed a handful of products.

Namath and Mays attending Ronald Reagan's state dinner on April 17, 1985 (photo: gettyimages)
It was Deborah who helped him tone down the alcohol in his system. But his sobriety was only to last a little over 14 years from 1985 to 1998 as Deborah reportedly had left him for a Beverly Hills plastic surgeon. 
After the divorce, the Hall of Famer tried to drown out his sorrows being back in the bottle and also his medications. 
His off-the-radar alcoholism was only apparent during a December 2003 episode of Monday Night Football. 
In the episode, Namath's words were gibberish as the reporter, Suzy Kolber, was trying hard to decipher his words. The ex-quarterback was swooning over the reporter and even leaned in to kiss her, saying the infamous words, "I want to kiss you." 
It looks like Namath is still having a hard time staying clear of the controversies that surround his family, three decades on.  
Namath on the Jet's 2021 NFL Draft
The New York Jets signed Quarterback Zach Wilson, the No. 2 overall pick in the 2021 NFL draft. The 21-year-old signal-caller from BYU is excited to be playing for the Jets. 
Namath, a Jets legend, had this to say to the associated press over the draft,
I'm looking forward to meeting Zach, I haven't had the pleasure of meeting and talking with him, so it's hard to try to evaluate someone without sitting down and visiting with them. But to me, what I've watched of him on tape or on television, oh yeah, man, he's an athlete. He makes the throws, he moves around. A gifted athlete.
Namath made it clear during the interview that he thought the Jets were overdue for a championship. He also expressed his gratitude for being able to be a part of a winning team during his time. And hopes that the Jets are able to repeat history once again.
He is clearly excited with the signing of Wilson and has high hopes for the athlete as well as the team. Even with a lot of things going south for Namath, at least he has his football to keep him happy.