Guitarist Joe Bonamassa has a guitar collection of over 400 guitars!
Blues-Rock guitarist Joe Bonamassa reveals that he has a massive collection of 400 guitars and 400 amps.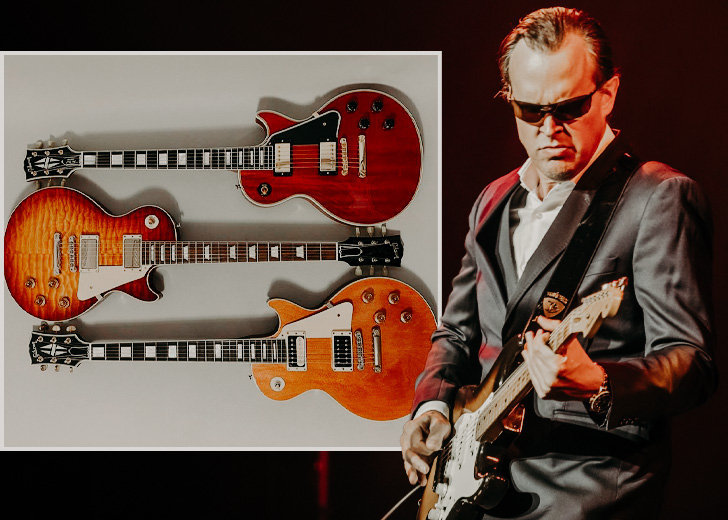 When it comes to Joe Bonamassa, it isn't just his awe-worthy ability that has wowed millions of music-heads all over the world. The rockstar's guitar collection is something that intrigues people far and wide as well.
Enough Guitars in His Collection
The talented guitarist finally revealed how many guitars he owns. In an interview with Talkin' Rock With Meltdown, he said his collection comprises 400 guitars and 400 amps, including a few legendary instruments like the Tommy Bolin's 1960 Gibson Les Paul, three original Flying Vs, and a 1951 Fender Nocaster.
I'm a son of a guitar dealer, and I got the bug.
Acquired at Guitar Center's flagship store in Hollywood, the Nocaster is one of his favorites. Its features were suited to the rockstar's instrument preferences—the neck humbucker, culled initially from a three-pickup set, produces an out-of-phase sound. 
However, after collecting enough guitars for a lifetime (or two), it looks like Bonamassa's collection has finally reached its limit. "I don't want any more stuff," he said.
I have more guitars and equipment than any other human should ever require or need or want to be in the same room with.
He also has an Instagram account where he shares photos of the guitars he owns.
Not just that, Bonamassa also sells a wide range of limited edition guitars and equipment on his website.
A Look At His Musical Journey
The guitarist was lucky enough to have found his musical inspiration right at home because of his music enthusiast parents, especially his father.
The New York-born Bonamassa's parents owned a guitar store, so he had an early exposure to the instrument. As a result, he began playing guitar at the mere age of four. Supported by his parents, he progressed so impressively that by the time he was seven, he could play to the music of famous artists like Jimi Hendrix and Stevie Ray Vaughan. 
Mentored by Danny Gatton at 11, Bonamassa honed his skills and formed his band at 12, known by the name Smokin' Joe Bonamassa, and performed gigs on weekends. He also opened for BB King for about twenty shows.
Later he joined a band named Bloodline, through which he grabbed substantial attention as a guitarist. With his first solo studio album A New Day Yesterday, his career took off. Now he has over a dozen solo albums, among which three smashed the Billboard Blues Chart by hitting the number 1 spot along with five more top 10 hits.
In 2013, his collaboration with SeeSaw got him nominated for the Grammy Awards. His new album, Royal Tea, is another record-breaker that marks his 24th landing on the Billboard Chart.  
The 'Breakthrough Artist of the Year' title winner has rocked the music world with his undeniable talent and dedication towards blues-rock music.
While talking to Guitarist magazine in an interview, he opened up about his musical influences to be British and Irish artists, which shaped him to be one of the industry's finest guitarists.  
Bonamassa Puts His Fortune To Good Use
The successful guitarist has piled up an estimated net worth of $20 million. No wonder he can afford his expensive guitar and amps collection!
But it is a known fact that he is a kind-hearted person who doesn't hesitate to put his money up for charity. 
During the COVID-19 pandemic, Bonamassa, with other notable artists, announced a global charity concert event, After Party Showcase, that aimed to donate the collected amount to support pandemic-affected musicians. 
Besides that, back in 2014, he conducted a non-profit charity auction of his show, Joe Bonamassa Show. The donations made from the event were used to provide musical equipment to music classrooms.