Jimmy Fortune Going Strong With Wife & Seven Children After Two Failed Marriages
American country music singer Jimmy Fortune has been relishing his long-lived married life with his wife Nina Fortune. But there was also a phase in Fortune's life when he was just unable to keep his marriage.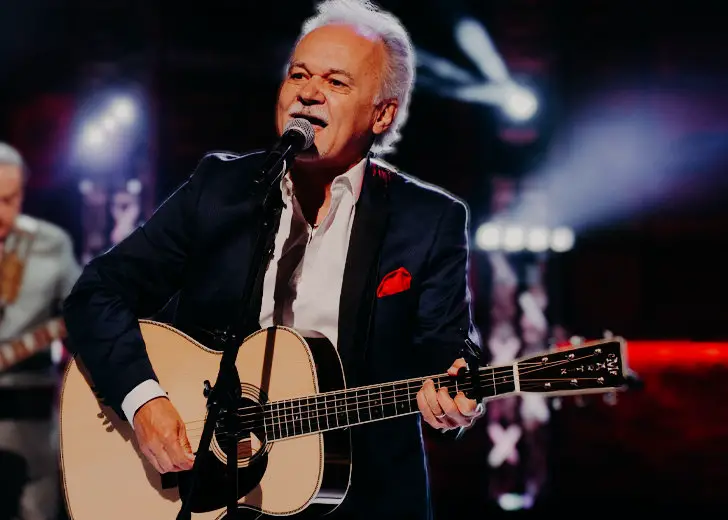 Jimmy Fortune, known for performing tenor for the musical group, The Statler Brothers, has been relishing the over 2-decade long married life with his wife, Nina Fortune.
But there was also a phase in the American country music singer's life when he was just unable to keep his marriage. Yes, the 66-year-old has had to endure two divorces in the past to be enjoying a stable relation with lovely Nina now.
Read on to know more about the Nelson County native's current marital life and details of his failed marriages.
Jimmy Fortune and His Wife Nina Got Married in 1998
Jimmy has been married to his wife Nina since October 10, 1998.

Jimmy Fortune and his wife Nina fortune with Billy, Helen, Jenee, and John in February 2019. (Photo: Facebook)
The couple completed their 22nd wedding anniversary in October 2020. But in 2019, the married duo had received several wishes for their 21st anniversary on the wrong date.
Reminding his legion of followers that the two celebrate their marriage anniversary on October 10, Jimmy wrote, "Nina and I have received many happy anniversary wishes today. Want to thank you all but let you know our 21st anniversary is on October 10th."
Nina herself is quite active in promoting her beloved husband's recent shows. Just recently, on December 17, 2020, she posted an announcement of a Virtual Christmas Show with Jimmy Fortune & Friends on the country singer's official website.
Jimmy Got Divorced Twice
Although the country music singer manages a 22-year-long married life presently, he was once rendered hopeless regarding his personal life after getting divorced twice.
And despite his struggles with the first two wives, the musician never really disclosed details about them publicly. As a matter of fact, his wives' names or any information regarding those two marriages are totally concealed.
However, in February 2020, Jimmy spoke with Cornerstone Television Network, where he shared that 1993 was very tough for him for various reasons — one of those reasons being a "pretty painful divorce."
Although the Elizabeth singer doesn't reveal anything more than that, he does have children from his previous marriages. Precisely, it is again unknown how many children he had with each of them.
The Reference outlet reports that Jimmy welcomed four children with his second wife. 
He Has Seven Children and Eleven Grandchildren Altogether
In September 2019, Jimmy revealed that he was father to seven children and eleven grandchildren from his three combined marriages [at that time] during an interview with Cowboys & Indians magazine.
When I look back on all of it, I look at my children — I have seven children and eleven grandchildren — God's really blessed me.
His seven children consist of three daughters, Jessica, Meghann, and Cortney, and four sons, Grant, Chris, Matthew, and Jimmy Fortune Jr. However, it is again not disclosed [like most of his personal life details] which partner they are born of.
Meanwhile, in the interview, the popular singer also expressed regrets about not being able to spend more time with them owing to the time spent "on the road with the Statler Brothers."
But now, in the second innings of his life, the Virginia-based artist has been making more time for family.
Jimmy can be seen singing and playing guitar with his loved ones, posting some of those moments on Instagram as well.