ABC's Jim Avila Age 61, Health Update 'New Life'; Plus Wife & Family Details!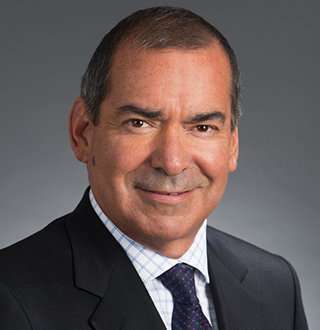 61-year-old television journalist Jim Avila did not have the best when it comes to his health. After doctors informed him that he needed a kidney transplant as soon as possible, it was one of his family members that came forward as a donor.
American television journalist Jim Avila is the senior law and justice correspondent for ABC News. He has won the prestigious Merriman award for breaking the news that the United States and Cuba have reopened diplomatic relations from the White House correspondents. He even helped KNBC win the 1995 Golden Mike award and 1996 Emmy Award.
Honor: St. Philip's President Adena Williams Loston thanks ABC journalist Jim Avila after he speaks at the Presidential Lecture Series in Watson Fine Arts Center on October 2017. (Photo: theranger.org)
In addition, he has covered significant trail from Micheal Jackson to OJ Simpson. He even led reports on immigration which force him to make several trips to the southern border for documenting stories of the immigrants.
Jim Avila Invested More Than Three Decades Of His Age In Career
Jim began his career in San Fransisco in 1973 as a managing editor and was even promoted as a chief Beaure at KCBS Radio. Later, he became a weekend anchor from 1976 to 1980.
Another Journalist: Why Jim Acosta Of CNN & Wife Divorce, Another Woman Issue?
He also worked as a general assignment reporter for ABC owned station WLS till 1984. After that, he joined WNBM-TV where he became the political reporter and anchor covering stories of various fields having local, national and international importance.
With that, he became the anchor and investigative reporter for KNBC from 1994 to 1996. And since 1997 Avila on an average did 130 reports annually on the Nightly News which was the highest number of broadcast for the minority.
Later, he became the National Correspondent for the Nightly News since January 2000 covering a wide range of issues. Before being National Correspondent, Avila was a Chicago Bureau correspondent where he covered high profile events including the shootings in Colorado, Arkansas, and Kentucky. Avila even covered the White House from 2012 to 2016.
Father Jim Simon Inspired Son Jim Avila
Jim has always admitted that his father Jim Simon- who was a veteran radio broadcaster is his greatest inspiration behind choosing journalism as a career path. He along with his brothers Chris Simon of ABC news, Jay Avila, an NBC news reporter, and Tom Avila, a former television news assignment editor for Fox-TV followed on his father's footsteps.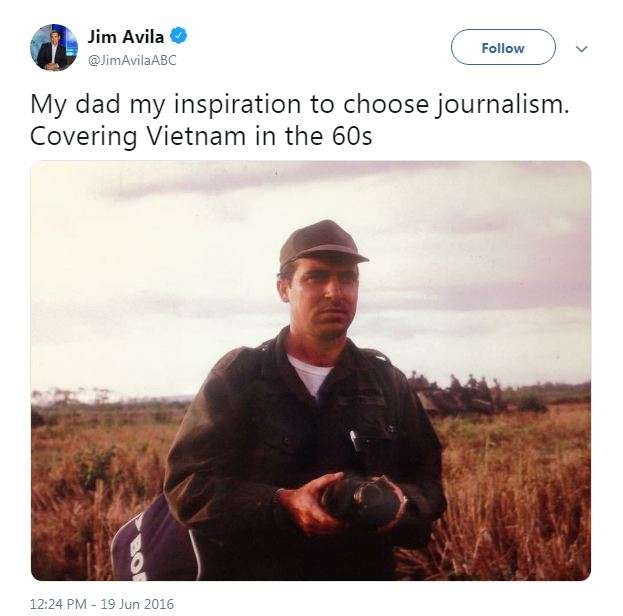 A Tribute To Father: Jim Avila admits that his father is the reason he was inspired to choose journalism in a Twitter post. (Photo: Jim Avila's Twitter)
As an aspiring journalist, he always looked forward to his father who had aced the field enough to receive an honor of his own in the form of a title- 'Father of Talk Radio'
Interesting: Media Veteran Ron Claiborne, Married Man With Wife? Family Besides ABC
But sadly, his father passed away at age 61 in 1995 because of a stroke. He could have followed his father for this matter after being diagnosed with kidney failure if he hadn't found a savior to give him a new life.
Jim Avila Won't Spell Of Family; Let Alone The Wife!
When it comes to his family life, the Glenbard East High School alum has been cautious about revealing information about his family life. However, it remains known that he has five brothers of whom only the youngest, Jaie Avila is known to the media.
Talking about his love life, Jim, born in 1956, has three kids: Jamie, Jenny, and Evan whose mothers' identity are still under the wraps. Whether that be social media or the interviews, the father of three has not hinted anything about his wife.
Jim Avila Got Cheated By Health; Find Donor Or Die!
This 62-year-old reporters health created a big issue after suffering from kidney failure and having to find a donor as soon as possible. Doctors informed Jim about his kidney failure in 2017 and told that his kidney was only functioning at about 14% due to his diabetes.
Bad On Health: Jane Pauley Speaks About Her Health – From Illness And Sickness She Suffered!
Moreover, doctors instructed him that he needed a new kidney immediately but had no hopes of finding a donor.
Jim Finally Finds His Donar; One Of His Family Members
The only other option left for Jim was dialysis, and that was a non-starter for him. It was a "big race" to find a donor with a perfect match. In an interview with the TVNewser on April 2018, he shared:
And then about three months ago, they said, 'You need it immediately.' There was a change. I had to find a donor and get a transplant within three months or so, or else I would have to have dialysis.
But he soon found his ideal match as brother Jaie Avila was the closest match to Jim. And there was a ray of hope when his brother agreed to donate his kidney. Jim then added:
And I felt like karma actually is real. All the good things I tried to do in my life paid off. I tried to be a good father, a good brother. kind of the patriarch, my father died twenty years ago. Jaie has given me an unbelievable gift.
Jim went through the procedure on 11 April 2018, at Los Angeles Cedars-Sinai Medical Center. With the succesful transplant, the brothers checked out of the hospital on 17 April 2018. With that Jim even tweeted to Jaie showing gratitude and appreciation for what he had done for him.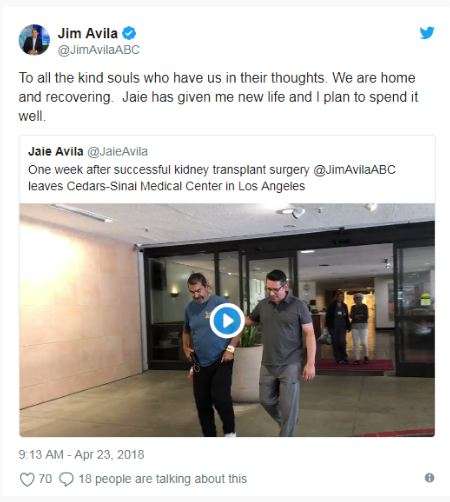 Brother Gave Him New life: Journalist Jim Avila responds to the tweet Of his brother Jaie Avila which shows a video of the brothers returning from Los Angeles Cedars-Sinai Medical Center after the succesful transplant on 23 April 2018 (Photo: adweek.com)
As of present situation, Jim Avila is slowly recovering from the transplant surgery and is looking forward to getting back to work after his doctors gave him a green signal.
---