Jamie Siminoff Was Already Married to Erin Lindsey When Innovating DoorBot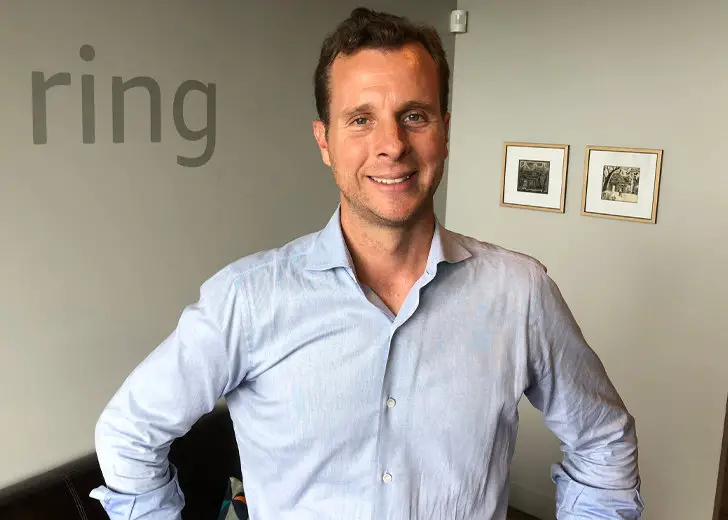 Jamie Siminoff is a successful entrepreneur, innovator, and inventor. Precisely, he is the mind behind the mega-successful product, Doorbot — now known as Ring. 
The inventor of the Ring doorbell ultimately sold the company for a billion dollars to Amazon, which must have added nice padding to his net worth. 
However, for his success, Siminoff credits his wife whom he first met in Los Angeles. His loving wife Erin Lindsey, now Erin Siminoff, accompanied him through his journey to success. He has been married to Erin since before the inception of the product. 
Jamie Siminoff's Wife Motivated him to Pursue Ring
Jamie credits his wife for the success of Ring LLC, especially the doorbell product Ring. While going through the story behind Ring on its official website, Siminoff stated that the Wi-Fi-enabled doorbell would never exist if not for his wife, Erin — the product had failed to impress the judges from Shark Tank in its fifth season. 
The 44-years-old elaborated that she had heard all of his ideas, and she loved it when he told her about the doorbell. She loved the convenience of responding to the front door from anywhere and the security that the idea provided. In her words, it was "like caller-ID for the front door."

Jamie Siminoff and wife, Erin Siminoff (Photo Source: Erin Siminoff's Facebook)
Interestingly, Erin did more than motivate Jamie to pursue the idea; she had sown the idea in him. She always complained that Siminoff never heard the doorbell.
To solve the problem, he came up with the idea to connect the doorbell to the phone through Wi-Fi. His solution soon became famous. Even after Ring broke ground, Erin supported her husband and his ideas.
She promoted Ring products on her Facebook handle, albeit being inactive on social media. In early 2015, she shared a post by Ring's official Facebook account and took to the captions to express her pride in Jamie and the rest of the Ring team, whom she affectionately referred to as "ringers."

Erin promotes Ring through a Facebook post (Source: Erin Siminoff's Facebook)
Jamie Siminoff Parents a Son with Wife 
Jamie and Erin's family is completed by their adorable son Oliver Siminoff, who was born with a rare genetic condition called galactosemia — which hinders the body's ability to process dairy products.
Luckily, his doctors diagnosed the problem early and started the proper treatment course within four days of his birth.

Erin Siminoff, Jamie Siminoff, and Oliver Siminoff at Harvard Medical School in 2015 (Source: Jamie Siminoff's Facebook)
Oliver, who is probably in his early teens now, is occasionally featured on his parents' social media.
Jamie Siminoff's Wife, Erin Siminoff, is EVP at 21st Century Fox
Siminoff's wife, Erin, pursues a successful career in the entertainment industry.
She started working as Executive Vice President (EVP) of Production at 21st Century Fox, Los Angeles, California, in March 2015. The EVP primarily oversaw the Alvin and the Chipmunks franchise in the former Disney's holding, Fox 2000.
She also worked on mainstream titles such as the Nicholas Sparks adaptation, The Longest Ride, starring Scott Eastwood and Britt Robertson, and Paper Towns, the next adaptation of Fault In Our Stars author John Green starring Nat Wolff and Cara Delevingne.
According to her LinkedIn profile, Erin's journey at Fox 2000 began almost two decades ago when she joined the esteemed production house as an intern in May 2001. She graduated with a degree in telecommunications from Pepperdine University in California.